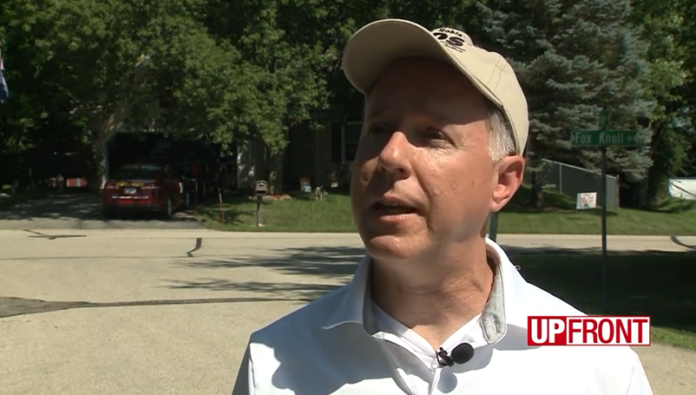 Assembly Speaker Robin Vos said he won't blame former President Trump if he loses his primary race.
Trump recently called Vos and urged the longtime Republican leader to overturn Wisconsin's 2020 presidential results after the Wisconsin Supreme Court ruling on absentee ballot drop boxes, a move Vos said he told Trump was impossible, and a call first reported by WISN 12's Matt Smith.
"I don't think I will, but if for some reason I lose, it's just that they're frustrated and they're looking for someone to take it out on," Vos said on WISN-TV's "UpFront," which is produced in partnership with WisPolitics.com. "I think we all know Donald Trump is Donald Trump. There's very little we can do to control our predict what he will do."
Vos, the longest-serving Assembly speaker in Wisconsin history, is facing a Republican primary challenger Aug. 9 and acknowledged some Republican voters in his district are angry with the position he's taken.
"I would say it's probably one out of four, one out of five, not a huge number, but it's considerable," Vos said. "They've been misled, I think. They've been told they can decertify the election. They can't. My primary opponent continues to say something we know is legally impossible and, unfortunately, some people are so frustrated with Washington they would do whatever it takes to turn around the country."
Trump, who hasn't endorsed in the race, recently said he doesn't know Vos' opponent Adam Steen but said he feels "certain he will do well if Speaker Vos doesn't move with gusto."
Steen has previously called Vos a "treasonous traitor."
"It's a strong word, but it's public policy," Steen said. "If you look at this track record over the last 20 years … conservatism or the Republican Party strays just to the right of the left. So, instead of standing up, and this is what the difference, I believe, what an American first conservative is versus a Republican, is — we stand and say we're going to follow the Constitution and the left can sue us. What Robin Vos has said is you know what I'm going to do is just sit here and do nothing and let the left do what they want and then we're going to sue them."
Also on the program, U.S. Rep. Mark Pocan said Sen. Tammy Baldwin has "an uphill climb" to find enough Republican support in the Senate to codify same-sex marriage, a move Democrats are pushing after the U.S. Supreme Court overturned Roe v. Wade.
Baldwin is helping lead the effort after the House passed the Respect for Marriage Act on 267-157 vote.
"What's at risk and what's really on the line is whether or not a half-million people who are involved in same-sex marriages are going to continue to be able have the same rights as other couples," Pocan said.
Forty-seven Republicans, including Rep. Bryan Steil, joined all House Democrats in approving the measure. Wisconsin Congressmen Fitzgerald, Gallagher, Grothman and Tiffany voted against the bill.
"The Supreme Court made it clear that its decision in Dobbs v. Jackson was limited to abortion," Gallagher said in a statement. "The Supreme Court also made clear that any attempt to mischaracterize the decision would 'stoke unfounded fear that our decision will imperil other rights.' This bill is a prime example of what the Justices warned against and is nothing more than a brazen attempt to fearmonger."
"That's a weak, pathetic attempt to say that he's afraid of his own constituency, his Republican base," Pocan said. "Bottom line is, you either support the marriage laws of the country right now that allow for same-sex couples to get married or interracial couples to get married, that was part of the vote, or you are chicken and put out a weak press release that doesn't address the actual issue."
In another segment, Charles Franklin, director of the Marquette Law School Poll, said a new nationwide survey shows a new low in the U.S. Supreme Court's approval rating and increased polarization in how Americans view the court.
"That kind of spread is what we're used to seeing for political candidates or partisan issues, but it's not something we've seen from the court before," Franklin said. "But it's absolutely here today."
The poll found 61 percent of Americans polled disapprove of how the court is handling its job, and 38% approve.
Franklin also noted the court's decision overturning Roe v. Wade has shown little data the decision is a driving motivator to vote in the midterm elections.
"Not in our national survey data," Franklin said. "Whether you measure it by how enthusiastic you are to vote or by how certain are you that you actually will vote, we don't see any substantial change from our May poll and July poll, there's just not much of a shift."
And Milwaukee Bucks President Peter Feigin on the show said Milwaukee hosting the 2024 Republican National Convention would be a "game changer."
"For us, that's economic growth, that's all density, that's how we become that destination as Milwaukee continues to get these marquee events," Feigin said. "It only helps us sell into the future."
The RNC site selection committee is recommending Milwaukee over Nashville, and the full RNC will make its final decision in early August.
Fiserv Forum would be the centerpiece of the convention.
"This is the showpiece," Feigin said. "We have a modern arena. It is like a perfect television studio for something like the RNC. That's how we positioned it, but I will say the best thing about all of this is how we work as a city, elected officials and Visit Milwaukee and the convention center. If it was one team event, it was a team event to get the DNC and the RNC and truly what has to happen in the future to get large events like that."
See more from the show:
https://www.wisn.com/upfront