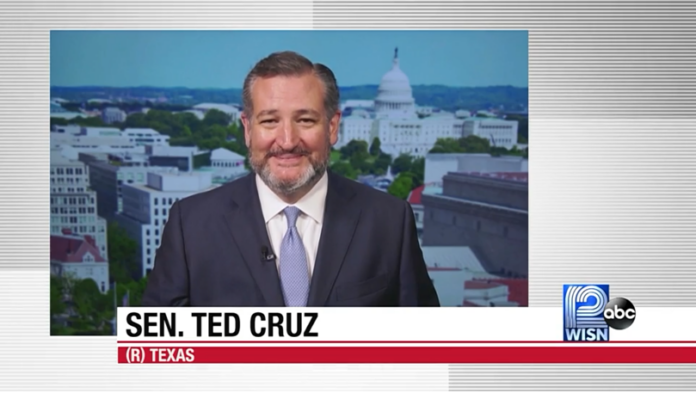 Texas U.S. Sen. Ted Cruz will be in Milwaukee on Saturday, headlining an event meant to mobilize Republican voters ahead of the midterms.
"It absolutely underscores that Wisconsin is a pivotal battleground," Cruz said on WISN's "UpFront," which is produced in partnership with WisPolitics.com. "It has been a perennial purple state. It is a battleground. The road to a Senate majority comes through Wisconsin."
U.S. Sen. Ron Johnson is expected to speak at the Saturday event as well.
"Ron, I believe, is going to win," Cruz said. "But it's going to be a close and contested race, and reelecting Ron Johnson is a big part of the way that Republicans retake the Senate, and I think we'll retake the House as well."
Cruz wouldn't speculate on his 2024 ambitions as he promises to campaign in key battlegrounds ahead of November.
"I'll tell you my focus is 2022," Cruz said. "Between now and Election Day, I'm going to be on the road almost nonstop campaigning in closely contested races for the Senate, closely contested races for the House."
The head of Planned Parenthood of Wisconsin says all legal options are on the table if the U.S. Supreme Court overturns Roe v. Wade.
"We're exploring all the legal avenues, and it's putting puzzle pieces together," Tanya Atkinson said, president and CEO of Planned Parenthood of Wisconsin. "A lot of this will depend on the exact language."
Atkinson said Planned Parenthood would immediately stop providing abortion services at its locations in Milwaukee, Madison and Sheboygan.
"The law is very clear that abortion would be illegal in the state of Wisconsin," Atkinson said. "And again, it depends on the exact wording of the ruling, so I will say that with a caveat. Planned Parenthood of Wisconsin health services, they follow the letter of the law and so the current read of the law is that if Roe is overturned, our 173-year-old law could be enforceable and as a result we will stop providing abortions."
Gov. Tony Evers has called lawmakers into special session Wednesday to repeal the 1849 law, a move Republican leaders have said they won't do.
Robb Kahl, executive director of the Construction Business Group, says Wisconsin will see a 400 percent increase in solar energy production in the coming years and is pushing for Wisconsin workers to be awarded the construction contracts.
"It's significant," said Kahl, who represents some 30,000 trade workers and 4,000 contractors. "The economic investment will be over $2 billion, which exceeds our last state capital budget. So the economic impact will be huge."
Kahl said the Public Service Commission can't require projects to hire Wisconsin workers but is pushing state regulators to require developers to track and report the economic impact and makeup of the construction workforce on solar projects.
"What we're simply saying is let's have some transparency and accountability," Kahl said.
The group is also beginning discussions with lawmakers to offer tax credits if a project employs a certain and high percentage of Wisconsin workers.
"Now that would be a policy change here, but we've had some discussions with people on both sides of the aisle and there seems to be a great level of interest in something like that," Kahl said. "What we're really relying on now is the PSC to have some accountability and transparency with these applicants."
See more from the show:
https://www.wisn.com/upfront