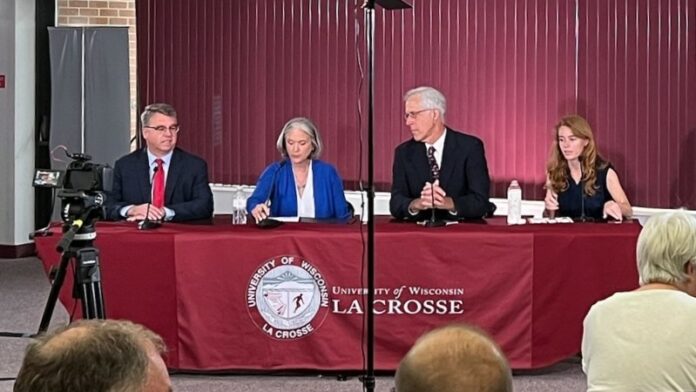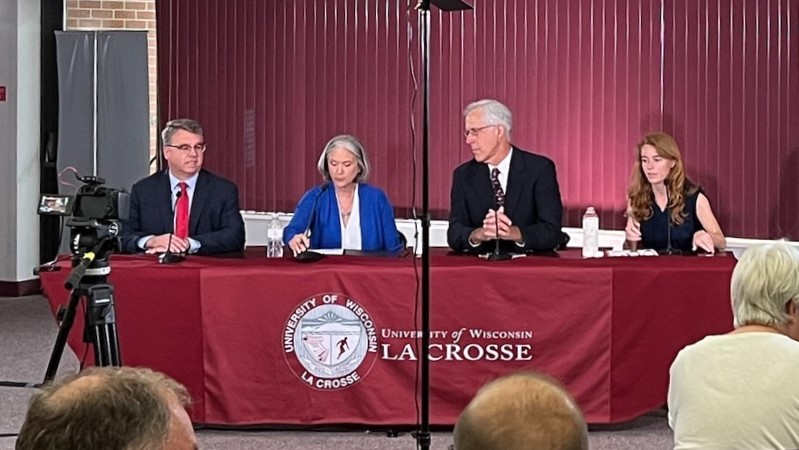 Dems in the race for retiring U.S. Rep. Ron Kind's 3rd CD seat tackled issues from PFAS contamination to abortion rights in a debate, reserving their criticism for Republican opponent Derrick Van Orden.
During yesterday's UW-La Crosse debate cosponsored by WisPolitics.com, no candidates made direct attacks on each other. But each made the case for why voters should elect them over Van Orden.
"That's kind of easy, it's not a high bar," La Crosse Ald. Mark Neumann said in a jab at Van Orden.
Neumann said he would appeal to voters' principles of freedom and fairness.
Former CIA officer and Army Capt. Deb McGrath, of Menomonie, said she knows how to work across the political aisle and always puts her country before politics.
State Sen. Brad Pfaff, the former state ag secretary from Onalaska, said voters don't want to play "partisan politics" or "ideological games," without directly naming Van Orden. But Pfaff during his closing statement called Van Orden a "threat to democracy."
Eau Claire businesswoman Rebecca Cooke said Van Orden is part of the "radical right" and that "John McCain-style Republicans" have voiced support for her campaign.
"He's not a part of a Republican Party that many of us grew up with," she said.
The candidates, answering questions from a media panel and the moderator, UW-La Crosse Prof. Anthony Chergosky, emphasized the importance of talking to rural Wisconsinites and finding common ground with more conservative voters.
Also during the debate, the Dems answered how they would secure more funding to address PFAS contamination in the district.
PFAS, or per- and polyfluoroalkyl substances, are a series of chemicals found in industrial and everyday products, most notably firefighting foam. They are commonly referred to as "forever chemicals" because they do not break down easily in the environment and are linked to several diseases and cancers in humans.
Pfaff said there must be a federal standard for PFAS levels. He added the government should provide federal funding to help homeowners and small business owners who have PFAS in their water.
Cooke said she would like to see federal legislation similar to the CLEAR Act proposed by Wisconsin Conservation Voters. The legislation would require the Department of Natural Resources to establish PFAS standards for drinking water, surface water, groundwater, soil, and air, and require cleanup of the substances.
Neumann said it is important to invest in clean water and obtain more information about the health risks PFAS pose. McGrath said PFAS are a federal issue that requires a federal response.
Dems were also asked how Congress could provide clarity on abortion after the U.S. Supreme Court ruling overturning Roe v. Wade put the state's 1973 abortion ban back into effect.
Cooke said Congress should codify the right to an abortion into law. The House has passed a bill to do that, but the legislation will likely fail in the split Senate.
"I think it's an invasion of privacy and I respect women and LGBTQ folks to be making those decisions for themselves," Cooke said of abortion restrictions.
Neumann said the issue is about more than abortion — it is about body sovereignty, and Congress must enact legislation to protect that.
"For a third party to approach a woman that's carrying a pregnancy and tell her she doesn't have the opportunity to care for that pregnancy the way she wants to, or interrupt it, that's an assault," said Neumann, who is a pediatrician.
Meanwhile, Pfaff and McGrath shared personal stories.
McGrath said she had an unplanned pregnancy while in the military and was stripped of her command.
"I know families need to make these choices themselves, and this hits marginalized communities even worse," McGrath added.
Pfaff said his wife gave birth to their second child early and though they wanted to have more children, they decided not to when their doctor advised they not take the risk.
"There was no room in that doctor's office for politicians. That was a personal decision. We need to remember that," Pfaff said.
When asked if President Joe Biden should run for another term, Pfaff — and his fellow candidates — did not provide a direct answer.
Pfaff praised Biden for his work to get Americans vaccinated against COVID-19 and standing up to Russian President Vladimir Putin.
"But do I think more work needs to be done? Oh yeah," Pfaff said, mentioning rising inflation and drug costs.
Cooke didn't specify either if she would support Biden running again, but said she supports term limits to restrict how much lawmakers are beholden to special interests.
The candidates will face off in the Aug. 9 primary election.
Listen to the audio:
https://soundcloud.com/wispolitics/uw-la-crosse-dem-3rd-cd-debate