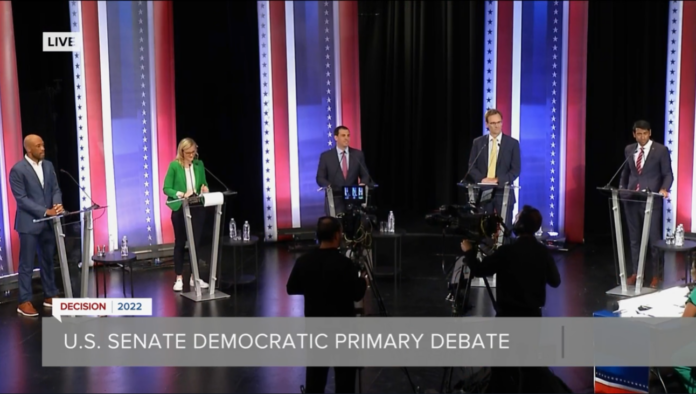 MILWAUKEE — The Dem candidates for U.S. Senate focused most of their digs on incumbent Ron Johnson during their first debate Sunday, accusing the Oshkosh Republican of standing in the way of priorities such as abortion rights, gun control and a fairer economy.
With the five top Dem candidates on stage for their first televised statewide debate, only a couple of sharp exchanges occurred among the candidates.
Outagamie County Exec Tom Nelson, touting his support for expanding the U.S. Supreme Court beyond the current nine members, pinned some of the blame for Donald Trump appointing the justices who overturned Roe v. Wade on Sarah Godlewski and others who failed to vote in 2016.
While working for Hillary Clinton's campaign in Wisconsin, Godlewski acknowledged she didn't vote even as she worked as director of women's outreach in the state for the secretary of state's campaign.
"We didn't turn out in 2016," Nelson said. "Because we didn't turn out in 2016, we gave three appointments to Donald Trump and now women, workers and the environment will be suffering for decades."
The debate rules allowed 30 seconds of rebuttal to any candidate mentioned by a rival. Godlewski used her time to note she was the only woman on the stage.
"I don't need to be lectured by any man on how important the 2016 election was," Godlewski said.
Godlewski, meanwhile, questioned where her male Dem rivals — Nelson, Mandela Barnes, Alex Lasry and Steven Olikara — were on reproductive rights before the U.S. Supreme Court overturned the 1973 ruling that guaranteed a right to an abortion.
She noted during forums last fall others were silent on the issue.
"I was the only one talking about reproductive rights because for me, this is not an afterthought," she said. "If Wisconsin wants to restore its women's right to choose, they'll send the woman who will get the job done and defeat Ron Johnson in 2022 this November."
The debate was hosted by WTMJ-TV's Charles Benson and Shannon Sims, who posed a series of questions to candidates with each given 60 seconds to respond. WisPolitics.com was a cosponsor of the debate, which occurred before a live audience on the Marquette University campus and was broadcast statewide.
Sims noted that Barnes has been endorsed by U.S. Sen. Elizabeth Warren, D-Mass., and U.S. Rep. Alexandria Ocasio-Cortez, R-N.Y. Both have called for the U.S. government to use federal lands to provide abortions in states that ban them, and Sims asked the lieutenant governor if he supported the approach.
He noted his mother had an abortion before he was born after a complicated pregnancy put her health at risk. He said he wants to expand the Dem majority, overhaul the filibuster and codify abortion rights. In the meantime, Barnes indicated he was open to what Warren and Ocasio-Cortez had proposed and knocked Johnson for believing abortion should be outlawed in most cases.
"Telling people to just go to Illinois," Barnes said. "I can't think of a more out-of-touch position to have."
Lasry, on leave from his job with the Milwaukee Bucks, noted his wife works for Planned Parenthood of Wisconsin.
"A woman's health care decision should be between her and her medical provider, not some Trump hand-picked Supreme Court justice or some politician in Washington or Madison," he said.
Olikara, founder of the Millennial Action Project that sought to help young leaders bridge partisan divides, knocked the flood of fundraising appeals he received after the ruling came down.
"The political-industrial complex is much more interested in your dollars than in your human rights," he said.
Barnes has consistently led in publicly released polling since he got into the race nearly a year ago. Still, none of his rivals attacked him or directly criticized his positions on the issues that were debated.
State GOP spokesman Mike Marinella knocked all of the Dem candidates, saying they failed to recognize the issues affecting Wisconsin communities such as inflation, crime and the U.S.-Mexican border.
"While the candidates shift blame for their party's failed policies, Senator Ron Johnson is fighting to put Wisconsin and our country on the right track," he said.
Benson and Sims asked the candidates to address specifics on a range of issues that included inflation as well as crime with the moderators pointing out Milwaukee is on track for a record number of homicides.
Barnes called for investments in schools and good-paying jobs, which he said would lower crime rates. He blamed some of Milwaukee's struggles on bad trade deals that he said have hollowed out the city's manufacturing base.
Lasry said he supports using federal dollars to fund more police on the streets while also calling for investments in education and workforce training, while banning assault weapons.
Godlewski said a bipartisan gun bill recently signed into law was just a step. She called for more, including universal background checks and banning assault weapons.
Olikara said he worked through the Millennial Action Project to support legislation allowing the CDC to study gun violence as a public health issue and called for universal registration.
And Nelson noted he voted against concealed carry and immunity for gun manufacturers while in the Legislature, saying the moves weren't popular in his district but were the right stances to take. He supports red flag laws and background checks because "I will never, ever compromise the safety of my community and certainly my family."
Candidates often avoided specifics such as how they would balance transgender rights with protecting the opportunities that Title IX afforded female athletes.
Nelson said he supported updating Title IX to make it as inclusive as possible, while Barnes said the issue is about discrimination and he vowed to members of the LGBTQ community that he would help make sure they know that they belong.
Lasry touted the fact the Milwaukee Bucks new arena includes gender-neutral bathrooms, while Godlewski praised Dem Gov. Tony Evers for standing in the way of bills targeting the transgender community.
Olikara, meanwhile, said he sees transgender rights as the modern-day struggle for civil rights and bemoaned that so much time was being spent by some to push anti-LGBTQ bills to spur political contributions.
Watch the video here.