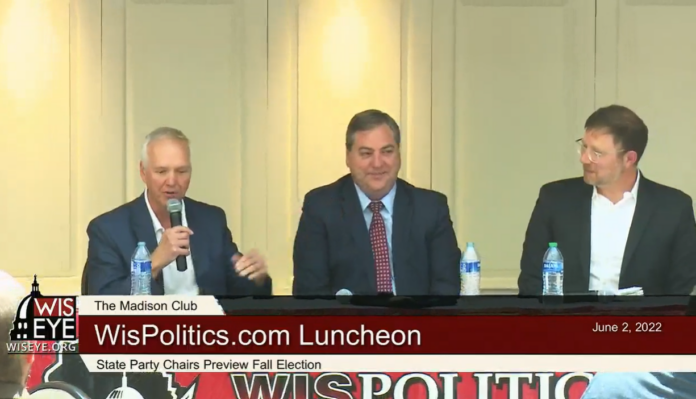 Republican Party of Wisconsin Chair Paul Farrow blames the Wisconsin Elections Commission for a lack of trust in elections, while state Dem Party Chair Ben Wikler argues former President Trump's "propaganda" campaign is at fault.
The two at a WisPolitics.com Madison Club luncheon Thursday debated why many Wisconsinites have lost faith in how the state manages elections. Farrow said the lack of leadership coming out of WEC during the pandemic meant many clerks were left without guidance during one of the most challenging times to hold an election. He added bureaucracy took hold of WEC when commissioners should have been issuing guidance.
"What I need is a governing body that knows their responsibility, enforces the statutes, doesn't let the bureaucracy say 'we're going to do whatever we want to do because you guys can't get it together out there,'" he said. "That's what we need."
Wikler argued many voters have lost faith in the elections, or at least questioned election integrity, only because Trump attempted to have hundreds of thousands of ballots thrown out after it became clear President Joe Biden won the 2020 election.
"The issue is not the Elections Commission," he said. "The issue is an intentional, prolonged propaganda campaign by someone who refuses to acknowledge the reality that he lost and people who are afraid of being primaried."
The news comes as WEC is working through its chair selection process where Republican Bob Spindell will face Speaker Robin Vos' appointment to replace Republican Dean Knudson after he abruptly stepped down from his position last week. Vos also appointed Knudson.
The party chairs also hinted Wisconsin could see around $700 million in ad and campaign money between outside groups, campaigns and both parties.
Farrow said the record-breaking amount of campaign cash will be incredible to see.
"I would say it's probably going to be around $700 million plus, all in," he said.
Wikler said that number could be correct.
"I haven't summed up all the different pieces, but I don't think that number is outside the realm of possibility," he said.
Watch the event here.