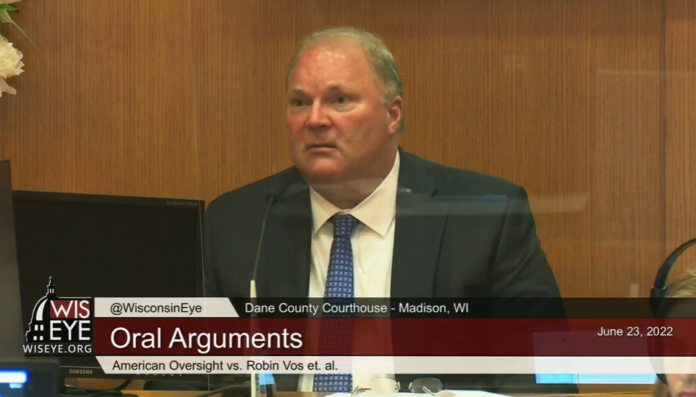 Former Supreme Court Justice Michael Gableman testified he deleted 2020 election probe records even after open records requests were submitted and worked out of a public library during a time he said he was bedridden with COVID-19.
The testimony came during a hearing yesterday in which Dane County Judge Bailey-Rihn found Assembly Speaker Robin Vos and the Assembly have met all requirements to avoid being held in contempt and there are likely no more documents to be gained.
Bailey-Rihn in issuing her decision said the hearing made clear whatever work Gableman did to investigate issues with the last presidential election as ordered by Vos was minimal. She also said Gableman's testimony was "interesting" as much of what he said contradicted evidence presented in documents his office and Vos' provided to liberal group American Oversight in response to its open records request from July and August last year.
"What I have heard today is whatever work that was done was minimal, that taxpayers were paying $11,000 a month to do," she said. "Documents were disposed of, which may or may not be a separate issue. And frankly I think at this point there's no more documents to be gained from this. Any documents that were contrary to what fit in the scheme of things were destroyed."
One of the contradictions Bailey-Rihn referenced came when Gableman, in response to a question from American Oversight attorney Christa Westerberg, said he was "​​solidly in bed for two weeks after Aug. 13." He said he was diagnosed with COVID-19 immediately after leaving MyPillow CEO Mike Lindell's election integrity symposium in South Dakota.
Gableman also testified he believed he drafted a letter attached to an Aug. 20 email at the New Berlin Public Library, which would have placed him at the library drafting the letter while he was sick. He said he worked out of the library because he had not yet been provided funding for an office or supplies when he began his probe in July.
But later Gableman testified he had billed taxpayers for a small office space in July and August before moving to a larger space in Brookfield.
Gableman told Westerberg during the hearing that he did not have access to his personal Yahoo email account after August because the state gave him a new, secure email account to use and he directed someone in his office to delete the Yahoo account.
Gableman also said he attempted to save records from the Yahoo account by printing off emails he felt might be responsive to future potential open records requests.
Gableman noted he discarded notes and materials he didn't find useful. For example, he said he likely took notes and received documents during the South Dakota symposium, which he attended to hear evidence of Chinese interference with election machines.
Gableman said he was "very disappointed by the lack of substance to back up those claims" and that he was annoyed that he had gone. "I didn't find anything I could use."
Gableman's willingness to testify was a stark contrast to his combative demeanor and refusal to answer questions in a June 10 hearing in a separate case that led to a contempt order against him.
Dane County Judge Frank Remington ordered Gableman to pay $2,000 per day in fines and petitioned the Office of Lawyer Regulation to review what he referred to as the former justice's "unprofessional behavior."
Gableman has appealed that finding.
The case in yesterday's hearing is one of three in which American Oversight is suing to obtain public records from those investigating the last presidential election. The difference in those cases relate to who has the requested records.
Yesterday's case involved records held by contractors working for the Assembly such as the OSC and others who worked as contractors before Gableman began his probe. Another case targets the Assembly and its leader, Vos, while the remaining case targets the OSC specifically.
The lawsuit for which he was held in contempt focuses on attempts from American Oversight to obtain records from Gableman and the Office of Special Counsel.
Bailey-Rihn set a July 28 date for oral arguments on whether Vos and the Assembly are liable for any punitive damages if Gableman or other Office of Special Counsel employees improperly deleted records.
Watch the hearing at WisconsinEye.