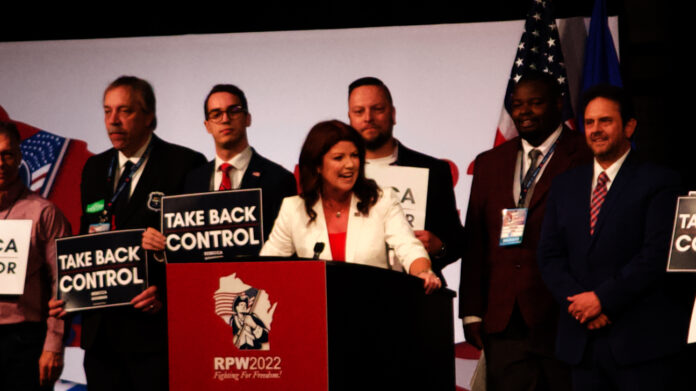 GOP activists declined to endorse a candidate in the contested statewide primaries.
They rejected resolutions calling for the decertification of the 2020 election results and the removal of Robin Vos, R-Rochester, as Assembly speaker.
And they're split on whether they want Donald Trump to run for president in 2024.
Meeting in Middleton over the weekend, delegates approved endorsing U.S. Sen. Ron Johnson, R-Oshkosh, in his reelection bid and Orlando Owens for state treasurer. Johnson is unopposed for the GOP nomination, while John Leiber didn't get into the treasurer race until mid-April and didn't seek to be put into the endorsement process.
In the contested races, candidates need the support of 60 percent of delegates to secure the endorsement.
The final ballot in the contested races were:
*Governor: Rebecca Kleefisch, 54.6 percent; no endorsement, 42.8 percent; Tim Ramthun 2.6 percent. Kevin Nicholson and Tim Michels were eliminated on the first ballot as each got less than 3.5 percent of the vote.
*Lt. Governor: Pat Testin, 45.9 percent; no endorsement, 44.7 percent; Will Martin 9.4 percent.
*Attorney General: Eric Toney, 53.8 percent; Adam Jarchow, 27.2 percent; no endorsement, 19 percent.
*Secretary of State: Amy Loudenbeck, 54.3 percent; Jay Schroeder, 24 percent; no endorsement, 21.6 percent.
In the WisPolitics.com straw poll, 43 percent of party activists said they wanted Trump to run for president in 2024.
Some 32 percent were opposed to him running again, while 22 percent said they were unsure.
With Trump in the field, nearly 38 percent said they back Florida Gov. Ron DeSantis for president, while 32 percent supported the former president. Former South Carolina Gov. Nikki Haley was a distance third at just more than 7 percent.
See the full results here.
See more news from the convention at the WisPolitics.com GOP Convention Blog.