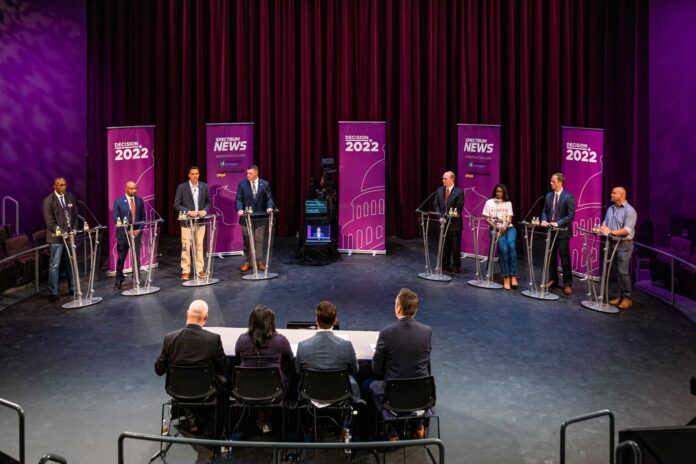 Candidates in today's GOP lieutenant governor debate voiced their support for restrictions on abortion while weighing in on a Trump 2024 bid and suspending the state's income tax.
During today's Spectrum 1 News debate cosponsored by WisPolitics.com, five of the eight candidates indicated their support for eliminating the state income tax.
The only direct attack of the debate came during that discussion. Eau Claire insurance agent Kyle Yudes criticized Sen. Roger Roth, of Appleton, for not attempting to suspend the income tax sooner. Roth introduced a bill to do just that.
"I applaud Senator Roth for writing the bill limiting the state income tax, I just wish he would have done it before he got into this race so it didn't look like the political ploy it is," Yudes said.
Roth said he wrote the bill after reading a UW-Madison study on eliminating the state income tax.
"I'm regretting telling Kyle the other day the bill number for that," Roth joked.
"This is about doing the right thing when you have the right information in being bold and moving forward," Roth added.
Roth said the state could use its $3.8 billion surplus to fund the move. The other candidates did not specify how they would pay for ending the income tax.
Aside from Roth and Yudes, Frederick Douglass Foundation State Ambassador Cindy Werner, Franklin businessman Jonathan Wichmann and Sen. Pat Testin, of Stevens Point, said they would also support suspending the tax.
Milwaukee minister David King said he wouldn't support it because a conversation needs to be had about the effects of eliminating the tax. Meanwhile Will Martin, who served in former GOP Gov. Scott Walker's cabinet, said the state needs a plan to reduce government expenses in order to get rid of the tax. Former Lancaster Mayor David Varnam did not directly answer the question, but did not raise his hand when candidates were asked if they supported eliminating the tax.
"I'm worried more about — rather than any individual tax — the overall tax burden that's impacting Wisconsin families and businesses here," Martin said.
Several candidates said they would support adding additional restrictions related to abortion in the wake of the state's 1849 abortion ban now being in effect.
The ban's only exception is for when the life of the mother is at risk.
Varnam said the state needs to take additional, bold action to "protect the unborn."
"We need to ban the use of aborted baby body parts as a state. We need to make sure that we're cutting off all the funding that flowed to Planned Parenthood as part of the [COVID-19] money under Tony Evers," Varnam said.
Planned Parenthood received $2.4 million in pandemic relief money. Those funds did not go to the three clinics in the state performing abortions at the time.
Werner, who pursued an unsuccessful bid for the 4th CD in 2020, said she is "pro-life with no exception" because her grandmother was raped, resulting in the birth of her mother.
Several candidates indicated they wouldn't support restrictions on out-of-state travel to obtain an abortion.
Wichmann said he believes life begins at conception, but charging people who leave the state for an abortion "doesn't make any sense."
"Let's work with the people, let's get them the help they need and let's keep them here and give them everything, all the resources they need," Wichmann said.
King and Martin also said they wouldn't support such a measure.
Meanwhile, the two current lawmakers in the field suggested additional abortion-related restrictions wouldn't be a focus of the Legislature moving forward.
Roth said he didn't see the Legislature adding additional restrictions but rather focusing on funding so-called "crisis pregnancy centers" in the state. He added lawmakers should also work on streamlining adoption laws.
Some of the candidates also said they would support prosecuting doctors for terminating unimplanted embryos from in vitro fertilization.
"If they're destroying the embryos, then yes, because that is a life," Werner said.
Wichmann said anyone who destroys an embryo "should be held accountable."
King and Yudes agreed.
"If there are laws on the books that will protect a swallow's nest or an eagle's nest but we won't protect an embryo, then something's really messed up," Yudes said. "We have to protect that at all costs, just like it's a person that's been born."
Martin said people shouldn't be charged for terminating an embryo.
"I'm concerned about policy stepping into all of these decisions," he said.
Testin suggested Democrats' concerns about potential changes to the law are disingenuous.
"It is flat out fear mongering because they have no agenda to run on, no accomplishments that they can run on — both with Joe Biden as well as Tony Evers," Testin said. "And so they are going to use this opportunity to gin up their base."
When asked if they believe former President Trump should run for president again in 2024, some candidates said yes, while others didn't answer the question directly.
Roth said there would be a lot of good candidates in the running in 2024.
"If Donald Trump wants to throw his hat in the ring, that's great, but he's going to have some stiff competition, too," he said.
King said he would like to see Trump run again.
"I didn't like everything he tweeted, but I loved his policies," King said.
Varnam said adding Trump in the running would make for a "very interesting race," adding he wondered if Trump was "keeping his name in the mix to protect the Republican nominee that's coming up."
Wichmann also said he would support a Trump reelection bid, adding Florida Gov. Ron DeSantis would also be a good option.
Testin and Martin said they were focused on the lieutenant governor primary, and Yudes said he is focused on "getting our freedom back."
Watch the debate here.