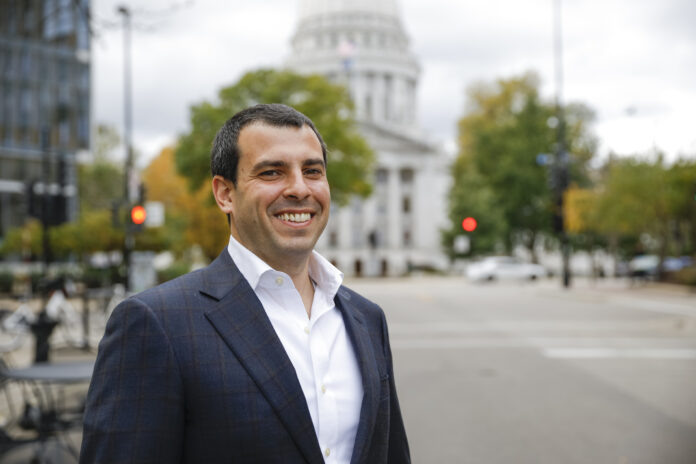 Alex Lasry said today after dropping out of the U.S. Senate race that it was clear he had no path to winning the primary and that Lt. Gov. Mandela Barnes was going to be the Democratic Party's nominee to challenge incumbent Republican Ron Johnson.
Lasry is the second Dem this week to drop out of the Dem race and endorse Barnes. Outagamie County Exec Tom Nelson on Monday announced his departure and endorsed Barnes. That leaves State Treasurer Sarah Godlewski as the only high-profile candidate left in the primary race besides Barnes. She says she will stay in the race through the Aug. 9 primary.
Lasry made the formal announcement this afternoon in Milwaukee alongside Barnes, telling reporters Barnes is the best person to defeat the Oshkosh Republican.
"He's been a friend for a really long time," Lasry said. "And I'm excited for in a few months to be able to not just call him a friend, but to be able to call him 'Senator Barnes' because the stakes of this election couldn't be higher."
Lasry, who funded his campaign with more than $12 million in personal money, said he made the decision once it became clear his campaign had no clear path to winning the primary.
"I think what prevented us from ever getting, you know, over the hump was a broad coalition of support that the lieutenant governor has,"said Lasry, who has been Barnes' closest challenger.
Some polls had the two close, but an internal poll recently released by Barnes showed him up 14 points on Lasry. Others said Barnes' lead has been expanding recently.
Lasry also said his primary goal is to defeat Johnson in November and he believes Barnes is the best candidate to take on the two-term senator. In an interview with Politico, Lasry said he also got advice from U.S. Sen. Tammy Baldwin, D-Madison.
"After talking with Tammy and seeing the data, it was just clear that Mandela was going to be the nominee," he told the publication.
Meanwhile, Barnes praised Lasry for running a "very strong campaign."
"This is taxing and to be able to step away like this it shows so much, the dedication to what we all have in sight in the next several months — and that's getting rid of Ron Johnson," Barnes said. "And I just want to say I'm incredibly proud to have your support in this race because together we are going to get this done."
Election officials started accepting absentee ballots for the Aug. 9 primary on Monday. As of this morning, voters have already returned 138,879 ballots, with 5,257 people having voted in-person absentee.
Lasry's family is part of the Milwaukee Bucks ownership group. On leave as a Bucks exec, he has largely self-financed his campaign, accounting for $12.3 million of the $16.1 million he's raised since getting into the race last year. According to advertising analytics group AdImpact, Lasry's campaign spent $14 million on the campaign and $47.7 million has been spent in the primary overall.
Johnson's campaign spokesman Ben Voelkel in a statement today slammed the Dems in the race.
"It's clear Democrats are uniform in their support for more of the same Biden policies that got us in this mess in the first place: runaway spending, the Green New Deal, defunding the police and abolishing ICE," Voelkel said. "That vision for the future will be a tough sell for so many Wisconsin families that are already suffering from record inflation, high gas prices, out of control crime and an unsecured border."
See Lasry's release:
https://www.wispolitics.com/2022/lasry-campaign-endorses-lieutenant-governor-mandela-barnes-for-u-s-senate/
See Jefferson's statement:
https://www.wispolitics.com/2022/wisgop-statement-on-alex-lasrys-announcement/
This story has been updated following Lasry's formal announcement.