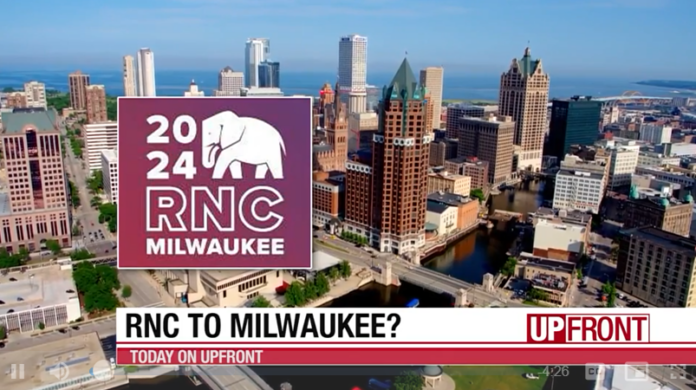 The RNC site selection committee has recommended Milwaukee host the 2024 Republican National Convention.
The decision still needs full and final RNC approval at its summer meeting in August.
But city leaders see it as a major step in winning the bid against Nashville, the other finalist to host the convention.
"I think this is not so much about Nashville, I think this is really about Milwaukee," Mayor Cavalier Johnson said on WISN's "UpFront," which is produced in partnership with WisPolitics.com. "Just because we're welcoming to the RNC doesn't mean you're signing up for the platform of the Republican Party. I certainly am not as a Democrat."
Milwaukee's Common Council unanimously approved the city's agreement with the RNC in June, a move Nashville's metro council has failed to do.
"Talking with members from the RNC and from the selection committee, they were impressed," said Paul Farrow, chairman of the Republican Party of Wisconsin. "They were impressed by the bipartisanship that was occurring and seeing that really we wanted them here."
Lake County State's Attorney Eric Rinehart says the suspected gunman in the Highland Park parade shooting will face "dozens and dozens" of new charges, likely within the next two weeks.
"Every one of those victims has a right to justice," Rinehart told "UpFront." "So we're really just putting the information of those victims into charging documents, and we're looking at dozens and dozens of counts."
Robert Crimo III already faces seven counts of first-degree murder.
Investigators say he traveled to Wisconsin before his arrest and considered a second attack in Madison.
"We know he went to Wisconsin, and then he gave statements about what he wanted to do in Wisconsin," Rinehart said. "We're not seeing anything external that he did. He didn't contact anyone in Wisconsin as far as we can tell. There's not something else in Wisconsin. We sort of have his movement, and we have his statements about what he planned there."
— Austan Goolsbee, former chief economist in the Obama administration and current economist with the University of Chicago, says the Fed could easily raise interest rates by a full percentage point this month.
"The Fed is going to raise interest rates," Goolsbee told "UpFront." "The only question is are they going to raise interest rates so rapidly and by so much that it literally drives us into recession? And it might."
Goolsbee says the Midwest may fare worse than other parts of the country.
"It's probably going to be a little worse for us here in the Midwest because we have a little more manufacturing orientation – Wisconsin, Illinois, Michigan, Ohio," Goolsbee said. "If you have more manufacturing, that's the sector that's likely to be the most directly impacted by higher interest rates."
Milwaukee County Executive David Crowley says he expects developers can start applying soon for part of $19 million in federal pandemic relief funds to foster affordable housing in the county.
"When you think about the rising costs in construction and wages and things of that nature, this gives the ability for us to leverage our dollars to make sure people can get these projects done," Crowley said.
Crowley says $15 million will directly go toward increasing the supply of affordable housing in Milwaukee County suburbs, $3 million to rehabilitate foreclosed homes and $1 million in energy assistance.
"It's very important to get these built," Crowley said. "When you think about the number of individuals that are currently looking for housing right now, and there's not enough housing stock out there, and for us, it's really critical in making sure these projects get done."
See more from the show:
https://www.wisn.com/upfront