Two Kenosha police officers deployed Tasers against Jacob Blake before he was shot seven times in the back, the state Department of Justice said Friday in an update on its investigation. 
The update also provides other details on the officers responding to the call Sunday. But it doesn't detail whether officers knew Blake had a knife before he was shot. 
According to the update, Officer Rusten Sheskey used his Taser in an effort to stop Blake after an initial attempt to arrest him. When Sheskey's attempt failed, Officer Vincent Arenas also deployed his Taser but also failed to stop Blake. 
Blake then opened his driver-side door and leaned forward, at which point Sheskey grabbed his shirt and fired his weapon seven times. 
According to a Milwaukee County Sheriff's Department release on Friday, Blake is no longer in police custody at a Milwaukee hospital after posting bond for an underlying arrest warrant for third-degree felony sexual assault and a pair of misdemeanors.
This comes after Gov. Tony Evers told reporters Thursday "hell yes" he was disturbed by reports Blake is handcuffed to his hospital bed. 
"I can't imagine why that's happening," Evers said in Kenosha.
One of Blake's attorneys told CNN on Friday felony warrants had been vacated and he was no longer handcuffed in his hospital bed.
A Milwaukee County sheriff's spokesman was not able to clarify the difference between the two accounts, saying his agency took the wording in the release from the Kenosha County District Attorney's office. DA Michael Graveley was not immediately available for comment.
The update from DOJ also put Officer Brittany Meronek at the scene. Meronek joined the Kenosha Police Department in January, while Arenas joined the department in February 2019 after previously serving with the United States Capitol Police Department. 
A DOJ spokeswoman told WisPolitics.com Sheskey and Arenas each deployed a Taser once, but she was not able to detail why they were unsuccessful in stopping Blake. 
The release also reiterated that in the course of the investigation, "Blake admitted that he had a knife in his possession." 
Attorneys representing Blake's family yesterday disputed that account in a statement released in response to AG Josh Kaul's initial briefing. 
"Jacob did nothing to provoke police," attorneys Ben Crump, Patrick Salvi and B'Ivory LaMarr said. "Witnesses confirm that he was not in possession of a knife and didn't threaten officers in any way."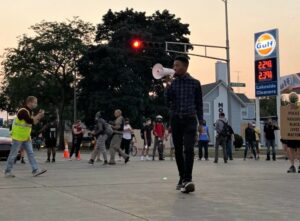 See the DOJ release. 
See the MCSO release.