Incoming Senate Majority Leader Devin LeMahieu said he expects to have a similar leadership style to outgoing leader Scott Fitzgerald.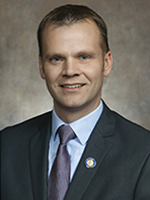 "Obviously, we're two different people," LeMahieu said. "But over the last six years, I've gotten to watch Congressman-elect Fitzgerald, and I learned a lot from him. I think we have pretty similar personalities where we're fairly laid back."
LeMahieu, R-Oostburg, beat out Sen. Roger Roth, R-Appleton, for the post during a closed caucus Thursday, while Sen. Chris Kapenga, R-Delafield, was elected Senate president, the post Roth now has. LeMahieu, 48, was first elected to the Senate in 2014.
Sen. Alberta Darling, R-River Hills, went in to the meeting vying for the No. 2 spot in leadership. But her office said she withdrew her name from consideration during caucus.
Fitzgerald said he will retain the majority leader title through January, when he will be sworn in to take over for Jim Sensenbrenner as representative of Wisconsin's 5th CD.
LeMahieu said he is open to the Senate returning before year's end to address a series of bills the chamber didn't take up after canceling a March floor period amid the pandemic. But he said his immediate focus is on building his staff and preparing for the transition.
LeMahieu will have at least three spots to fill on the Joint Finance Committee. Along with his own spot on JFC, Sen. Tom Tiffany, R-Minocqua, resigned from the chamber earlier this year to join Congress, and Sen. Luther Olsen, R-Ripon, opted against seeking reelection.
LeMahieu said he will meet with members to decide the right mix for the committee, adding he didn't have a co-chair in mind. Darling has co-chaired the committee for a record six terms, but was viewed as aligned with Roth heading into leadership elections.
In other races:
Sen. Dan Feyen, R-Fond du Lac, was reelected assistant majority leader.
Sen. Pat Testin, R-Stevens Point, was elected president pro tempore, a post now held by Sen. Howard Marklein, who's considered a candidate for JFC co-chair.
Sen. Van Wanggaard, R-Racine, was reelected caucus chair.
Sen. Kathy Bernier, R-Lake Hallie, was elected caucus vice-chair.
Roth said he made a motion for unanimous consent to elect LeMahieu majority leader after the first four votes ended in ties.
Fitzgerald, R-Juneau, refrained from voting as he transitions to the U.S. House of Representatives, leaving 20 Senate Republicans to decide leadership elections.
To break the deadlock, Roth said he moved to expunge the previous votes and elect LeMahieu.
"He's a good guy," Roth said. "At the end of the day, the caucus is and always has been united. I didn't want any perception that it wasn't."
LeMahieu said he appreciated the move and plans to sit down with Roth to see how his talents can best be used by the caucus.
"I was humbled that he made the motion," LeMahieu said.