Quotes of the Week
Having to sign the third subpoena in the history of the Senate is not something I take lightly. … I sign this with the full effect of the law behind it. We are not playing games, and there will be consequences if they don't comply.
– Sen. Pres. Chris Kapenga, R-Delafield, on a subpoena to force Madison's clerk to allow the Legislative Audit Bureau to physically handle election materials. The clerk's office refused to do so during LAB's review of the 2020 election, citing guidance from the U.S. Department of Justice.
All they have to do is take a three-minute walk to our clerk's office. Federal and state laws require that our clerk maintain control over these documents, and those laws carry potential criminal penalties for intentionally violating that duty.  We do not intend to violate the law simply because Sen. Kapenga demands that we do so.
– Dem Madison Mayor Rhodes-Conway, saying the LAB is free to examine copies of the records as the clerk's office had already offered while the audit was being performed.
Year after year, Wisconsin election officials deliver accurate, secure, and accessible elections that give voice to the citizens of the state.  Much of the success of Wisconsin's elections is due to the competence and excellence of the person who was chosen to lead the agency, Meagan Wolfe.
– A letter signed by more than 50 local election officials to Assembly Speaker Robin Vos, R-Rochester. Vos and other Republicans called for Wolfe to step down as administrator of the Wisconsin Elections Commission following allegations from the Racine County sheriff that the commission provided illegal guidance related to absentee voting in nursing homes. 
I just find the whole thing a joke today, and you've done nothing to allay my concerns.
– Rep. John Macco, R-Ledgeview, calling it "repugnant and insulting" that Wolfe had suggested she couldn't fully address lawmakers' questions during a Legislative Audit Committee hearing on the LAB's 2020 election report. Wolfe pointed out she answers to the six elections commissioners and she'd be overstepping her authority to do what Macco was suggesting.
I've been in the legislature since 2011 and have never witnessed such a large bipartisan rebuke of a Governor's priority. The 17 Dems that voted against the People's Commission maps got it right on this one.
– Assembly Majority Leader Jim Steineke, R-Kaukauna, in a tweet on Dems who voted against Gov. Tony Evers' People's Maps Commission maps during this week's Assembly floor session. 
But when it comes to looking at maps, I'm not willing to vote for any map that dilutes and or erases African American or Latino representation. I don't care who wrote it, who drew it, who took the crayon, who circled it, who did whatever, because it makes no sense.
– Rep. LaKeshia Myers, D-Milwaukee, blasting the PMC maps. She also spoke against the GOP maps for giving Republicans an advantage.   
Political Stock Report
-A collection of insider opinion-
(Nov. 6 – 12, 2021)
Rising: Joaquín Altoro, sexual assault test kit bills, Dem lt. gov. field
Mixed: Deb McGrath, mill bill
Falling: People's Maps Commission, tax burden 
Rising
Joaquín Altoro: The Wisconsin Housing and Economic Development Authority chief is off to a job in the Biden administration as administrator of the Rural Housing Service within USDA. It is the second time that Gov. Tony Evers has lost a member of his cabinet to the Biden administration. But unlike Andrea Palm's departure as Health Services secretary, Altoro is praised all around as he heads out. Palm's tenure leading DHS included a series of fights with GOP lawmakers over COVID-19 policies. Some Senate Republicans were even hoping to vote down her nomination, but she got out of town ahead of a possible vote. Evers appointed Altoro to the post in June 2019 after a 30-year banking career. That included serving as Town Bank's vice president of commercial banking. Evers calls Altoro "an invaluable part of our administration and a tireless affordable housing advocate for Wisconsinites in every zip code." The guv also now has a spot to fill. His office announces the agency has a transition team in place to ensure continuity of operations until a replacement is appointed.
Sexual assault test kit bills: Dem AG Josh Kaul gets his "win" after all. Out of the blue, the GOP Assembly signs off on Senate bills to create a new process to collect and process sexual assault kits and establish a tracking system to ensure a backlog doesn't happen again. It's a stark contrast to last session, when the chamber vastly reworked the Senate bills to add what supporters considered poison pills such as requiring law enforcement to notify the U.S. Immigration and Customs Enforcement if a non-citizen who wasn't authorized to be in the country was arrested for sexual assault. At the time, insiders believed the controversial provisions were added to essentially kill the bill and ensure that Kaul didn't get one of his top legislative priorities after he had campaigned against former GOP AG Brad Schimel over struggles to eliminate the backlog of rape test kits. During a public hearing on the revised bill, co-author and GOP Rep. David Steffen acknowledged the provisions were added to get a majority of his caucus on board with the clock on the session winding down and sometimes "the sausage-making is so ugly that it is appropriately behind closed doors." At the time, Rep. Joe Sanfelippo, R-New Berlin, challenged Kaul why he can't track the kits with the administrative powers he already has, suggesting the agency was falling down on the job. So Kaul did just that. This spring, he announced the agency had created a tracking system on its own. The system would allow the survivors of sexual assault and law enforcement to monitor where the kits are at different points in the system, from hospitals to police departments to crime laboratories. Still, backers of the legislation argued the bills were still needed because Kaul couldn't require law enforcement agencies to participate in the system he created. The Senate passed both bills this spring, one on a voice vote and one unanimously. Senate Bill 71 would create the process for collecting and processing the kits, while SB 94 would require the Department of Justice to create a database to give sexual assault victims access to information about the status of their kits, as well as various law enforcement and health care professionals to track and update their location. There was no sign of movement on the legislation in the Assembly until GOP leaders added one bill to the proposed calendar for the final day of the fall floor period and then added the second one to the final plan. In talking up the bills, Assembly Speaker Robin Vos, R-Rochester, and Steffen credited Schimel for the legislation, making no mention of Kaul. Legislative backers of the bills don't care who gets the credit or the motivation of GOP leaders to put the bills on the calendar. They're just happy they got done. Some note the dynamic changed once Kaul created his own tracking system. Former GOP AG candidate Ryan Owens supported the bills during his brief campaign for the office, though he tried to suggest they weren't getting done because Kaul couldn't work effectively with the Legislature — despite one house approving the bills overwhelmingly twice. There simply wasn't much to make out of the issue politically, some say. Others say the persistence of bill backers — including lead Senate authors Rob Cowles, of Green Bay, and Alberta Darling, of River Hills — finally paid off.
Dem lt. gov. field: The field of Dems looking to be Gov. Tony Evers' running mate next fall was slow to materialize. But the contenders are about to make up for lost time. Freshman state Rep. Sara Rodriguez, of Brookfield, announces her campaign for the office, joining state Sen. Lena Taylor, of Milwaukee, in the field. Others appear poised to join them. State Rep. David Bowen, of Milwaukee, has been considering a bid for weeks and tweets this week he's preparing to make waves. Brown Deer Village Trustee Emily Siegrist, who ran for Assembly in 2020, and Racine Ald. John Tate II have also been talked about as possible candidates. Meanwhile, Wauwatosa Mayor Dennis McBride has emerged as another possible contender. And insiders continue to watch whether Wausau Mayor Katie Rosenberg decides to get into the race. In her announcement, Rodriguez, who has a background in health care, talks up her passion for public health. Insiders say she has a number of positives going for her, including that health care background. She also comes from one of those suburban districts where Dems managed to gain ground with Donald Trump in office. She's also viewed as more of a team player than Taylor. No one will ever accuse the state senator of being shy or afraid to speak her mind, regardless of who it rankles. Still, being a leading voice against the proposal drawn by Evers' People's Maps Commission is a bit of an uncomfortable rift for some. Taylor, though, gets a free pass with her Senate seat not up until 2024. But Rodriguez doesn't have that luxury. Even so, insiders say taking a shot at statewide office is better than running for reelection to a redistricted seat. The final lines won't be known for months with Evers' expected veto of the Republican maps likely to push the issue to the courts. The map drawn by GOP leaders puts her in a seat with a Republican lean, while even the proposal from Dem lawmakers pairs her with Rep. Janel Brandtjen, R-Menomonee Falls. If Bowen, McBride, Rodriguez and Taylor are all in the race, that's an awfully crowded field of candidates from southeastern Wisconsin. Insiders say that would create a real opening for Rosenberg. Insiders see her as a rising star in the party who could help the ticket talk to outstate voters with much of the party seemingly focused on Madison and Milwaukee. More than 40 percent of the votes in a typical Dem primary come from Dane and Milwaukee counties. But slicing up the Milwaukee County piece of that pie multiple ways dilutes its power in picking the nominee. Insiders are watching to see if any of the contenders can build a true statewide operation outside of their home territories. Among the lawmakers, Rodriguez has shown the best fundraising chops. She raised nearly $700,000 for her Assembly campaign as she knocked off GOP Rep. Rob Hutton and had nearly $56,000 in the bank at the end of June. Half of what she raised in 2020 came from the state Dem Party with her race one of the top priorities. But even without that, she's proven able to raise more money than Taylor and Bowen, who have safe seats. Taylor had less than $1,400 in her state campaign account at the end of June, and she raised less than $54,000 for her failed 2020 mayoral bid against Tom Barrett that captured less than 37 percent of the vote. Bowen was sitting on a gold mine of a small-dollar fundraising list after he was the only Wisconsin superdelegate to back Bernie Sanders in 2016. But he failed to capitalize on that early rush of cash and had less than $10,000 in the bank at the end of June. For all the sudden interest in the race, some note lt. gov. candidates often bring little to the ticket. The bigger concern is making sure Evers has a running mate who doesn't drag him down. Insiders also note Evers has taken a hands-off approach to the primary to find someone new for the ticket with Mandela Barnes off running for U.S. Senate. Some suggest that approach has allowed for a possibly messy primary field to develop and wonder if the guv will put his thumb on the scale at some point.
Mixed
Deb McGrath: The latest Dem to get into the nationally important race for western Wisconsin's 3rd CD has an impressive resume. Can she turn that into a successful fundraising operation that makes her a real player for the party's nomination? The former Army captain and CIA officer becomes the fourth Dem vying to replace U.S. Rep. Ron Kind, D-La Crosse, and she plays up her credentials on the national stage in the process. The daughter of Al Baldus, who represented the seat from 1975-81, quickly announces raising $100,000 over the first 24 hours of getting in. McGrath has been making calls about a race for weeks and told WisPolitics.com last month she was planning to get in. Now, insiders are looking at how the field fits together. State Sen. Brad Pfaff, D-Onalaska, was the first Dem to jump in after Kind's announcement. He quickly landed the endorsement of the outgoing congressman, his former boss, and former U.S. Sen. Herb Kohl, D-Milwaukee, after serving as aides to both. As McGrath enters, Pfaff's campaign also announces he's raised more than $220,000 since getting into the race. And Eau Claire businesswoman Rebecca Cooke pulled in more than $100,000 in the first few days of her campaign as well. Insiders see Pfaff as more of the establishment pick with his backing from Kind and Kohl. He's also a sitting state senator who won a tight race last fall against popular former GOP lawmaker Dan Kapanke, worked in the Obama administration and was Gov. Tony Evers' DATCP secretary until Senate Republicans fired him. Meanwhile, insiders note there's a bit of a rivalry in the western Wisconsin district between La Crosse and Eau Claire. Both Cooke and McGrath hail from Eau Claire, and insiders wonder if they'll split the vote in that market. Having both in the race also might give pause to groups such as Emily's List, which backs female candidates who support abortion rights. Such organizations may wait to see if one emerges as the stronger contender or just let the primary play out rather than getting involved, some say. Both also face the challenge of building their name ID compared to Pfaff, who served on the La Crosse County Board. He's already known in the La Crosse area and can spend his time trying to make inroads in the Eau Claire area. Then again, that assumes Eau Claire will still be part of the district once the final lines are drawn. Both maps from GOP lawmakers and Evers' People's Maps Commission keep the two cities in the 3rd CD, but that won't be a done deal until the courts weigh in. It also won't be clear just how competitive the seat will be until that court fight is done. The district has been trending Republican, and Derrick Van Orden narrowly lost to Kind last year as Donald Trump won the seat by an even bigger margin than he did in 2016. Van Orden is back for another shot. And with $1.8 million raised already this year and what looks like a favorable environment for Republicans in 2022, he is in a strong position to win the seat so long as its political composition stays about what it is or even gets better for the GOP. Insiders also debate which of the three candidates would be a better contrast to Van Orden. Pfaff has already started taking shots at the former Navy Seal for attending the Jan. 6 rally that preceded the violent attack on the U.S. Capitol. Van Orden insists he left the rally before things turned violent and didn't step foot on the Capitol grounds. But Dems point to pictures from that day to say the evidence shows he was at least on the grounds that day. Dems have also knocked Van Orden for an incident he described in a book about his time in the Navy Seals where he surprised two female subordinates by showing them a lieutenant's swollen genitals. He also had a run-in with a teenaged employee at the Prairie du Chien library over a display in the children's section celebrating Pride Month. Some argue having a female candidate — particularly one with McGrath's national security credentials — opposite Van Orden would be a powerful contrast.
Mill bill: Legislative sausage making is rarely pretty. Sometimes it's awfully interesting, though. Case in point: the renewed Assembly effort to help two north-central Wisconsin mills includes language for a totally unrelated effort on alcohol and drug testing workers on public works projects, including broadband. That's the same language that was included in an Assembly bill that was taken up this summer to help the Milwaukee Metropolitan Sewerage District qualify for a federal grant to clean up the Milwaukee River. And that language was nowhere to be found in the Senate's version of the MMSD bill. Nor is it in a new Senate bill that also seeks to help the mills. Bringing back that drug and alcohol language in the latest mill bill isn't the only intriguing thing about the new legislation. It's rare that the lead Senate author on an Assembly GOP bill is the minority leader. The mill part of the legislation is pretty straightforward. This summer, Gov. Tony Evers vetoed a bill that sought to force his administration to use federal ARPA funds to finance loans to purchase two closed mills in Wisconsin Rapids and Park Falls. At the time, Evers argued it was unclear if federal money could be used for the effort and that it made more sense to use state funds instead. Two months later, private equity firm Atlas Holdings LLC entered into a confidentiality agreement with Verso to purchase the idled mill in Wisconsin Rapids. With those talks ongoing, lawmakers propose authorizing the Wisconsin Economic Development Corp. to award up to $1 million to maintain operations at the Verso mill in Wisconsin Rapids and issue a loan guarantee of up to $15 million to an eligible borrower to purchase or make infrastructure improvements at the Park Falls operation. There's some grumbling about the bill because Verso's stock is up significantly amid the talks with Atlas. Some wonder why state taxpayers should shell out $1 million to maintain the plant while the sale goes through. But the bill clears the Assembly 96-2. Now it's off to the Senate, where there's already a competing version of the legislation, sans the alcohol and drug language. State law already prohibits substance abuse by those working on certain public works projects and requires contractors to provide their employees substance abuse prevention programs. The language added to the Assembly mill and MMSD bills would expand the definition of public projects that would be covered by the requirement. That includes adding fiber optics, broadband and cable to projects considered public utility work. Considering the flood of broadband projects coming to Wisconsin through new state, federal and private funds, the expanded definition gets the attention of insiders. To critics of the proposal, it comes with reporting requirements that would be burdensome for smaller contractors. To supporters, putting some teeth in the state's drug and alcohol testing requirements on utility projects is important when you have workers doing things like digging near gas lines. Nobody wants a repeat of the 2018 explosion in downtown Sun Prairie. So now the Assembly and Senate GOP caucuses are at loggerheads once again. Some Senate Republicans bristle at the reporting requirement as burdensome and unnecessary. Some backing the change say Assembly Speaker Robin Vos, R-Rochester, negotiated in good faith on the language over the past year and is simply keeping his word to the parties involved who have made the case this is good policy. The question is: Who blinks? With the fall floor period over, the Senate can't take up the Assembly bill until at least January. And more likely than not, insiders believe the Senate would strip out the drug and alcohol language and send it back or simply do its own clean bill. 
Falling
People's Maps Commission: Dems have long called for a nonpartisan process to draw Wisconsin's political boundaries, arguing partisan gerrymanders created by Republicans are undemocratic. But once they got such a map, it split the Assembly Dem caucus and led to some members trashing the product and the process. All the while, Republicans have only been too happy to point out flaws with the commission's product while enjoying the stories about Dems in disarray. To those who watch redistricting closely, the commission's issues stem from a simple foundation. When you take a highly partisan, highly technical process that has to hew closely to legal requirements under things like the Voting Rights Act and put nonpartisan, nonpolitical people in charge of the process, there are going to be issues. The first sign of trouble was when the initial drafts produced fewer majority Black and Hispanic districts than under current law. Commission Chair Christopher Ford, an emergency room doctor, vowed the final product would address those issues. But those final lines still irk some Black and Hispanic lawmakers. Rather than focus on the number of majority Black and Hispanic districts, the commission stressed what it calls "opportunity districts" where whites make up a minority of the voting-age population. There are nine such Assembly districts under the maps from the Evers commission when adding the Black and Hispanic populations together. The theory has played out in redistricting discussions across the country because Dems have realized packing Black or Hispanic voters into districts ends up diluting the party's ability to win seats overall. While some of the districts under current law are above 60 percent Black for voting-age population, for example, they're also north of 80 percent Dem. Instead, creating districts in which Black or Hispanic voters are a solid plurality and other minorities push the overall voting-age population above 50 percent also creates more competitive districts politically across the map. But there are two catches. One, it remains to be seen whether the courts will agree with the argument. Two, some Black and Hispanic lawmakers see it as an attempt to dilute their power. Critics — like Dem state Sen. Lena Taylor — argue that whites turn out at a higher percentage than Black or Hispanic voters. So even a district that's 50 percent Black is insufficient because there isn't a guarantee the Black community will have the opportunity of electing the candidate of their choice as laid out in the Voting Rights Act. Others push back on that fear in such a hyperpartisan atmosphere. Minorities would still likely make up a majority of the primary voters. And once Black and brown candidates made it through that contest, they'd all but be assured of winning the general. Republicans, meanwhile, point to other issues with the maps and the commission. That includes the possibility the commission evaded the open meetings law with walking quorums for members meeting in committee to talk about the maps. And several Senate districts don't have an incumbent who would be on the ballot in 2022. That could then require a special election to fill the seat. GOP critics have a field day with those issues as they dismiss the maps. But the real show is the floor debate. Republicans decide to force votes on the proposals by bringing them up as amendments to their plan, hoping to put Dems on the record and possibly embarrass Evers in the process. Taylor had already made her concerns known about the commission's proposals before the floor debate and was the lone Dem to vote against them in the Senate. But it becomes much more contentious in the Assembly. Freshman Rep. Sylvia Ortiz-Velez, D-Milwaukee, slammed the commission's maps as an attempt to increase Dem seats at the expense of limiting representation of Black, brown and other minority voters. "It promotes a white supremacist agenda that says it's OK for other folks who we don't choose to rule over us and make decisions for us," she says on the floor. Underscoring the split among Dems over the approach or majority-minority seats vs. "opportunity districts," Milwaukee Ald. JoCasta Zamarripa rips Ortiz-Velez, who succeeded her in the Assembly seat. Zamarripa says in criticizing the People's Maps Commission, Ortiz-Velez "carried water for Speaker Vos and his attempts to gerrymander an anti-Latino majority." In the end, the maps fail 77-21 with all Republicans and 17 Dems voting against the proposal. Word began to leak out ahead of the vote that Assembly Dems were planning to vote unanimously against the People's Maps Commission product once Republicans brought them to the floor like GOP lawmakers did in the Senate. The idea was for Dems to say ahead of the floor period they weren't falling for the political stunt. What's more, Dem sources say the caucus was looking at not supporting any amendments during the debate, they'd keep quiet on the floor about the issues some members have about the maps and then just move onto the expected court battle over the lines. The approach was proposed amid fears some members of color might be tempted to vote for the GOP maps that had more majority Black and Hispanic districts, a move that would have undercut the Dem position publicly on fair maps and possibly hurt their case before the courts as well. But that also set off alarm bells in the East Wing. After demanding a nonpartisan process to draw maps for years — even making it a platform for some of their campaigns — voting against the lines drawn in that process was unfathomable to some and seen as a slight to the guv. What's more, it smacked of lawmakers being more worried about protecting their own turf than backing a more fair map. As calls from the guv's office started peeling off members, it brought down that strategy and opened the door to some stinging speeches on the Assembly floor. Insiders now wonder if Dem criticisms of the commission's maps and the Voting Rights Act will end up in GOP filings as the court battle over new lines drags on. What frustrates some Dems the most is the messy spectacle was all for naught. Neither the guv's maps nor the GOP lines are going to become law through the legislative process. It's all going to be hashed out in court, and the decision by some Dems to air their grievances publicly may end up weakening the party's hand legally. Others, however, bristled at the commission's maps, saying their responsibility is to their districts and the people they represent, not the guv's pet project. Republicans, meanwhile, see the debate and the split among Dem lawmakers as a stinging rebuke of Evers and the process he put together.
Tax burden: Wisconsin, once a perennial top 10 tax burden state, has slipped firmly into the middle of the pack. And that's even before considering the impact of the $2 billion in tax cuts GOP lawmakers put into the state budget and signed by Dem Gov. Tony Evers. A new report from the Wisconsin Policy Forum finds state and local governments took in $30.6 billion in taxes in 2019, accounting for 10.3 percent of personal income, good for 23rd highest in the nation. It also equals $5,275 per capita, 24th highest. Under both metrics, the state is below the national average. Twenty years ago, the $17.4 billion state and local governments collected accounted for 12.2 percent of personal income, No. 4 in the country. It also was $3,288 per capita, good for No. 6. The Wisconsin Policy Forum notes no other state saw a bigger decrease in state and local taxes as a share of personal income as the 1.87 percent drop in Wisconsin. If the state's tax burden as a share of income had been the same in 2019 as it was two decades earlier, taxpayers would've shelled out another $5.6 billion, according to the group. While some hail the tax news, others bemoan what it's meant for program priorities. The Wisconsin Policy Forum notes spending for K-12 education was 5.3 percent of personal income in 1999, the eighth highest in the country. By 2019, it had slipped to 4.1 percent, good for No. 24. Rankings like the one compiled by the Wisconsin Policy Forum rely on information such as data collected by the U.S. Census and can lag behind what's happening in real time. The 2021-23 state budget, for example, has more than $2 billion in income tax cuts that will factor into coming rankings. The Wisconsin Policy Forum notes those cuts will factor into future rankings, as will growth in personal income and tax changes made by other states.
Read the report.
Evers activates roughly 500 National Guard troops ahead of Rittenhouse verdict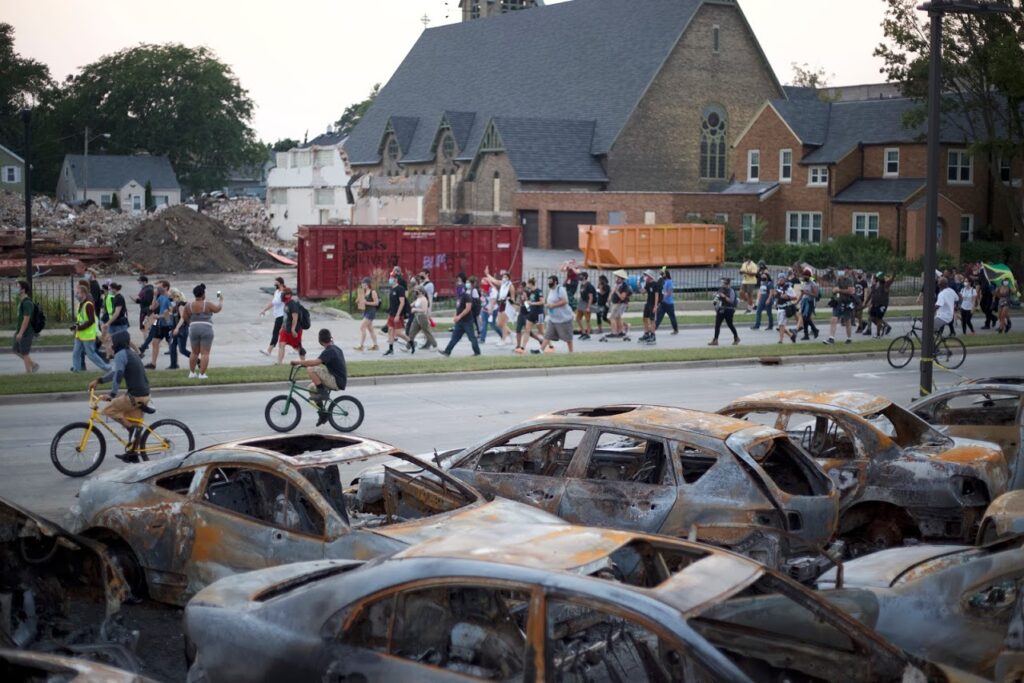 Gov. Tony Evers today announced he is sending about 500 National Guard troops to Kenosha ahead of Monday's scheduled final arguments in the trial of Kyle Rittenhouse. 
Those troops will join hundreds of law enforcement officers volunteering from other agencies, according to the guv's office. Evers also urged those who live outside Kenosha to reconsider traveling to the area if they had plans to do so, but encouraged those planning protests and demonstrations in the area to exercise their First Amendment rights peacefully. 
"The Kenosha community has been strong, resilient, and has come together through incredibly difficult times these past two years, and that healing is still ongoing," he said. 
Rittenhouse is on trial for shooting three people, killing two and wounding another, during unrest in Kenosha last summer following the non-fatal police shooting of Jacob Blake, a 29-year-old Black man. 
Evers' decision to send 500 troops to Kenosha comes after he faced criticism for the initial response to the violent protests that broke out following the shooting of Blake. Evers argued he fulfilled the requests from local officials for assistance, but critics argued he should've been more aggressive in sending troops, and the failure to do so opened the door to the violence escalating.
According to a release, National Guard troops will stage outside Kenosha until requested to respond. The release said troops are to support local law enforcement and first responders and protect critical infrastructure and cultural institutions. It also noted troops are not to be used to impede peaceful protest or media coverage. 
See more here.
Madison's clerk suggests LAB staffers be sworn in as election officials to handle election records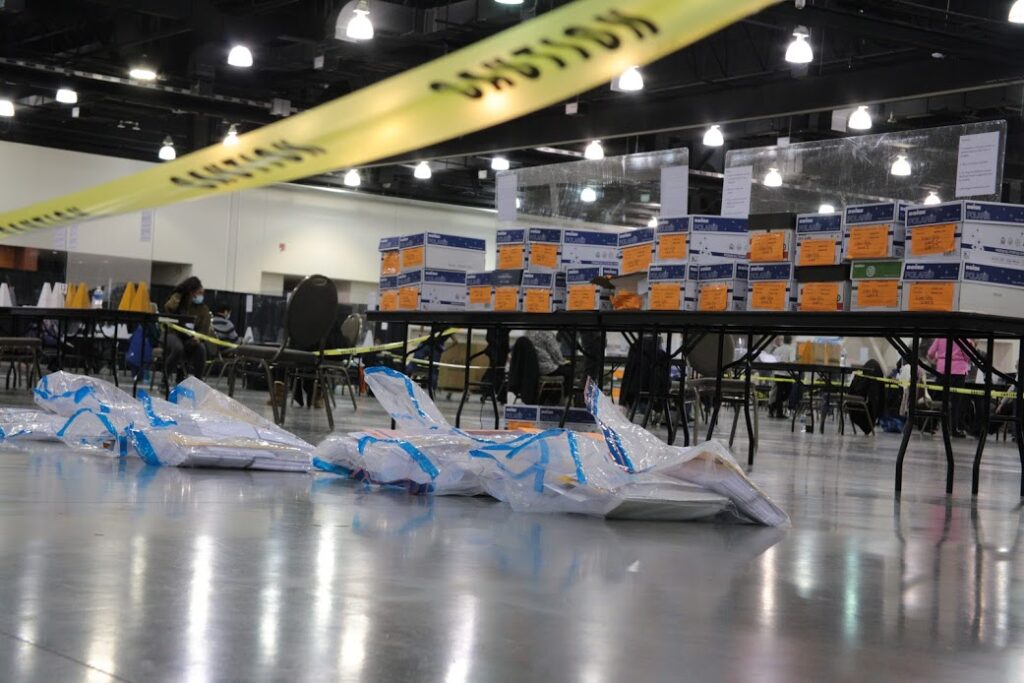 Madison's clerk today offered the LAB two options to break the impasse over the legislative agency physically handling election records, including having auditors sworn in as election officials.
The offer from Clerk Maribeth Witzel-Behl comes after Senate Republicans issued a subpoena directing her to turn over records the Legislative Audit Bureau had sought for its review of the 2020 election or make them available for review.
A spokesman for Senate Majority Leader Devin LeMahieu, R-Oostburg, said conversations were ongoing about the clerk's offer.
"Both sides want to work together and come to a resolution," said Adam Gibbs.
As LAB employees conducted the audit, Witzel-Behl in August offered to allow them to either handle copies of election records or view them while her staff physically handled them. In taking that stance, she cited U.S. Department of Justice guidance to officials on requirements for maintaining chain of custody with election records.
On Wednesday, Senate Republicans issued a subpoena seeking to allow LAB to physically handle absentee ballot certificates and records from statutorily required tests of electronic voting equipment. After the subpoena was issued, Mayor Staya Rhodes-Conway fired back the city wouldn't turn over original records and said the LAB was free to examine copies of the documents as had already been offered.
In today's letter, Witzel-Behl again mentioned her concerns over allowing LAB to physically handle material in light of the U.S. DOJ guidance.
"I now find myself in the position of, in the worst case scenario, choosing to be subject to either potential federal criminal prosecution or a finding of contempt by the Legislature and the threat of imprisonment in the Dane County Jail," she wrote.
She then offered two options:
*allowing LAB staff to physically handle and inspect one record at a time. She wrote that clerk staff would hand each record to the LAB and then retrieve it before handing over another. If materials needed to be randomly selected, the two sides could work out an agreement on how to do that.
*registering LAB staff as election officials. Witzel-Behl wrote that would provide her confidence that she was following required protocols, and LAB staff could handle multiple records under observation by her staff. 
"I trust that we share the same goal of providing the Legislature and the public with the most complete, accurate and transparent information and data regarding the administration of the 2020 General Election," she wrote.
In the letter, she also complained that the LAB audit noted Milwaukee County and the Town of Suamico also declined to allow the agency to physically handle ballots. Witzel-Behl wrote she felt singled out.  
The Senate effort is being led by Elections, Elections Process Reform and Ethics Chair Kathy Bernier, R-Chippewa Falls. A Bernier aide told WisPolitics.com this week the subpoena was only issued to Madison because the other two communities allowed LAB to handle absentee ballot certificates and election test records.
Read the letter.
Political TV
(Check local listings for times in your area)
"UpFront" is a statewide commercial TV news magazine show airing Sundays around the state. This week's show, hosted by ADRIENNE PEDERSEN, features Senate Majority Leader DEVIN LeMAHIEU, R-Oostburg, and Milwaukee Police Chief JEFFREY NORMAN.
*See more about the program here.
*Also see a recap of the show online each Monday at WisPolitics.com 
"Rewind," a weekly show from WisconsinEye and WisPolitics.com, airs at 8 p.m. on Fridays and 10 a.m. on Sundays in addition to being available online. On this week's episode, WisPolitics.com's JR ROSS and CBS 58's EMILEE FANNON discuss former Supreme Court Justice MICHAEL GABLEMAN's 2020 election investigation, redistricting and Sen. ANDRÉ JACQUE's return to the Senate floor following his hospitalization with COVID-19.
*Watch the show here.
Check out WisPolitics.com's Midday, which offers insights into the state's top political news.
*Listen to the podcasts here. 
"The Insiders" is a weekly WisOpinion.com web show featuring former Democratic Senate Majority Leader CHUCK CHVALA and former Republican Assembly Speaker SCOTT JENSEN. This week, the two debate the political impact of Republicans' anti-abortion push following the GOP-controlled Legislature sending a series of abortion bills to Gov. Tony Evers' desk, where they'll meet likely vetoes.
*Watch the video or listen to the show here.
"In Focus: Wisconsin" airs Sundays at 9:30 a.m. on Spectrum News 1 on channel 1. This week's program with host JASON FECHNER features a look at the NCAA's decision to allow college athletes to profit from the use of their name, image and likeness. Guests include Rep. ADAM NEYLON, TEAM LAMMI founder BRIAN LAMMI and Badgers Track & Field athlete TIA DORSHORST. 
PBS Wisconsin's "Here and Now" airs at 7:30 p.m. Fridays. This week's program with anchor FREDERICA FREYBERG features Leaders of Kenosha Executive Director TANYA McLEAN on the KYLE RITTENHOUSE trial, U.S. Rep. GWEN MOORE on the federal infrastructure package and Marshfield Clinic CEO SUSAN TURNEY on COVID-19.
"Capital City Sunday" airs at 9 a.m. Sunday on WKOW-TV in Madison, WAOW-TV in Wausau, WXOW-TV in La Crosse and WQOW-TV in Eau Claire. Host A.J. BAYATPOUR interviews Assembly Speaker ROBIN VOS, R-Rochester, and KEN MIKA from the Wisconsin Chapter of the American Society of Civil Engineers.
Week Ahead
Wednesday: The Wisconsin Policy Forum hosts its 29th Annual Salute to Local Government awards program.
– 11:30 a.m.: Milwaukee.
Wednesday, Thursday: Marquette University Law School is to release its poll on the U.S. Supreme Court Wednesday, and its poll on national political topics Thursday. See details.
– 5 a.m. each day: Online.
Names in the News
Upcoming Events from WisPolitics.com and partners include:
*A Tuesday WisBusiness.com virtual event on how federally funded university research fuels the Wisconsin economy. Panelists include: JEANNE HOSSENLOPP, Marquette University's vice president for research and innovation; SANDRA McLELLAN, professor in the School of Freshwater Sciences at UW-Milwaukee; KATARINA MARIE BRAUN, a UW-Madison medical student who has a PhD in cellular and molecular biology and has done extensive research work on flu and COVID viruses; and Dr. SHEKAR N. KURPAD, of the Medical College of Wisconsin, who has extensive research experience in spinal cord injury and is internationally recognized in the field of imaging biomarkers for spinal cord injury and cervical myelopathy. See more information and register here. 
*A Thursday discussion about the once-a-decade redrawing of congressional and legislative boundaries in Wisconsin. It features three former legislators who have deep experience in legislative map-making — Republicans SCOTT JENSEN and JOE HANDRICK plus Democrat CHUCK CHVALA — along with ELIZABETH TREVIÑO, Wisconsin state director of allontheline.org. Jensen and Chvala are the WisOpinion Insiders. See some of their commentary on redistricting and other political topics here. Register here. 
*Video and audio from the Oct. 21 polling summit and 2022 election preview is now available. You can watch the full video and hear the full audio for $9, gaining insight that will pay off for the entire election year. Click here to make a payment, putting "summitvideoaudio" in the purpose of payment line: And then we'll send you links to the video AND audio files. Questions? Contact: schmies@wispolitics.com
Political rivals Wisconsin Manufacturers & Commerce and the Wisconsin Education Association Council are teaming up to host a Dec. 8 "Wisconsin Statesmanship Reception" with the aim of helping bridge Wisconsin's political and ideological divisions. Register here.
Wisconsin Department of Veterans Affairs Secretary MARY KOLAR and Gov. TONY EVERS announced DARCIE GREUEL, who served as a lieutenant colonel in the U.S. Army, as 2021 Woman Veteran of the Year.
U.S. Rep. BRYAN STEIL, R-Janesville, announced retired U.S. Marine Sgt. ROBERT G.E. BOULDEN as Wisconsin's 1st CD 2021 Veteran of the Year. 
Madison Region Economic Partnership CEO JASON FIELDS, a former state lawmaker, was elected president of the Regional Leadership Council, a coalition of the executive directors of the state's regional economic development organizations. 
RILEY VETTERKIND, a former WisPolitics.com and Wisconsin State Journal reporter, has joined the Wisconsin Elections Commission staff as public information officer.
KRIS ANDREWS, a former Capitol Hill chief of staff and a former federal relations executive for the University of Wisconsin System, is now consulting with Wisconsin Tech Council corporate members on federal issues of interest. 
Faculty and staff on UW Law School's recently formed State Democracy Research Initiative include: Legal Research Director ALLIE BOLDT, who served as an attorney for the Department of Safety & Professional Services and as a senior policy analyst for the Department of Health Services; and UW Law School associate professors MIRIAM SEIFTER, co-founder of the State and Local Government Law Blog; and ROBERT YABLON, an affiliate of UW-Madison's Elections Research Center.
Endorsements: The following is a list of recent endorsements, based on emails received by WisPolitics.com:
U.S. Senate
MANDELA BARNES: U.S. House Majority Whip JIM CLYBURN
3rd CD
DEB MCGRATH: Former State Assemblyman DANA WACHS
5th CD
JESSICA KATZENMEYER: 23 endorsements from elected officials and others.
Attorney General
ERIC TONEY: Former Republican Party of Wisconsin Chair and Gov. Walker adviser BRAD COURTNEY.
Lobbyist Watch
Fourteen changes were made to the lobbying registry in the past 10 days.
Follow this link for the complete list.