Quotes of the Week
Even a dollar paid to Gableman is a dollar too much of taxpayer money to fuel conspiracy theories.
– Rep. Mark Spreitzer, D-Beloit, on former Supreme Court Justice Michael Gableman's investigation into the 2020 election. Assembly Speaker Robin Vos announced the investigation would continue a day after former President Donald Trump released a statement insisting the probe go forward. In a letter sent to Vos, R-Rochester, on Monday, Gableman offered to reduce his $11,000 per month salary to $1 annually.
Anyone calling themselves a Republican in Wisconsin should support the continued investigation in Wisconsin without interference. After all of the evidence the report brought to light, how could anyone want to stop it? I understand some RINOs have primary challengers in Wisconsin. I'm sure their primary opponents would get a huge bump in the polls if these RINOs interfere.
– President Trump's statement. Though Trump didn't name Vos directly, the speaker is facing a primary challenger: Republican Adam Steen.
We've seen three successive polls that were already pretty negative on this question, and they've simply become more negative. It's striking that people can be this pessimistic about the state and its direction and yet still have a net approval rating — a net positive approval rating — of Tony Evers.
– Marquette Law School Poll Director Charles Franklin on the latest poll showing 36 percent of voters believe the state is headed in the right direction, while 56 percent say it is on the wrong track. That's a decrease from the 39-53 split in February. However, Gov. Tony Evers job approval rate is at 49 percent, with 43 percent disapproving compared to a 50-41 split in February.
Political Stock Report
-A collection of insider opinion-
(April 23 – 29, 2022)
Rising: Derrick Van Orden, Tony Evers
Mixed: Senate Republicans, Mandela Barnes, Michael Gableman
Falling: Kevin Nicholson, pool regulations
Derrick Van Orden: Between the money and the national political environment, pundits are betting the former Navy SEAL will flip western Wisconsin's 3rd CD this fall. The latest evidence: The National Journal listing the seat as the most likely district in the country to switch party control. The national publication notes none of the Dems running to replace retiring U.S. Rep. Ron Kind, D-La Crosse, has come close to matching Van Orden's fundraising. He had $1.8 million in the bank to end March, while state Sen. Brad Pfaff, former CIA agent and Army officer Deb McGrath, Eau Claire businesswoman Rebecca Cooke and La Crosse Ald. Mark Neumann had less than $700,000 combined stashed away at the end of the first quarter. Fresh on the heels of the rating, the GOP-aligned Congressional Leadership Fund announces it will spend $125 million on ads to help Republicans win control of the House in November. Much of it is going to flip districts red come November, including in the 3rd CD, rather than bolstering incumbents — a sign of the environment that Republicans see. The overall buy — which the group says is a floor for its spending this fall — includes $390,000 in the La Crosse-Eau Claire market and $333,000 in Wausau. That will cover all of the district that runs along the Mississippi River as well as the finger that juts over to grab the Stevens Point area. The Dems' House Majority PAC announced earlier it will spend $780,000 in the La Crosse market alone. The GOP-aligned CLF is portraying its decision not to place a higher financial priority on the seat as a sign of its confidence the district will flip. Dems say their side isn't walking away from the district, adding Van Orden hasn't really been put to the test yet with a sustained paid media effort to tie him to the Jan. 6 violent protest at the U.S. Capitol. Others, though, aren't sure that issue is going to really drive voters this fall, particularly when they're concerned about issues like inflation. What's more, Republicans continue to see the best environment brewing in a generation for the GOP. To them, it's not a matter of whether Republicans flip control of the U.S. House, but how deep into blue territory they can go to pick up surprise wins.
Tony Evers: All things considered, the guv is in a pretty good spot, insiders say. But can he keep his poll numbers where they are with a headwind blowing out of Washington, D.C., and voters generally cranky about the way things are headed in the state? Evers' numbers in the latest Marquette University Law School Poll are a bright spot for Dems. Even though President Biden's job approval remains underwater by 10 points, 49 percent of voters approve of the job Evers is doing, while 43 percent disapprove, largely unchanged from February. Evers also got good marks on his handling of the coronavirus with 60 percent approving and 38 percent disapproving, an improvement from a 53-40 split in October as the state was seeing cases spike. It's the other numbers that have Dems worried. Only 43 percent approve of the job Biden is doing, unchanged from February. Ninety-two percent are very or somewhat concerned about inflation. And just 36 percent believe the state is headed in the right direction, while 56 percent say it's on the wrong track. If those numbers keep up, insiders ask, will voters really not punish Evers for their concerns about what's going on in Washington? Some suggest Evers' persona as a non-confrontational, decent guy helps him avoid some of the ugliness going on in politics. Some Republicans suggest it's hard to make things stick to the guv. Others, though, argue he doesn't have a bold enough personality to differentiate himself from the generic Dem brand, which is lagging with voters right now. Even so, insiders note Evers also has the prospect of a nasty GOP primary going for him. With Tim Michels in the race, insiders expect the wealthy construction exec or businessman Kevin Nicholson — maybe both — to at some point try tearing down frontrunner Lt. Gov. Rebecca Kleefisch. It remains to be seen if they can overtake her. But they can leave her damaged after the Aug. 9 primary. If the base is split after a tough primary, all the better for Evers to use his resources and likability to beat back a national wave. Whoever the Republican nominee is will also have to navigate the minefield that is talking about the 2020 election with a segment of the base that still won't let go of the false belief that the presidency was stolen from Donald Trump. The latest Marquette poll also has some fascinating numbers on that front. The GOP voters who are most likely to doubt the results of the 2020 election are also the Republicans most enthusiastic about voting in 2022. Poll Director Charles Franklin says that may point to turnout in the GOP primary coming largely from those who are most skeptical about the election results. Meanwhile, it also suggests Republican voters who are confident in the 2020 results could be turned off by GOP nominees on the November ballot who claim the election was fraudulent. That leaves Republicans with a dilemma: play down concerns over 2020 and perhaps lose some of the base, or keep talking about the past and risk turning off moderate Republicans and swing voters they need to win come November. Republicans say incumbents in Wisconsin are typically tough to beat. Still, their private polling has Kleefisch neck-and-neck with Evers, and they question how long the guv can continue to escape the national environment.
Mixed
Senate Republicans: The path to a two-thirds majority is still there. But Dale Kooyenga's late decision not to seek reelection just makes it a bit tougher terrain to navigate, insiders say. When the state Supreme Court signed off on maps that GOP lawmakers had drawn, Republicans breathed a sigh of relief over the 5th SD. One, the GOP plan made the seat way better for any Republican running in it compared to the map Dem Gov. Tony Evers drew that the court had originally blessed. Two, the GOP plan actually kept Kooyenga in his seat. The Evers map put Kooyenga in the neighboring 8th SD, and he declared he wasn't going to move his family just to run for his seat if those lines remained. Days after the state Supreme Court ruling approving the GOP lines, Kooyenga told WisPolitics.com he planned to seek another term. But a week later, he does an about-face and decides to retire. He tells WisPolitics.com he was only 80 percent of the way there on another run when he made his original comments. He couldn't get to 100 percent in the following week, largely because he didn't want to risk missing out on his kids growing up by having a good chunk of his attention in Madison. His decision throws Senate Republicans a curveball. The average GOP performance in the redrawn district over the last two presidential elections and the 2018 guv race is 53.6 percent. Still, Dem Joe Biden narrowly won the seat in 2020, and Kooyenga seemed like the strongest option to keep it in GOP hands. He had more than $205,000 in the bank to end 2021, he's considered a hard worker and has enough of an independent streak to appeal to swing voters. Now, Republicans have about a month to recruit someone else, build a campaign and get that person on the ballot by the June 1 deadline to turn in nomination papers. As Republicans mull their options, a series of names emerge. Matt Cordio, an entrepreneur, tells WisPolitics.com he was encouraged to look at a bid but has decided to pass. Republicans have mentioned former state Rep. Rob Hutton, who lost his Assembly seat in 2020, as a possible candidate. But he wasn't known as a particularly aggressive fundraiser or campaigner. Some have encouraged Ben Voelkel, a former aide to U.S. Sen. Ron Johnson who's now running for lieutenant governor, to switch over to the Senate race, but some doubt he'd make the change. C.J. Szafir, president of the conservative Institute for Reforming Government, has also emerged as a possible candidate. Republicans don't need to be in panic mode, but they could use a candidate quickly, insiders say. On the Dem side, Jessica Katzenmeyer, who lost a bid for the Assembly two years ago, and Tom Palzewicz, who ran for the 5th CD in 2020, have both announced plans to run for Kooyenga's Senate seat. Some Dems continue to keep an eye on state Rep. Robyn Vining, D-Wauwatosa, wondering if she'll jump to the Senate race. However the field shakes out, it means Republicans likely will have to put more energy and money into the 5th SD than they would've had Kooyenga sought reelection. They also have to keep an eye on the open 19th SD in the Appleton area, another seat with a GOP lean that can be a little swingy. It helps that both are up in what could be a very good Republican year. Still, the more resources required for open seats, the less there is to go after the targets. There's the open 25th in northern Wisconsin — now held by Minority Leader Janet Bewley, D-Mason — or the western Wisconsin 31st, a seat Sen. Jeff Smith, D-Brunswick, holds that's a jump ball on the numbers. With a 21-12 majority now, Republicans would need to hold the 5th and 19th while picking up either of the two targeted Dem seats to get to a two-thirds majority. Kooyenga's retirement is also yet another departure from the Legislature. He is the seventh member of the Senate to decide to retire or seek another office, while 23 incumbents are set to leave the Assembly. The 30 departures are third most since 1940 behind 32 in 1942 and 31 in 1954, according to the Legislative Reference Bureau.
See the list of legislators leaving office here.
Mandela Barnes: Insiders have long believed one of the lieutenant governor's rivals was going to have to come take the Dem nomination for U.S. Senate from him. And there continue to be signs that could be in reach. The latest data point in that conversation is the new Marquette University Law School Poll, despite insiders' skepticism on how it gauges primaries. The margin of error for the Dem Senate race of plus or minus 6.6 percentage points means there's a lot of wiggle room for the latest numbers. Still, the results always get a lot of attention, and the impression the latest survey leaves is that the race has tightened significantly. The new poll comes as both Alex Lasry, on leave from his job with the Milwaukee Bucks, and Sarah Godlewski, the state treasurer, have been on the air with TV buys funded largely from their own wealth. Meanwhile, Barnes has yet to get up on TV. The survey finds 19 percent of Dems who say they're likely to vote in the Aug. 9 primary support Barnes, while 16 percent backed Lasry, 7 percent are for Godlewski and 5 percent want Outagamie County Exec Tom Nelson. By comparison, the February poll had Barnes at 23 percent, Lasry at 13 percent, Nelson at 5 percent and Godlewski at 3 percent. Lasry previously released his own polling that suggested the race had tightened after his ad buys, and his backers are quick to point out he's well within the margin of error with Barnes in the latest Marquette survey. Others say there's private polling that shows the lieutenant governor still has a healthy lead, and some say Barnes is still in the driver's seat — for now. Insiders also note it's to be expected that Lasry and Godlewski would see some movement considering the amount of TV they've put up. The ongoing question has been whether Barnes will be able to answer it in a meaningful way once he hits the airwaves. The lieutenant governor has been raising good money and had $1.6 million in the bank to end March. That's more than either Lasry or Godlewski had. But Lasry put $3.45 million into his campaign during that quarter alone, and he's up to $5.8 million out of his own pocket to the campaign overall. That means he can write a check to match just about anything Barnes can raise. If this momentum is real, can Barnes blunt it once he goes on the air? Insiders note other issues that have popped up. WisPolitics.com obtained a recording of a recent forum put on by road builders in which Barnes bristled at being asked a question about his opposition to the expansion of I-94 in Milwaukee without his rivals being put similarly on the spot. To critics, he came off as thin-skinned and with a quick trigger — just what Republicans would love to try to exploit if he's the nominee and the spotlight is even brighter. The Marquette poll also finds nearly half of Dems surveyed were undecided. The number likely isn't that high among those who will actually turn out Aug. 9, some say, but it still underscores there's room for movement in the field. While some believe Barnes winning the nomination is less certain than it was six months ago, others argue he's still in a better place than those who are trying to close the gap. Meanwhile, the poll has little good news for Ron Johnson. He was underwater for his favorability rating in parts of 2015 as he geared up for his first reelection bid. Still, he had righted the ship by March of 2016 before treading water for much of the year and then climbing into positive territory over the final month of the campaign. He went on the air shortly after his January launch for his third bid, so the fact his numbers are still upside down by a decent margin with the election creeping up worries some. What's more, the Dem group Opportunity Wisconsin says it has dropped more than $5 million since early last year, including ads knocking Johnson as an out-of-touch politician who's doubled his wealth since taking office a dozen years ago. So when the Marquette poll finds 39 percent said "cares about people like me" describes Johnson, while 50 percent said it doesn't, some wonder if those ads are leaving a mark. The last time that question was asked about Johnson was in late October 2016 ahead of Johnson winning reelection. Then, the split was 43-39. Some Republicans are unconcerned. Johnson has turned on the money spigot, national Republicans and GOP leadership are going to be there to help, and the environment is favorable. 
Michael Gableman: The former Supreme Court justice gets to keep his office open. And insiders say Assembly Speaker Robin Vos looks like he's capitulating to Donald Trump — once again — for reasons they don't entirely understand. For months, insiders have wondered what Vos' out would be on the Gableman probe, which has regularly churned up embarrassing headlines about the former justice's efforts going off the rails. The latest came over Gableman's assessment that a city of Milwaukee IT employee was likely a Dem because she had a "weird nose ring," colored her hair, liked snakes, lived with her boyfriend and liked to play video games. Still, there are also some in the GOP base who not only want to see the probe continue, but to dig deeper. And that goes for Trump as well. Vos has regularly kept Trump apprised of the efforts to review the 2020 election. Still, insiders note it hasn't exactly gotten the former president to back off. Vos signed an amended contract with Gableman earlier this spring that had a cutoff of April 30, though the deal also envisioned the two sitting down once a series of court cases are over to see if a further investigation was warranted. With some chatter that Vos has been looking for a way to shut it down, Trump issues a statement pressuring GOP lawmakers in Wisconsin to allow the review to continue. He hinted there would be a boost to the primary challengers of "RINOs" who interfere with the probe. And while Trump didn't mention anyone by name, insiders immediately thought of Vos, who has drawn a challenger for his Racine County seat. Right on cue, Vos announces the probe will continue and praises Gableman for being willing to reduce his salary. The statement doesn't get into the details of that. But WisPolitics.com obtains a letter that Gableman sent Vos offering to reduce his pay — which has been $11,000 a month — to $1 annually if money is an issue. He also writes in the letter the only possible downside to keeping the probe going is the legal tab that's running up in various court cases. So far, it's a good chunk of a downside. Bills obtained by WisPolitics.com show Assembly Republicans have already racked up a $250,000 legal tab in a lawsuit challenging Gableman's attempt to depose the state's chief elections official at his private office rather than before a legislative committee in public. And that doesn't include the nearly $90,000 that taxpayers have shelled out for private counsel in the ongoing suits by the liberal American Oversight seeking records from the probe. With Vos' capitulation, Gableman gets to keep his platform to stay in the public eye and win the praise of those who falsely believe the 2020 election was "stolen." In the end, insiders expect Gableman's work to be a dud. Various claims he's made so far have already been disproved, such as the allegation that nursing homes in several counties had 100 percent turnout in November 2020. But Vos is in so deep now that some wonder how he can stop it. Some suspect this will run at least through the primary. Republicans are watching to see if other GOP incumbents besides Vos pick up an opponent from the "stop the steal" wing of the party. Keeping the Gableman probe alive through then could avoid pouring gas on those challengers, some argue. Then Vos can try to push the Gableman review aside post-primary and hope it fades from view by the November general election, when those moderate Republicans and swing voters who are turned off by the constant focus on 2020 will be needed to help fuel a possible GOP wave. The problem with that scenario, some say, is it risks Trump pulling another Georgia and telling his supporters to stay home because the GOP establishment wouldn't continue to indulge his falsehood. 
Falling
Kevin Nicholson: The lane the former Marine and businessman planned to use in his bid for the GOP guv nomination just got crowded. And the new guy vying for the anti-establishment vote can write a check that he can't. As construction company executive Tim Michels launches his bid for guv, insiders wonder whether he can catch Lt. Gov. Rebecca Kleefisch, the frontrunner for the GOP nomination, and just how much he's prepared to spend. They also note the remarkable similarities between Michels and Nicholson. Both want to run as outsiders and will play up their military credentials. Nicholson's burn-it-down tone is more in line with the segment of the GOP base fed up with everything, and he hasn't been afraid to take shots at Kleefisch or the Republican establishment. Michels, meanwhile, takes some digs at the Madison establishment, but also sounds like someone who wants to work within the system to "fix" things rather than tearing it down. He also will likely have a bigger microphone than Nicholson thanks to his personal wealth. Michels drops $980,000 on his first week of TV to introduce himself to the state. Insiders aren't sure if he can keep up that pace over the 15 weeks until the Aug. 9 primary. But a source tells WisPolitics.com the second week of Michels' buy looks almost exactly like his first. If he continues on that pace, it's a big chunk of change on TV. Nicholson, meanwhile, would have to see Dick Uihlein dig deep again to back his campaign through outside groups like the Illinois businessman did in the 2018 U.S. Senate campaign, when groups he supports dropped an estimated $11 million in the GOP primary. Nicholson backers are confident they'll have the resources needed to get their message out. Still, both men face the challenge of first building up their name ID and then finding a way to take Kleefisch down a few notches to overtake her for the primary. Michels also needs to build credibility with the GOP grassroots, particularly with critics ready to take shots at him over issues such as right-to-work and his family business' ties to the road-building industry. They ask, where's he been on the big fights the GOP has taken on in recent years? Michels is just getting up on the air, so it remains to be seen how much he can move the electorate. Nicholson, meanwhile, dropped $1.5 million through his No Better Friend promoting himself before formally getting into the race and then saw a super PAC backing him drop $1 million on TV. The PAC — Fight for Wisconsin — released polling earlier this month that suggested he had closed the gap with Kleefisch. The latest Marquette University Law School Poll, though, doesn't find much of a difference in the GOP field from late February through earlier this month. Michels filed to run for guv while the poll was in the field, undercutting some of its value on where the overall field is. Still, it found among those who plan to vote in the GOP primary, 32 percent said they backed Kleefisch, while 10 percent supported Nicholson and 4 percent backed state Rep. Tim Ramthun, of Campbellsport. The margin of error for that question was plus or minus 5.6 percentage points, so there's some range of where those numbers may be. Still, in February, Kleefisch was at 30 percent, while Nicholson was at 8 and Ramthun 5. Some aren't fans of the Marquette poll when it comes to measuring a primary because they believe there are better ways to identify likely primary voters. Still, it suggests Nicholson isn't moving many voters yet. And Michels is going to make that tougher — both by eating up attention on the airwaves and grabbing some of the voters Nicholson is targeting. The other big question is whether Donald Trump will weigh in. Insiders question if Kleefisch is in position to snag the former president's endorsement because she's viewed in Trump world as insufficiently loyal to the former president. Ramthun is the one most vocal in espousing false conspiracy theories about the 2020 election, but he's also not making headway in the polls. If Trump weighs in, some guess he'd be more likely to back Michels than Nicholson, and that could scramble the primary dynamic. Some Republicans, meanwhile, worry the primary is headed toward a divisive conclusion that will leave the nominee bruised and the base split. Dems, meanwhile, are rooting for it to happen, believing it would benefit Evers' chances of beating back any red tide that may sweep the country this fall.
Pool regulations: GOP lawmakers again nix what they see as an overreach by state government. But the hotel industry says it also leaves it at a disadvantage. The Joint Committee for Review of Administrative Rules votes along party lines to block rules proposed by the Department of Agriculture, Trade and Consumer Protection that sought to regulate pools at properties for rent on AirBnb and VRBO. The regulations had required those looking to rent their homes with pools using popular short-term rental services to comply with the same rules imposed on hotel pools and water parks. That meant homeowners with pools were only allowed to list their properties if they excluded pool access from rental agreements, or if they obtained a state license. JCRAR Co-chair Steve Nass, R-Whitewater, said the restrictions were an example of overbearing government that could put owners of smaller rental properties out of business. The move comes as DATCP is working on a separate rule to regulate those pools differently than those at hotels and water parks. Nass says he hopes there will be more balance to the new rule, while Dems on the committee argue lawmakers should've held off nixing the regulation now while the other package is being worked out, and those from the hotel and lodging industry argue the playing field should be the same for anyone looking to offer a rental with a pool to ensure guests' safety.
Capitol police failed to respond to Ballweg's office alarm button in January incident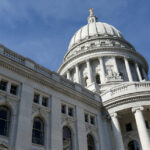 A Capitol Police dispatcher has been disciplined after Sen. Joan Ballweg says police failed to immediately respond to her office's duress button call for help in January.
The incident has prompted a bipartisan review by Senate leadership that includes the involvement of at least one other law enforcement agency. Meanwhile, Capitol Police said it was due to human error.
The office of Ballweg, R-Markesan, declined to go into details about the Jan. 7 incident, when the duress button in her office was pushed to request assistance over a safety concern. Her office said a staffer eventually flagged down a Capitol Police officer in the Capitol rotunda.
Capitol Police spokeswoman Tatyana Warrick told WisPolitics.com human error at the dispatch center resulted in a delayed response to Ballweg's call.
"Capitol Police officers maintain a presence throughout the Capitol and were alerted by a Senate staff member to the situation," Warrick said. "Officers immediately responded and were able to provide necessary assistance."
Warrick declined to say what discipline was imposed over the incident with Ballweg's office. 
WisPolitics.com has requested the police report and other records from the incident, but has not yet received them. 
Capitol Police said details about the disciplinary action would be included in the response to the open records request. 
Duress buttons are only meant to be used in life threatening situations and are designed to quietly request Capitol Police assistance, according to Capitol Police policy. Pressing the button sends a message to Capitol Police dispatch that they are needed for a safety issue and dispatch sends officers to the location the call came from.
Warrick said Capitol Police have undergone additional duress button response training after the January incident. Warrick said police also have other safety measures in place in the Capitol and various other facilities.
"The Capitol Police monitor thousands of alarms at facilities across the state, including several hundred in the State Capitol," she said. "We cannot disclose the exact number and location of those duress alarms for security reasons, but Capitol Police officers treat each of those alarms as a true emergency and respond accordingly."
Between October and April, there have been about 30 duress alarm activations with an average response time of under 4 minutes, Warrick added.
Those involved in the review include the offices of the Senate Majority Leader Devin LeMahieu, Senate Minority Leader Janet Bewley and Senate President Chris Kapenga.
Ballweg said she's also working with leadership to resolve the issue.
"On January 7, 2022, my office activated the emergency duress alarm in response to a serious safety concern," Ballweg said. "That alarm was not responded to by Capitol Police. I immediately brought this issue to the attention of Capitol Police leadership and have been working with them and Senate leadership to rectify the matter going forward."
Many of those involved in the review declined to provide WisPolitics.com details about the investigation, wanting to avoid potentially divulging information about how security at the Capitol works. They also said they did not want to decide what actions to take to respond to the issue until they conclude their review. 
LeMahieu's office said the chief concern of the investigation is maintaining the safety of every elected official and staff member in the Senate, and that the issue is not a partisan one. 
UW-Madison Police spokesman Marc Lovicott told WisPolitics.com the Senate requested the campus police department assist in reviewing alarm protocols inside the Capitol. He added Capitol Police specifically requested UW police assistance because they operate similar alarm systems.
Lovicott said he could not provide any details about the review as the investigation into the duress button issue is ongoing.
Political TV
(Check local listings for times in your area)
"UpFront" is a statewide commercial TV news magazine show airing Sundays around the state. This week's show, hosted by MATT SMITH features Milwaukee County Chief Judge MARY TRIGGIANO about the criminal case backlog and CHARLES FRANKLIN on the latest Marquette University Law School Poll. Meanwhile, ADRIENNE PEDERSEN will go inside a Milwaukee school preparing to potentially welcome Ukrainian refugees and introduce us to some of the refugees already there.
*See more about the program here.
*Also see a recap of the show online each Monday at WisPolitics.com 
"Rewind," a weekly show from WisconsinEye and WisPolitics.com, airs at 8 p.m. on Fridays and 10 a.m. on Sundays in addition to being available online. On this week's episode, WisPolitics.com's JR ROSS and CBS 58's EMILEE FANNON discuss former state Supreme Court Justice MICHAEL GABLEMAN's 2020 election investigation, the GOP guv primary, the latest Marquette University Law School poll and more.
*Watch the show here.
Check out WisPolitics.com's Midday, which offers insights into the state's top political news.
*Listen to the podcasts here. 
"The Insiders" is a weekly WisOpinion.com web show featuring former Democratic Senate Majority Leader CHUCK CHVALA and former Republican Assembly Speaker SCOTT JENSEN. This week, the two consider inflation's impact on the fall elections.
*Watch the video or listen to the show here.
"In Focus: Wisconsin" airs Sundays at 9:30 a.m. on Spectrum News 1 on channel 1 with host PETE ZERVAKIS.
PBS Wisconsin's "Here and Now" airs at 7:30 p.m. Fridays. On this week's program with anchor FREDERICA FREYBERG, Poll Director CHARLES FRANKLIN discusses the latest Marquette University Law School poll, Milwaukee Health Commissioner KIRSTEN JOHNSON discusses the status of COVID-19 in the state, Milwaukee County Chief Judge MARY TRIGGIANO talks about the backlog of criminal cases across the state, and UW-Madison consumer science Prof. MELODY HARVEY discusses where people should turn if they need quick cash.
"Capital City Sunday" airs at 9 a.m. Sunday on WKOW-TV in Madison, WAOW-TV in Wausau, WXOW-TV in La Crosse and WQOW-TV in Eau Claire. This week's program with host A.J. BAYATPOUR interviews Lt. Gov. MANDELA BARNES, GOP lieutenant governor candidate DAVID VARNAM and the Capital Times' JESSIE OPOIEN.
Week Ahead
Wednesday: The La Follette School of Public Affairs holds a day-long forum, "American Power, Prosperity, and Democracy."
– 9 a.m. – 6 p.m.: Monona Terrace, Madison. 
Wednesday: LeaderEthics Wisconsin hosts a conversation on campaign finance reform with American Promise founder and President Jeff Clements and River Valley Media Group Executive Editor Bob Heisse.
– Noon: Online. 
Thursday: UW-Eau Claire's Menard Center for Constitutional Studies hosts an event on freedom of expression and civil discourse with Princeton University law Prof. Robert George and Princeton University Professor Emeritus Cornel West.
– 7 p.m.: UW-Eau Claire.
Names in the News
Attend an in-person WisPolitics.com buffet luncheon at The Madison Club on May 12 for a 2022 election preview featuring a veteran pundit panel: Marquette University Law School Poll Director CHARLES FRANKLIN, Democratic strategist TANYA BJORK and Republican strategist KEITH GILKES of Platform Communications. The program is set to run from noon to 1 p.m. with the luncheon starting at 11:30 a.m. The event will begin with a moderated discussion and then shift to questions from the audience. Register here.
Join WisPolitics.com and WisBusiness.com on May 18 for "The Midwest Energy Landscape and the Way Forward" virtual luncheon from noon to 1 p.m. Panelists include: AARON ANNABLE, consul, manager foreign policy and diplomatic services, Canadian Consulate General Chicago; HEATHER ALLEN, executive director of RENEW Wisconsin; KATHRYN VALDEZ, Xcel Energy manager of energy & environmental policy; and PAUL WILSON, UW-Madison engineering physics department chair and Grainger professor of nuclear engineering. Register here. 
Attend an in-person WisPolitics.com luncheon at The Madison Club on June 2 for a look at the 2022 elections with state Democratic Party Chair BEN WIKLER and Republican Party Chair PAUL FARROW. Check-in and lunch begins at 11:30 a.m. with the program running from 12 p.m. to 1 p.m. The event will begin with a moderated discussion and then shift to questions from the audience. Register here.
Retiring Neenah Mayor DEAN KAUFERT will be honored in a celebration at The Plaza at Gateway Park in Neenah on May 5 from 5-7 p.m. Kaufert represented the 55th AD as a Republican from 1991 to 2015. Food and snacks will be served as well as soda, beer and wine with music by PAT PEDERSEN. The event is free and open to the public.
EMILY PRITZKOW, who served as chief of staff to Dem GORDON HINTZ while he was Assembly minority leader, is now the executive director of the Wisconsin Building Trades Council.
VANESSA AMBROSINI, former communications director for U.S. Sen. RON JOHNSON, is now director of regional communications and rapid response at Stand Together.
STAN MILAM, a veteran newsman who has covered the Capitol and Janesville-area politics, is being inducted into Janesville Craig High School's "honor wall" today. Milam, who hosts a daily show on WCLO-AM in Janesville, aids the Janesville Craig and Parker High Schools with programs including the Washington Seminar for advanced placement government students, the Janesville Free Press and the Tim Cullen Academy. Milam is a Bronze Star veteran who served in the U.S. Army in Germany and Vietnam. 
The Institute for Reforming Government hired QUINTON KLABON as senior research director to "develop K-12 and higher education policy solutions for Wisconsin." Klabon most recently served as education policy adviser to U.S. Rep. MIKE GALLAGHER, R-Allouez. Quinton is an alum of Dartmouth College and has a graduate degree in education policy from Harvard University.
Former Wisconsin first lady ELAINE SCHREIBER passed away at age 82. Elaine Schreiber, who had Alzheimer's disease, served as first lady during her husband Gov. MARTIN SCHREIBER'S time in office from 1977 to 1979. Listen to a podcast with the former Democratic guv on his book, "My Two Elaines: Learning, Coping, and Surviving as an Alzheimer's Caregiver," here.
Endorsements: The following is a list of recent endorsements, based on emails received by WisPolitics.com:
Governor
REBECCA KLEEFISCH: ABC of Wisconsin
Attorney General
ADAM JARCHOW: Two sheriffs, two police chiefs, three former GOP lawmakers and two current GOP lawmakers. See the full list here. 
U.S. Senate
TOM NELSON: Our Wisconsin Revolution
3rd CD
REBECCA COOKE: Eau Claire Firefighters Local 487
DEB MCGRATH: Eau Claire Ald. JOSHUA MILLER
Lobbyist Watch
Eight changes were made to the lobbying registry in the past 10 days.
Follow this link for the complete list.