Quotes of the Week
Speaker Vos had 17 years to prove to Wisconsin residents that he has their best interest in mind, but even in his own campaign efforts, Vos has tried to mislead his constituents, sending out mailers that feature a picture he took with me — trying to make voters believe I am a Vos supporter, which I am not. He does not come close to supporting America First policies, and I do not come close to supporting him.
– Former President Donald Trump in a statement endorsing Assembly Speaker Robin Vos' primary opponent, Adam Steen. Trump has pressured Vos to decertify the 2020 election in Wisconsin, which legal experts and Vos have said isn't possible. Steen has said he supports reclaiming the state's electoral votes cast for President Joe Biden. 
As a conservative, I believe in upholding the constitution. That's why I won't take the impossible step to overturn the 2020 election. My opponent is singularly focused on winning this primary so he can overturn the 2020 election. This endorsement changes nothing because the only endorsements that matter are the ones that come from the voters in Racine County.
– Vos, R-Rochester, in response. See a WisPolitics.com profile of the 63rd AD race here. 
The easiest way to stop it is to throw them in jail, and that will stop it. We don't need to make it harder to vote, we need to put the criminals in jail.
– Wisconsin Elections Commissioner Mark Thomsen, a Dem appointee, on how to address a conservative activist illegally requesting multiple absentee ballots that were not his own. Thomsen argued against a proposal this week by Commissioner Bob Spindell to require commission staff to propose more identification requirements for voters who request absentee ballots online.
I wish I had your confidence that one prosecution or a few prosecutions will prevent other people from being more creative, using more mischief.
– WEC Chair Don Millis, a Vos appointee, in response to Thomsen's comments. 
This year we have the chance finally to get rid of Scott Walker, one of the worst senators this state has ever had.
– Lt. Gov. Mandela Barnes, in a U.S. Senate campaign event, accidentally referring to the former Republican governor instead of U.S. Sen. Ron Johnson, R-Oshkosh, Barnes' likely opponent in November. 
Living rent free in the head of @TheOtherMandela. I hope he doesn't expect me to pay his property tax bill.
– Former Republican Gov. Scott Walker in a tweet alluding to Barnes' property tax delinquency. 
Political Stock Report
-A collection of insider opinion-
(July 23 – Aug. 5, 2022)
Rising: Mandela Barnes
Mixed: GOP guv race, lt. gov. primaries, AG GOP primary, Doug La Follette, Robin Vos
Falling: Michael Gableman
Rising
Mandela Barnes: With his three top rivals out of the race, Dem support is consolidating behind the lieutenant governor in his U.S. Senate bid. So are donors. Barnes announces he raised $1.1 million in the week his rivals dropped out of the race and backed his campaign. He didn't release any details of the fundraising. But it was more than the $820,460 Barnes raised in the three-week pre-primary period before Outagamie County Exec Tom Nelson, Milwaukee Bucks exec Alex Lasry and State Treasurer Sarah Godlewski dropped out in rapid succession. And he's going to need every dime of it, insiders say. Republicans are keyed up to portray Barnes as an anti-law enforcement lefty who's too liberal for Wisconsin. Unlike his former Dem rivals, Republicans won't hesitate to throw the proverbial political punch at Barnes, insiders say. While it was surprising at how quickly Nelson, Lasry and Godlewski dropped out, insiders also note none of them had a path to victory. Nelson was the most willing to take jabs at others, but he never had the money to make much noise. Lasry and Godlewski, meanwhile, had the money. They just didn't seem to have the stomach to go on the attack – afraid of backlash from the base, insiders say. In addition, going negative always risks having some dirt ending up on your shoes with voters who don't care for those tactics. And it would be difficult to ensure you were the one that benefited from the attack. It would be one thing to have taken a shot at Barnes, insiders say. But unless you attach your name to it and even pivot in the ad to something positive about you, there's the risk one of your rivals would benefit. It made the calculation all that much more difficult. What's more, insiders say, while there are attacks that could be used on Barnes in a general election, those shots — whether it be over funding for law enforcement or immigration — just don't hit the same way with a primary audience. Perhaps the best argument to make against him would have been on electability. Just two problems. One, the June Marquette University Law School Poll had Barnes at 46 percent and U.S. Sen. Ron Johnson at 44. Two, trying to argue the state's first Black elected lieutenant governor isn't electable probably isn't the message you want to send in a Dem primary. Looking toward the general election, insiders expect a brutal race that will hinge on which candidate voters hate less come November. Considering Joe Biden's struggling poll numbers, Johnson, R-Oshkosh, should have an easier go of winning reelection, some argue. But he keeps saying things that make it harder on himself. Case in point is Johnson's comment that Social Security and Medicare should be converted to discretionary — not mandatory — spending programs so lawmakers have the opportunity each year to adjust spending. Interesting discussion to have after the election. Not the smartest thing to put out there three months before, insiders say. While Johnson fans have long said his brand of being a truth teller is what voters like about him, others see more opportunity for Dems to make the case that he's been in Washington too long and is out of touch. Meanwhile, Barnes — like other Dem candidates — will have to decide how he wants to navigate the Biden issue. Is it better to have a president with bad polling numbers campaigning for you, or to be constantly answering questions about why you don't want him around?
Mixed
GOP guv race: Three weeks ago, many insiders thought the race was Tim Michels' to lose. But a string of negative attacks from Rebecca Kleefisch, a flood of outside cash, a Michels attack ad, and now visits from Mike Pence and Donald Trump have insiders debating if the nomination is up for grabs. Even Kleefisch backers acknowledge things weren't looking good a few weeks ago. Michels' advertising blitz — funded with the nearly $12 million he's personally put into the campaign — and Trump's endorsement gave him a boost that put momentum in his favor. That was only reinforced for insiders when Kleefisch went negative, accusing Michels of trying to raise the gas tax and later hitting him on illegal immigration and owning a $17 million Connecticut mansion. Some dismissed it as a sign she was desperate and falling behind. But it also may have worked. Now, Michels and Club for Growth Action are hitting Kleefisch on the air over her trade mission to China not long after the construction exec had bemoaned negative ads as "just bad policy" and what politicians do when they're losing. Much like Kleefisch going negative confirmed for insiders that Michels had the momentum, some are convinced the hits on Kleefisch indicate the race is up for grabs. Some Michels backers insist it isn't that close, and he's only about answering Kleefisch's attacks. You can't let those digs go unanswered lest you look weak to the electorate. Others aren't so sure, particularly after seeing some stumbles from him in public forums. Perhaps the most noticeable was saying in a statewide televised debate that decertifying the 2020 election wouldn't be a priority if elected. That likely didn't sit well with Trump, who is obsessed with the topic. So in a town hall forum this week, Michels insisted everything was on the table, only to turn around and join Kleefisch and state Rep. Tim Ramthun in demurring when asked if they wanted to see Trump run in 2024. Michels sought to clean that up on social media the next day. These incidents had insiders debating Michels' ability to perform on the stump. They also debate the merits of having Trump coming into Waukesha County on the heels of Pence doing a visit for Kleefisch in the same GOP voter-rich area. It would've made much more sense to have him in Wausau — the heart of Trump country — or Green Bay, strategists say. That's particularly true, some say, considering the struggles Republicans have experienced with suburban voters — i.e. the very ones that live in Waukesha County — due to Trump's style. Some see it as a sign that Trump's people didn't want to risk a small crowd in one of the state's less-populated media markets. There's also speculation the former president wants to make sure he's somewhere he can get plenty of attention as he takes some shots at Assembly Speaker Robin Vos, whose district is nearby. After the Rochester Republican refused to bow to Trump's demands to decertify the 2020 results — a move legal experts have said repeatedly isn't possible — the former president endorsed Vos' primary opponent. He also gave spots in the speaking lineup to Vos challenger Adam Steen and GOP state Rep. Janel Brandtjen, who has both endorsed Vos' challenger and harshly criticized the speaker over 2020 election issues. It begs the question whether the rally will end up being more pro-Michels or anti-Vos. Kleefisch has also been getting an assist down the stretch from former Gov. Scott Walker, who remains influential with good chunks of the GOP base. You wouldn't get him on the stump in a swing area of the state in early November to make your closing argument with voters. But it makes sense to hitch your wagon to him in a primary fight. Insiders, meanwhile, are already picking apart various campaign decisions. Michels, for example, dominated the airwaves from late April, when he formally announced, until late June. But then he went back-to-back weeks around July 4 where he spent less than $150,000 combined, according to numbers shared with WisPolitics.com. On the one hand, it makes sense to ease off when voters are more focused on their summer vacations. But if that gave Kleefisch a little breathing room to get back on her feet, it will be a decision that will be questioned post-primary. Looking ahead to Tuesday, insiders are watching the margin that Kleefisch can run up in southeastern Wisconsin. Four years ago, then-GOP state Sen. Leah Vukmir lost 57 counties, but still beat Kevin Nicholson in the U.S. Senate primary by 6 points as she ran up the score in southeastern Wisconsin. If Kleefisch can repeat that, she should win. But if Michels can keep her advantage to single digits and run well outstate, that could be his key, some say.
Lt. Gov. primaries: If it's all about the money, Roger Roth is the heavy favorite to beat fellow GOP state Sen. Pat Testin in Tuesday's primary. But if it's about legwork, some say, Testin has a shot. Roth, who didn't get in the race until mid-February, dropped nearly $302,000 during the pre-primary period as the Appleton lawmaker went up on TV and radio. Testin, R-Stevens Point, dropped less than $34,000 during the same period with nothing on the airwaves. Roth is also getting a boost through $155,000 in radio, mail and texts from the independent group Speak Free or Die, which was created to support Roth. Some see parallels with the GOP guv primary. Construction exec Tim Michels got in the race late and has been able to blitz the airwaves. But former Lt. Gov. Rebecca Kleefisch has been running for the office almost since she lost reelection in 2018 with numerous stops at party events and fundraisers for GOP candidates that built up a network of support. The difference to some, however, is that Kleefisch also has the resources — counting outside help — to reach near parity on the airwaves for the final push. Testin doesn't. The race for the Dem nomination has been significantly quieter. State Rep. Sara Rodriguez, D-Brookfield, has looked like the favorite for weeks and has spent $234,148 on her campaign for the year, compared to $97,301 by Peng Her, CEO of the Hmong Institute.       
AG GOP primary: Former state Rep. Adam Jarchow has the financials in his favor. Independent groups have reported spending $757,577 to support his bid through mail, TV, doors and online ads. The Balsam Lake Republican also dropped $160,000 of his own on TV, according to his latest campaign finance report. Meanwhile, GOP rival Fond du Lac County DA Eric Toney spent $30,000 on radio during the pre-primary period, and no independent groups have reported coming to his aid through independent expenditures. Insiders would just feel a whole lot more comfortable about giving Jarchow the edge if he'd had better showings at the state convention or various local party events. It underscores what insiders have seen as Toney's challenge in this primary. He does well when he has the opportunity to connect with voters. He just hasn't addressed his money woes, which make it hard to connect with enough voters to win a statewide primary. Toney has regularly bested Jarchow at county party straw polls. And he handily beat him at state convention in the Wisconsin GOP endorsement vote, though he fell short of the threshold needed for the party's backing. To some, those results are also indicative of the way Republicans have been ingrained to believe that the state's top cop needs to be a prosecutor, even if being AG is more about managing one of the state's largest law firms than it is about being a front-line prosecutor. Toney has had his issues with the GOP base, including the latest media drop detailing a text message he sent to a friend that he wouldn't vote for "Dumb dumb Donald" in 2020. If Jarchow makes it through the primary, that lack of prosecutorial experience will also be fodder for Dem AG Josh Kaul — and the $2 million he had already stockpiled before the end of July. The Republican Attorneys General Association will assuredly come in to help whoever makes it through Tuesday's primary. Kaul also won't be all alone in the slog through November with the Democratic Attorneys General Association expected to pitch in. The challenge for Kaul remains the same as it has for months: Will he be able to create a unique brand separate from the generic ballot test, or will be at the mercy of what happens at the top of the ticket? Opinions on that vary wildly, especially not knowing who he will face. To some, taking on Jarchow in a general election would be an easier path to reelection because of the former lawmaker's lack of prosecutorial experience. 
Doug La Follette: You'd be hard-pressed to find many longtime incumbents who would take a weeks-long vacation while facing a primary challenge and then drop just $86 — that's right, $86 — in the final reporting period before facing the voters. But the Dem secretary of state, who has held the office for all but four years since 1975, seems content to ride it out on his famous last name. And for good reason, some say. For all the angst about whether La Follette is doing a good job in the office, it's awfully difficult to generate a lot of interest in taking him down. Dane County Dem Chair Alexia Sabor raised $9,935 during the pre-primary period — including a $3,000 loans she gave the campaign — and had less than $14,000 to spend for the final push. That is not the kind of warchest that allows you to effectively communicate in a statewide race to beat a longtime incumbent. The real challenge for La Follette, insiders say, will be November. With voters often focused elsewhere when it comes to statewide races, La Follette has rarely had to raise much money or campaign that hard to remain in office; he told WisPolitics.com he's staying away from large events due to COVID-19 and has been relying on social media and virtual calls. Madison Republicans have been hoping that state Rep. Amy Loudenbeck, R-Clinton, could give La Follette the first real challenge that he's had in years. But first she has to get through a challenge from Jay Schroeder, the Neenah man who lost to La Follette in 2018 and has said if he'd been in office two years ago, he wouldn't have certified Joe Biden's win of Wisconsin's electoral votes. It's not clear that the secretary of state could single-handedly prevent an election from being certified, but it underscores the angle Schroeder has been playing in the race. Loudenbeck had $181,838 in the bank to end the pre-primary period and is up on radio with an ad calling her the only Republican in the race with a record of proven results. Still, the Virginia-based Election Integrity PAC has reported $135,000 to back Schroeder in the race between mail and peer-to-peer texting. That includes a mail piece that praises Schroeder as someone who is making it harder to cheat and easier to vote, while Loudenbeck is making it easier to cheat. Among other things, the mailer calls Loudenbeck "an establishment Republican loyal to Speaker Robin Vos." Schroeder also dropped $87,000 of his own money into the race this week as he makes a late push for the nomination.
Robin Vos: The Assembly speaker is the odds-on favorite to win his primary on Tuesday. He's just being put through the wringer on the way. Former President Trump has kept the Rochester Republican on his toes over the last two years, regularly prodding him to do more to find the supposed widespread fraud he claims happened in Wisconsin during the 2020 election or keeping former Justice Michael Gableman gainfully employed. Then when Vos refused Trump's demands to decertify the 2020 election — a move the speaker has repeatedly said isn't possible — the former president endorsed his primary opponent Adam Steen and gave the self-employed investor a speaking spot at his Waukesha County rally. To some, the whole spectacle has been humiliating for one of the most powerful Republicans in the state. To others, he may not have had much choice. Some have argued that Vos should've ripped off the Band-aid months ago, shut down Trump and pulled the plug on Gableman's investigation to end the craziness. Others, though, argue for as painful as this has been — or delightful to watch if you're a Dem tired of being tormented by Vos — it's better to have Trump endorsing your primary opponent for the final days of the race, not the final several months. The latter would've been a much different scenario. Likewise, some expect the Gableman probe to end sometime after the November election, when Vos' members no longer have to worry about losing support from a portion of the base obsessed about the 2020 election. And they'd be shocked if Rep. Janel Brandtjen, R-Menomonee Falls, remains chair of the Campaigns and Elections Committee post-November after the way she's regularly laid into Vos and hosted a series of conspiracy theorists at public hearings. That doesn't necessarily mean his stress level will completely dissipate after November, some note. Vos is losing a series of allies who decided to retire rather than to continue riding out the craziness of this environment, and some expect a caucus that will be more difficult to manage come January.
Falling
Michael Gableman: The tab is growing. And it turns out the former Supreme Court justice was telling the public one thing about decertification while singing a different tune in private to Assembly Speaker Robin Vos. Between what he's spent on the probe and the legal fees for the various lawsuits filed over his work, Gableman's review of the 2020 election had already cost taxpayers $1 million by mid-June, according to a WisPolitics.com tally. Now, taxpayers have been hit with back-to-back orders by Dane County judges for $258,000 in legal fees for the Washington, D.C.-based American Oversight, which has filed a series of lawsuits seeking records related to the work. And Gableman is up for a hearing later this month to determine whether he has done enough to clear a contempt charge that led a Dane County judge to impose a $2,000 a day fine — to be picked up by taxpayers — until he provided all the relevant documents that American Oversight had sought. The charges are more fodder for critics who think the probe is a waste of time and taxpayer resources. It also comes to light that two weeks after Gableman had urged lawmakers to take a "hard look" at decertifying the 2020 election, he privately wrote to Vos that such a move was impossible. The memo, obtained by American Oversight through its efforts, is another ding in what's left of Gableman's credibility. Meanwhile, he is facing a complaint to the Office of Lawyer Regulation over his conduct during one hearing in an American Oversight suit. Meanwhile, a former Milwaukee attorney who's served in various areas of the legal field has filed a letter with the OLR director and the state Supreme Court seeking a motion to temporarily suspend Gableman's law license — which would shut down his work on the 2020 review — arguing his "continued practice of law poses a clear and present ongoing threat to the interests of the public and the administration of justice."
Read the letter.
Legislative primaries handicapping: GOP incumbents expected to weather challenges
Nine incumbent GOP lawmakers face primary challenges on Tuesday. Only one of them is having to put in much work because of it. 
And Assembly Speaker Robin Vos, R-Rochester, has some clear advantages in his race with self-employed investor Adam Steen, who lives in Sturtevant, according to insiders.
Going into Tuesday, insiders aren't expecting any upsets of incumbent GOP lawmakers in the primaries. In many cases, they note, it appears the challengers managed to get onto the ballot but then failed to do much else.
The exception has been Steen, who raised good money for a primary challenger at $65,558 between the start of the year and July 25. He also recently snagged the endorsement of former President Trump, who's giving Steen a speaking slot at his rally tonight in Waukesha.
But it'll be a contest of Trump's endorsement — born out of frustration that Vos wouldn't go along with his call to try decertifying the 2020 election results — against money, infrastructure and hard work.
Vos raised $120,576 between Jan. 1 and July 25. Independent groups have done $147,452 in independent expenditures that are either pro-Vos or anti-Steen. And GOP staff, lawmakers and lobbyists have all been doing doors in the southeastern Wisconsin district for the speaker.
It is an effort, insiders say, to ensure that Vos doesn't become the Eric Cantor of Wisconsin.
Vos also has a well-earned reputation in the Capitol for responding to constituents and working the district. 
Insiders say all those things should add up to a primary win.
Other incumbent GOP lawmakers aren't taking their primary challenges nearly as seriously. Rep. Rob Brooks, R-Saukville, for example, has raised just $5,636 since the start of the year. That's about one-fifth of what he pulled in two years ago, when he also faced a primary challenge that he beat back with 76 percent of the vote. But insiders say college student Samuel Krieg hasn't been doing enough to get anyone worried.
Some have been keeping an eye on Rep. James Edming, who faces a rematch with Michael Bub. The Glen Flora incumbent beat Bub, a member of the Taylor County Board and Medford City Council, in 2014. He's outraised him more than 3-to-1 since the start of the year, and Republicans haven't expressed any real concerns about Tuesday's primary.
Here's a short thumbnail on the top primaries based on fundraising, independent expenditures and interviews with operatives ahead of Tuesday's election. 
5th SD, Dem, open: The fundraising in this race has been underwhelming. Former GOP Rep. Rob Hutton, of Brookfield, the only Republican running to fill the seat of retiring Sen. Dale Kooyenga, R-Brookfield, has raised $29,935 since getting into the race with all but $5,985 of that coming from committees. But with leftover cash from his 2020 Assembly defeat, he still has $80,742 in the bank.
Dem Tom Palzewicz, of Milwaukee, who lost a bid for the 5th CD in 2020, has raised $38,444 compared to $14,195 raised by Jessica Katzenmeyer, of West Allis, who lost a bid for the Assembly two years ago. 
Insiders note Palzewicz put $21,527 into mail during the pre-primary period, while Katzenmeyer spent all of $50 between July 1-25. He's also been endorsed by several Dem senators and looks to have the edge Tuesday.
19th SD, GOP, open: State Rep. Rachael Cabral-Guevara, of Appleton, has outraised Appleton businessman Andrew Thomsen, also of Appleton, more than 2-to-1, and the conservative Americans for Prosperity has spent $57,341 on canvassing and mail for her in the race. 
When you have an advantage for money and infrastructure, that's usually a pretty good indicator for your prospects, insiders note. 
There also was a dustup between the two over a planned debate with Cabral-Guevara and the sponsor accusing Thomsen of trying to set unacceptable ground rules. It suggests to some he wasn't fully prepared for what a modern-day campaign is like.
The winner will face Dem Kristin Alfheim, of Appleton, to fill the swing seat of GOP Sen. Roger Roth, who's running for lieutenant governor.
23rd SD, GOP, open: In the three-way race for the party's nomination, insiders are keeping their eyes on two: state Rep. Jesse James and Brian Westrate, treasurer for the state GOP.
James, of Altoona, has raised $52,545, while Westrate, of Fall Creek, has reported $149,427 in receipts, including $57,500 in loans. 
Westrate has been endorsed by former Gov. Scott Walker, and his resources have allowed him to put together a mail, radio and TV operation. The question is whether James can overcome that on the doors.
Sandra Scholz, of Chippewa Falls, is the third GOP candidate in the race. She had planned to challenge Sen. Kathy Bernier before the Chippewa Falls Republican decided against seeking reelection over claims about the 2020 election.
The winner will be unopposed on the November ballot.
29th SD, GOP, open: The Wisconsin Realtors Political Action Fund has put $150,000 behind Jon Kaiser, who owns an investment advisory firm and serves on the board of the Realtors Association of Northwest Wisconsin Political Action Committee.
But he's raised less than $15,000 on his own, while Mosinee Mayor Brent Jacobson has pulled in $107,036, including $34,780 in loans during July. Jacobson also has name ID as an elected official and from an unsuccessful challenge of state Rep. John Spiros, R-Marshfield, in the 2018 GOP primary.
Kaiser also was arrested in February for OWI with a blood alcohol level more than twice the state's legal limit. Police found him asleep in his car with the engine running.
Cory Tomczyk is the third Republican running for the nomination. He filed a lawsuit against the Wausau Pilot & Review for defamation and libel after he was named in a 2021 article by the publication for allegedly calling a 13-year-old boy a homophobic slur during a Marathon County Board of Supervisors meeting. Tomczyk, who denies making the comments, has raised $39,568 with $27,500 in loans. 
This is one of those races where geography could make a difference. Jacobson and Tomczyk are both from Mosinee, in the southern part of the district, while Kaiser is from Ladysmith, to the north. If Tomczyk can peel off enough votes from Jacobson in that area, it could help create an opening for Kaiser.
5th AD, GOP, open: The seat of former Rep. Jim Steineke, R-Kaukauna, is a deep red district. And only one GOP candidate is spending much down the stretch. 
Joy Goeben, a former teacher who helps run the family carpet cleaning business, has reported $20,056 raised, including a $10,000 loan. Kraig Knaack, a broker and owner of Knaack Realty, has raised $8,500. And attorney Tim Greenwood has pulled in $5,896.
Goeben, of Hobart, spent $5,714 in the pre-primary period, all of it on media-graphic design. Knaack, of Freedom, spent $276, and Greenwood, of Kaukauna, dropped all of $39.
Goeben and Knaack look like the favorites. Still, without much paid communication going on, the results likely will depend heavily on who's hitting doors the hardest.
The winner will face Dem Joey Van Deurzen, of De Pere. 
6th AD, GOP, open: Peter Schmidt, of Bonduel, has the most resources at his disposal in the six-way GOP primary. He also has the most baggage.
The former Shawano County Board member was charged with disorderly conduct in 2019 after choking an employee at his farm who had overslept and was late for work. He was sentenced to two years probation and ordered to attend anger management and undergo a psychological assessment. He told WisPolitics.com this summer it was a "minor incident blown out of proportion."
Insiders note he has resources — $64,516 raised, including $45,951 in loans — and has been working the doors.
Insiders are also watching Dean Neubert, a small business owner residing in Hortonville, and Craig Arrowood, of Shawano, a longtime aide to retiring Rep. Gary Tauchen, R-Bonduel.
Neubert raised $16,303, including $10,100 in loans, while Arrowood reported $10,540, including $6,225 in loans.
Arrowood being in Madison working for Tauchen rather than living full-time in his home district may be a hindrance for him. 
10th AD, Dem, open: The heavily Dem seat was a Black majority district on the maps Republicans drew in 2011. But the new GOP lines — blessed by the state Supreme Court — dropped the Black voting age population to 45.8 percent.
And Tuesday's primary could be the perfect illustration of the concerns from some that the way the new district was drawn — and the inclusion of white areas such as Shorewood that tend to turn out in high numbers — would make it tougher for a Black candidate to win the seat.
Bryan Kennedy, the white mayor of Glendale who's run unsuccessfully for the Legislature before, has raised $38,865 compared to the $16,827 pulled in by Darrin Madison, of Milwaukee, who's been backed by the Milwaukee Democratic Socialists of America.
Madison, who narrowly lost a bid for the Milwaukee County Board in 2020, has been endorsed by U.S. Rep Gwen Moore, D-Milwaukee, and outgoing Rep. David Bowen, D-Milwaukee. Insiders note it would've been helpful if he'd started playing up those endorsements louder and earlier than he did.
Some are giving the edge to Kennedy, who's run multiple campaigns, including a bid for Milwaukee County exec that was short-circuited over issues with his circulators.
13th AD, GOP: The primary in this southeastern Wisconsin seat has one candidate with a lengthy resume and another with a compelling personal story.
Tom Michalski, of Elm Grove, has served on both the Elm Grove Village Board and the Waukesha County Board, along with a stint on the Waukesha County Technical College Board.
Erik Ngutse, of Waukesha, is a refugee and survivor of the Rwandan genocide who immigrated to the United States and later served in the U.S. Army.
It's also one of the races where the Election Integrity PAC is playing. The group hadn't registered with the state Ethics Commission as of last night, though it has reported independent expenditures in several races. 
The group has spent $10,804 on mail in the 13th AD backing Ngutse, while Rising Leaders PAC Inc., out of Cedarburg, has dropped $4,000 on online ads.
The Election Integrity PAC, based in Virginia, has reported to the Ethics Commission doing mailers in three races: this seat, the 84th AD GOP primary and the secretary of state's race, where the group is backing Jay Schroeder, of Neenah, over state Rep. Amy Loudenbeck, R-Clinton, in the GOP Republican primary.
Copies of the mailers WisPolitics.com has seen include suggesting one candidate is making it harder to cheat and easier to vote while the other is making it easier to cheat.
Michalski posted a line on his campaign website defending himself against the charge, writing that "Each and every assertion made in the ad is unfounded and 100% false."
Michalski has raised $13,113, including a $10,000 loan, while Ngutse has pulled in $10,462.
The winner will face Dem Sarah Harrison, of Brookfield, for the seat that was represented by state Rep. Sara Rodriguez, D-Brookfield, this session. A district that had been trending toward Dems during the Trump years was significantly redrawn to have a strong GOP tilt, and Rodriguez is running for lieutenant governor.
31st AD, GOP, open: Insiders are keeping an eye on two candidates: Ellen Schutt, of Clinton, a former aide to Loudenbeck, and Jason Dean, of Whitewater, a former Marine who is endorsed by U.S. Rep. Bryan Steil.
Schutt, who grew up on a farm in Darien, raised $27,344 and has been politically active since college, including re-establishing the Young Americans for Freedom chapter at UW-Madison. Along with working for Loudenbeck, R-Clinton, she served as an aide to Rep. Tony Kurtz, R-Wonewoc.
Dean, who raised $16,215, spent more than two decades in the military before relocating to Wisconsin and working for Steil's campaign in 2018. He then went to work for ABC Supply Co. Inc. Company CEO Diane Hendricks gave him $1,000, while Kim Hendricks and Steil's campaign each donated $1,000 as well.
Maryann Zimmerman, a Whitewater resident and member of the Whitewater School Board, raised $10,189.
Some give a slight edge to Schutt, and the winner will face Dem Brienne Brown, of Whitewater.
33rd AD, GOP, open: Normally, if a candidate hasn't reported any fundraising activity in the eight months before a primary, it'd be a sure sign he's toast. But some late mailers by a third party have some insiders wondering what's up in the race — particularly because voters living in the old district boundaries have been on the receiving end of the pieces.
Jefferson Mayor Dale Opperman has raised $11,419, while Jefferson farmer Scott Johnson has reported no fundraising activity to the state so far this year.
Opperman was recruited by Assembly Republicans and has been getting the kind of help that's normally a formula for success.
Still, a source described to WisPolitics.com three mail pieces that have landed in recent days from Patriots for Wisconsin. Among other things, the pieces claim jobs left Jefferson while Opperman has been mayor and taxes have gone up. They also call Johnson a Republican who can be trusted and someone who will preserve our heritage.
The group, however, hadn't registered with the Ethics Commission as of last night and hadn't filed any independent expenditure reports.
It also may be using a bad list of voters for the 33rd; some of the pieces ended up in the neighboring 83rd AD.
Insiders see an advantage for Opperman with the help he's been receiving from Republicans, the mystery mailings notwithstanding.
The winner will take on Dem Rep. Don Vruwink, who's running for the swingy district that now includes his Milton home rather than staying in the Dem-leaning 43rd AD that he has represented since 2017.
43rd AD, Dem, open: Matt McIntyre, the mayor of Edgerton from 1996 to 2006, has yet to report any fundraising activity this year. McIntyre, who came in third in a three-way primary for a county board seat in February, also isn't getting any help from outside groups. 
Jenna Jacobson, a Village of Oregon trustee, has raised $8,243, including $4,000 in loans. Jacobson is expected to come through on Tuesday, insiders say.
The winner will face Marisa Voelkel, of Janesville, a reviewer and educator of health care regulatory compliance.
45th AD, Dem, open: Beloit City Council President Clinton Anderson has outraised teacher Ben Dorscheid, of Belleville, more than 4-to-1 and has the endorsement of outgoing Rep. Mark Spreitzer, the Beloit Dem who's running for an open state Senate seat. 
Anderson is in his third term on the City Council and ran for the Assembly previously, losing to Loudenbeck in the old 31st AD. He's got the advantage heading into Tuesday, insiders say.
The winner will face Republican Jeff Klett, of Beloit, for the heavily Dem seat.
46th AD, open, Dem: This is one of several crowded primaries in the Dane County area.
Insiders are largely focused on three candidates in the five-person field: Andrew Hysell, who listed $77,546 in receipts, including $50,100 in loans; Analiese Eicher, who's raised $17,887; and Melissa Ratcliff, who raised $23,474, including a $5,000 loan.
Hysell, of Sun Prairie, has used his resources to put $5,000 on TV and $26,391 into mail during the pre-primary period. 
He also gave $100 to GOP state Sen. Mary Felzkowski in 2021, a fact Eicher, of Sun Prairie, dinged him on during a recent forum. She also took a dig at Ratcliff for announcing her campaign the same day that Rep. Gary Hebl announced his retirement rather than waiting until at least the next day to give the longtime Dem lawmaker from Sun Prairie some time to bask in his retirement announcement.
Eicher has reported $10,136 in printing brochures and $1,941 in online ads, while Ratcliff, of Cottage Grove, has spent $9,277 on printing brochures.
One of those three is expected to emerge in the heavily Dem seat.
52nd AD, GOP, open: Fond du Lac resident Jerry O'Connor, who's spent his career in the financial sector with 22 years at a community bank in Waupun, is the favorite in the four-way primary to replace Rep. Jeremy Thiesfeldt, R-Fond du Lac. 
He has raised the most at $25,297, including $2,500 in loans, and put $4,360 on radio during the pre-primary period. And he's seen as the one hitting doors the hardest.
His next closest competitor financially is Donald Hannemann, a 27-year Army veteran who has adopted a "WTF" slogan for his campaign — Wisconsin Truly First. The Fond du Lac resident spent $6,296 on mail in the pre-primary period and $5,200 to rent a semi and trailer.
Retiree Robert Thresher, of Fond du Lac, has backed a special session to vote on overturning Wisconsin's 2020 results and has most closely tried to align himself with Trump's claims about the election. He's raised $2,969.
The winner will face Dem Joe Lavrenz, of Fond du Lac, in the strongly GOP seat.
59th AD, GOP, open: Calumet County GOP Chair Ty Bodden finished second to outgoing state Rep. Tim Ramthun four years ago when the Campbellsport Republican spent little but outhustled his opponents on the doors to win the party's nomination. Bodden, of Stockbridge, is back and the conservative Americans for Prosperity is backing him with $7,095 in independent expenditures.
This time, he faces Vinny Egle, a small business owner who lives in Kewaskum and a member of the Fond du Lac County Tavern League.
Eagle, who was part of a lawsuit against Gov. Tony Evers over his administration's stay-at-home order, has raised $16,943, while Bodden has pulled in $11,535, including $1,550 in loans.
Madison insiders believe Bodden has an edge.
71st AD, GOP, incumbent Rep. Katrina Shankland, D-Stevens Point: Scott Soik, a member of the Portage County Board and a small business owner, lost to Shankland in 2020 by 11.1 percentage points. Madison Republicans want to see him challenge her again in a seat that got slightly more GOP, going from plus-8.1 points for Dems to plus-7.5.
Soik, of Stevens Point, has outraised Robert Glisczinski $29,149-$4,191. That's allowed him to put $5,654 into mail and $5,000 into ads.
Glisczinski, of Amherst, has been trying to make Soik's RACC support an issue, posted on Facebook this week it means "that he is bought and paid for by Robin Vos' political organization." He also supports Rep. Tim Ramthun in the guv's race and posted that state Reps. Janel Brandtjen, R-Menomonee Falls, and Chuck Wichgers, R-Muskego, are the only incumbent lawmakers who deserve reelection. Both have signed onto Ramthun's resolution calling for the decertification of the 2020 election results, which legal experts have said is not possible.
73rd AD, GOP, open: AFP is also playing in this race, spending $9,806 on radio, mail and digital to boost Angie Sapik, who was recruited by RACC.
Sapik, of Lake Nebagamon, works for the company her father started, Vee's Marketing, and has raised $8,707.
She faces Scott Luostari, the Lakeside Town chair and a member of the Douglas County Board of Supervisors who has raised $15,435.
Of the $10,008 he spent in the pre-primary period, $10,000 of it was a loan repayment.
The winner will face Dem Laura Gapske, of Superior, for the seat that's been held by Rep. Nick Milroy, D-South Range. It is a top GOP target this fall. 
74th AD, GOP, open: Chanz Green, who owns a bar, has outraised John Schey, an electronics technician, $28,619 to $1,025.
Green, of Grand View, was also recruited to run by Assembly Republicans for one of their top targets, the slightly Dem leaning northern Wisconsin seat being vacated by Rep. Nick Milroy, D-South Range. Schey lives in Glidden. 
Green is expected to come through the primary easily.
The winner will face Dem John Adams, of Washburn.
79th AD, Dem, open: Dane County Supv. Alex Joers has connections, resources and is outworking his opponent, Brad Votava. Good combination to win a primary.
Joers, of Middleton, interned for outgoing state Rep. Dianne Hesselbein, the Middleton Dem now running for state Senate. He has outraised Votava $26,386-$6,950, and he's been endorsed by several Dane County lawmakers, including Hesselbein.
Votava, of Madison, is a former NASA specialist turned entrepreneur.
The winner will face Republican Victoria Fueger, of Waunakee, for the heavily GOP seat.
80th AD, Dem, open: Insiders are focused on three candidates in this five-way Dem primary to replace state Rep. Sondy Pope, D-Mt. Horeb. 
That includes Verona Common Council President Chad Kemp, who's been endorsed by Pope, former Gov. Jim Doyle and former Lt. Gov. Barb Lawton.
The others to watch are Dane County Supv. Mike Bare, a Verona resident and former staffer for Russ Feingold, and Anna Halverson, who works with people who have disabilities and has been active with the gun control group Moms Demand Action since 2016.
Halverson, of Mt. Horeb, trails the other two top contenders in fundraising at $26,621 compared to $30,513 in receipts for Kemp, including $1,500 in loans, $61,941 for Bare. She's also been endorsed by several members of the Assembly Dem caucus, including Rep. Lisa Subeck, of Madison.
83rd AD, GOP, open: Nick Rettinger, first vice chairman of the Republican Party of Waukesha County and owner of online political campaign consulting business Campaign Tutors, is getting a boost in this primary from Americans for Prosperity.
The group has spent $7,159 on canvassing, mail and digital ads. Meanwhile, Rettinger, of Mukwonago, spent $7,982 in the pre-primary period between yard signs and mail.
He faces Pat Goldammer, a Village of Waterford trustee and farm owner. Goldammer listed $19,651 in receipts for the year, including $10,000 loans. But he spent just $653 in pre-primary period and still had $14,650 in the bank.
Rettinger has been endorsed by U.S. Rep. Bryan Steil, R-Janesville, and former Gov. Scott Walker. Add that, the help from AFP and his experience around campaigns, and Rettinger has an edge.
84th AD, GOP, open: Four months ago, Bob Donovan was running for Milwaukee mayor and facing questions about whether he really lived in the city. Now, he's in a three-way race for a suburban district and getting some outside help in his bid. 
The Arlington, Va.-based Election Integrity PAC has spent $4,672 to boost Donovan, including a mail piece that backed the former Milwaukee alderman while also opposing David Karst, a businessman and chair of the Milwaukee County GOP. Karst has also been endorsed by former Gov. Scott Walker.
Former GOP guv candidate Kevin Nicholson and some of those who supported him have gotten behind Donovan's campaign, as has conservative radio talk show host Mark Belling. Meanwhile, insiders say Karst has been hitting doors harder.
Karst has raised $25,875 to the $20,024 that Donovan has pulled in. Laura Barker, the third GOP candidate in the primary, has raised less than $2,900. 
The winner will face Dem Lu Ann Bird, of Hales Corners.
All three candidates live in Greenfield. 
See WisPolitics.com 2022 Partisan Primary Guide for information on candidates in statewide and other key primaries: https://www.wispolitics.com/2022-partisan-primary-guide/
Planned Parenthood ramped up Wisconsin lobbying efforts in run-up to Roe v. Wade reversal
Planned Parenthood Advocates of Wisconsin, a group that normally isn't among the top spending lobbying organizations, leapt into the top 10 for the first six months of the year as it anticipated the U.S. Supreme Court overturning Roe v. Wade.
Overall, lobbying totaled $16.5 million during the first six months of the year, up from the $15.5 million during the same period two years earlier as the COVID-19 pandemic ground activity in the Capitol to a halt by mid-March.
But it's less than the $17.5 million spent for the same period of the 2017-18 session.
Over the first 18 months of the two-year session, groups have put $52.2 million into their lobbying efforts, compared to $50.1 million for the same period of the 2019-20 session.
Planned Parenthood Advocates of Wisconsin, which advocates for abortion rights and offers a variety of health services, spent the seventh most to lobby the Capitol during the six-month period. The $218,817 it spent was 15 times what it dropped during the first full year of the session.
PPAWI Government Relations Specialist Courtney Hayward told WisPolitics.com the group's spending increase came in anticipation of the U.S. Supreme Court overturning the 1973 decision guaranteeing the right to an abortion.
"We spent a lot of time just talking to supporters and talking to the community to get the word out about the potential damaging effects of the ruling," Hayward said.
Hayward said the organization focused on educating the public about the state's 1849 criminal abortion ban and state legislators' ability to repeal it. Under the ban, abortions are outlawed except in cases where the life of the mother is at risk. It does not include exceptions for rape or incest.
According to the Ethics Commission website, PPAWI spent the majority of its lobbying efforts on a bill to repeal the ban. The legislation, introduced by Madison Dems Sen. Kelda Roys and Rep. Lisa Subeck, failed to pass. AG Josh Kaul has filed a lawsuit arguing the ban is outdated and can't be enforced.
Hayward said the group spent money on text messaging and email campaigns, as well as other efforts such as knocking on doors and staging events to educate voters. Since the ruling overturning Roe v. Wade, Hayward said the group has shifted gears.
"Now the messaging has slightly changed to: 'It has happened, it's still on you. You can do something about it, state legislators,'" Hayward said.
PPAWI dedicated most of its leftover lobbying resources on opposing a "heartbeat" bill introduced by Republicans Sen. Julian Bradley, of Franklin, and Rep. Donna Rozar, of Marshfield. The bill also failed to pass.
The legislation would have prohibited abortions when there is a detectable fetal heartbeat, except in the case of a medical emergency. It would also would allow someone who underwent an abortion or a relative to sue the person who performed or attempted to perform the procedure.
The top five for spending were: Wisconsin Manufacturers & Commerce, $348,511; Wisconsin Realtors Association, $324,436; Wisconsin Infrastructure Investment Now Inc., $312,264; the Wisconsin Hospital Association, $304,405; and the Wisconsin Farm Bureau Federation, $304,403.
The rest of the top 10 included: Planned Parenthood Advocates of Wisconsin, $242,817; Wisconsin Property Taxpayers Inc., $213,180; Americans for Prosperity, $201,165; the Wisconsin Counties Association, $186,460; and Wisconsin Automobile and Truck Dealers Association Inc., $142,184.
The expenditure reports lobbyists file can include a variety of expenses such as communications, overhead, staff time, research time, office space, utilities, supplies, parking and more.
Wisconsin Infrastructure Investment Now Inc., a group that advocates for investing in transportation, energy, mining and other infrastructure projects, did not log any hours spent lobbying but put all the money spent into communications.
Wisconsin Manufacturers and Commerce was the top spender over the six-month period, with $348,511 in expenses to lobby the Capitol. That's roughly in line with the $742,499 WMC spent during the first 12 months of the session. 
WMC spokesman Nick Novak told WisPolitics.com the group generally focuses on issues related to the economy and lately has been focusing on issues related to the state's workforce shortage and others affecting businesses. He said he could not provide more specific details because WMC's chief lobbyist was unavailable for comment this week and he would know those details. 
AARP-Wisconsin originally reported $406,330 spent during the first six months of the year. But after a WisPolitics.com inquiry, AARP said the report should have shown less than $10,000 in spending and it is amending the filing.
In a first for state, Milwaukee lands 2024 RNC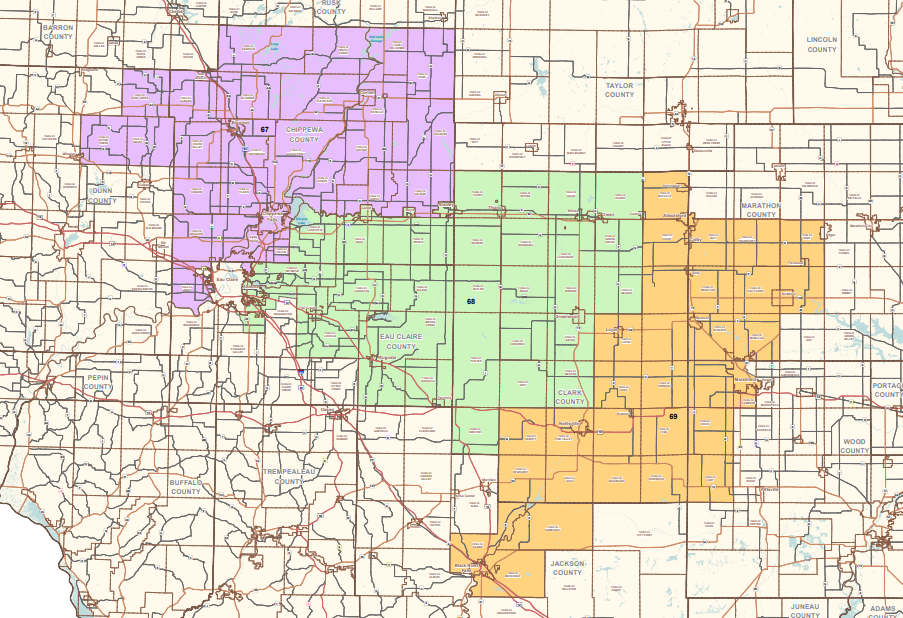 Republicans, business groups and Dem Mayor Cavalier Johnson are applauding the RNC's decision to host the 2024 GOP national convention in Milwaukee – four years after Dems moved major parts of their gathering to Joe Biden's Delaware because of the pandemic.
RNC Chair Ronna McDaniel this morning announced the RNC site selection committee unanimously approved the state's largest city — a Dem stronghold — for the 2024 national convention. 
This will mark the state's first time hosting the Republican National Convention.
Metropolitan Milwaukee Association of Commerce President Tim Sheehy in a statement praised the move, adding RNC's work with Milwaukee leaders to bring the event to Wisconsin's largest city shows future possibilities "endless."
"And there are few events larger in scale, visibility and impact than a national political convention," he said. "Our approach to this event is exactly the same as it was for pursuing the 2020 Democratic National Convention: Instead of red or blue, we represent green – the color of additional millions of dollars that will now flow into Milwaukee."
Many in the business community in 2020 criticized the Democratic National Convention for failing to provide the promised economic boost. Many prominent politicians, including Biden, did not visit the city as a result of pandemic concerns and a lot of the convention took place virtually. 
Republican Party of Wisconsin Chair Paul Farrow in a statement touted Wisconsin's reputation and what it has to offer.
"The Republican Party was born in Ripon, Wisconsin, and we are thrilled to welcome the Grand Old Party home as we come together to select the next President of the United States," Farrow said. "Rightfully deemed part of America's Heartland, the hardworking farmers, manufacturers, and families of Wisconsin are the heart of what makes our nation special, and this convention will allow us to showcase all that the Badger State has to offer to the country and the world."
McDaniel in a Chicago speech said the RNC will work with local leaders, vendors and community members to make a positive impact on the city. 
She also said Republicans should look to make the same landmark moves in 2024 as they did in 1984 at the Dallas convention, recalling former President Ronald Reagan describing the election for a second term as "a choice between elevating America to new heights or accepting the suffocation of left wing big government."
"We will face a similar choice in 2024, where we will nominate a candidate to bring back that same Republican optimism and take back the White House in 2024," she said. 
Johnson said he's excited to see visitors enjoy all the city has to offer and for the opportunity to host more conventions and world-class events. 
"We want you to eat at our fine restaurants. We want you to tip generously, very generously," he said. "As a matter of fact, I want you to take all your money to Milwaukee, spend it in that week and leave it there in our economy. And make sure again to treat our hotel staff, our workers and the convention, tourism, hospitality staff very well." 
Gray area remains on whether disabled voters can get help with absentee ballots
After the Wisconsin Supreme Court's decision to ban the use of unmanned drop boxes, advocates say disabled voters face new challenges in casting absentee ballots. 
And Republican activist and Elections Commissioner Bob Spindell agrees with those disability rights activists on allowing third-party voting assistance for voters with disabilities. 
Spindell said he thinks that it is clear in the statutes that everyone has the right to vote, and the Supreme Court decision puts that right in question for disabled voters.
"The thing I'm concerned about is making sure that everyone has the right to vote," Spindell said. "We are saying make it easy, but make it hard to cheat. Everybody that is eligible to vote should be able to access and vote."
GOP Sen. Steve Nass, R-Whitewater, and Rep. Kathy Bernier, R-Chippewa Falls, were also contacted but did not respond to requests for comment.
Four Wisconsinites with disabilities have sued WEC in federal court, arguing their right to participate in the democratic process is being infringed.
Rep. Jimmy Anderson, D-Fitchburg, of the 47th Assembly District is paralyzed from the chest down, which makes it impossible for him to use his hands and access his mailbox. He said under current laws this prevents his ability to vote absentee. 
"I think the Supreme Court was made aware of the degree to which individuals like myself would be disenfranchised and excluded from being able to vote," Anderson said. "It was callous and cruel."
Anderson is not included in the federal suit. He said he agrees with the plaintiffs in the case, but he didn't want to be named because he said there could be issues with being a lawmaker and plaintiff at the same time. 
The four Wisconsinites with disabilities who are suing the Wisconsin Elections Commission are represented by Law Forward's Scott B. Thompson as the lead counsel. The lawsuit is filed in the Western District of Wisconsin and assigned to Judge James Peterson. 
A few days after filing the complaint, Thompson filed to have the court in its ruling clarify the law. 
"We want to enjoin the Wisconsin Election Commission from administering our elections, specifically the November election, in any way that would preclude voters with disabilities from receiving the assistance they need and that they're entitled to in order to cast the ballot," Thompson said. 
Disability Rights Wisconsin Director of External Advocacy Barbara Beckert agreed federal law should protect the rights of the voters.
"I think this lawsuit was filed because there is so much confusion… with confusion from the Teigen case which people are interpreting in different ways in which we think are incorrect," Beckert said. 
The Supreme Court decision to bar the use of absentee ballot drop boxes in Teigen v. Wisconsin Elections Commission left a gray area around whether voters with disabilities are allowed assistance while voting. That case left the decision-making on the issue up to the municipal clerks and their municipal attorneys.
Dane County Clerk Scott McDonell emphasized the conflict between the Supreme Court decision and federal law. He said his team continues to follow ADA guidelines to support disabled voters and provide accessible, easy-to-use, modern equipment that many communities across Wisconsin do not have. 
McDonell bemoaned the WEC's 3-3 tie.
"Now we don't have any guidance from WEC, which is what we would normally be relying upon at this point," McDonell said. "It is kind of a community by community all over the state, which is not how it should be run." 
Anderson said he thinks the state Legislature should move immediately to pass a law or amendment that makes individuals with disabilities able to vote absentee with the assistance of their home health aids, a family member or whoever they choose. 
The state Supreme Court's decision in June barring the use of unmanned ballot drop boxes left a gray area up for debate. The court did not address whether voters with disabilities that prevent them from filling their ballot out themselves or dropping their ballot off in the mail are allowed to have someone else help them. 
"I would love to get a bill and I have a bill ready to be introduced to do such a thing," Anderson said. "Without a meeting of the Legislature that is not going to happen. So a lawsuit is the quickest way in order to achieve that process." 
Interviews from top legislative primaries
WisPolitics.com interviewed candidates in top legislative primaries. See below for interviews with 23rd SD and 59th AD GOP primary candidates. See here for past interviews
And check out WisPolitics.com's 2022 Partisan Primary Guide for information on candidates in statewide and other key primaries here.
Candidates in the 23rd SD GOP primary disagree on abortion and decertification issues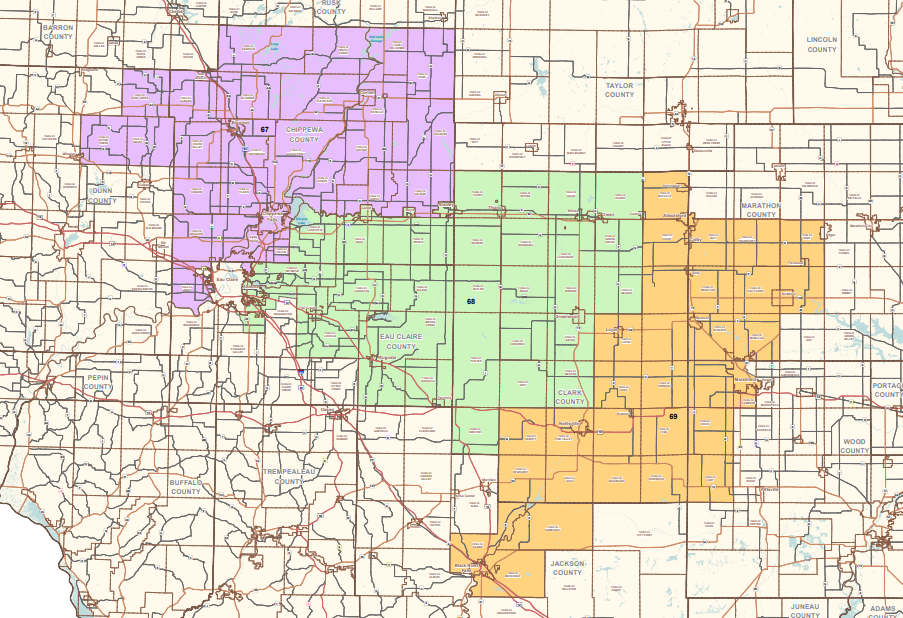 Three candidates are vying for the 23rd Senate District seat in a GOP primary race that will virtually decide who will represent the district.
Sandra Scholz of Chippewa Falls is a retired registered nurse turned home renovator with no experience in elected office. Jesse James, R-Altoona, is the incumbent 68th Assembly District representative as well as a small business owner and part-time police officer. 
Scholz, 56, and James, 50, both spoke to WisPolitics.com this week about their platforms. Brian Westrate of Fall Creek, the third candidate, is the owner of an insurance agency. Westrate canceled his interview with WisPolitics.com and has not responded to requests to reschedule.
The winner of the primary will face Democratic write-in candidate Dan Hardy but will appear unopposed on the official ballot. The seat is currently held by Sen. Kathy Bernier, R-Chippewa Falls, but she announced she would not be seeking another term earlier this year after holding the seat since 2018. The 23rd SD contains the city of Chippewa Falls and parts of Eau Claire and Marshfield.
Wisconsin's 1849 abortion ban came back into effect earlier this year after the U.S. Supreme Court struck down Roe v. Wade. Scholz expressed opposition to any exceptions to the ban including the existing exception for the life of the mother, citing her religion and adding: "I do not believe that we need to do any abortion."
"I am a Christian and a believer in Jesus Christ. He said that 'I knew you before you were formed in your mother's womb' and 'thou shalt not murder,' so I will not support any of that," Scholz said. 
James conveyed support for the 173-year-old ban's life of the mother exception, saying "we don't need to touch that" and later suggested that the Legislature should discuss further exemptions for rape and incest.
"Do I have a right as a legislator to say and control what women, what young children, what victims do in their exact case and situation? I don't believe I have that right," James said. "I think we need to have discussions, and we need to determine what is in the best interest for all of our Wisconsin female population."
Concerning controversy surrounding the 2020 election, Scholz said she would vote to decertify Wisconsin's electoral votes for Joe Biden.
"Several groups have gone out and have brought forth this evidence that there was massive amounts of fraud in all kinds of areas," she said, although she failed to mention any examples. 
The Wisconsin Legislative Audit Bureau's examination of Wisconsin's 2020 election results revealed only four individuals who had possibly voted twice and found no widespread errors made by voting machines throughout the state. 
Scholz added that she thinks that "we wouldn't be dealing with a lot of these issues" as a country if Donald Trump was the president.
James called the decertification debate "partisan politics," saying he would not vote to decertify the election.
"The president is the president, and he can only be removed by certain measures and recalling the 10 electoral ballots once the sitting president is in place is not possible" James said, although he did express skepticism about the election's results.
The state is projected to have a $5.4 billion surplus at the end of the biennium, and Scholz said she wants to see the money returned to taxpayers through long-term tax cuts. 
"I'm all about decreasing taxes," she said.
James said he would use that money on a combination of things, including long-term tax cuts, but also returning some money to taxpayers now through rebates and investing some of the funds in state projects. He said the Assembly should "wait for the budget bill to come forward and make decisions at that point collectively as a Legislature."
Scholz was doubtful about a temporary suspension of the gas tax as a remedy for high gas prices, saying "it's not a good thing either way" and that she's glad gas prices have fallen in recent weeks.
James agreed, saying "gas prices are going to be what they're going to be". He said that he sees the issue as something which should be solved "at the national level."
"We need to do everything … so that America is energy independent and not depending on other countries," James said.
Both James and Scholz expressed a wish to work across the aisle. 
"I do believe that we need unity. And there is a lot of division between both parties," Scholz said. 
"But I do believe that we need to do what is right and to stand up for what is biblically sound, good morals, and good values," she added.
James expressed a wish to work in bipartisan fashion in the Assembly, saying with any policy issue "we need to entertain discussions, have an open mind, [and] be willing to negotiate and compromise."
"I think it's a failure on our part that we can't even talk about the issues," he said about Republicans and Democrats, adding that in his mind the constituents "want to see us working together."
59th AD primary candidate Egle running to represent the 'common-sense middle class' in Assembly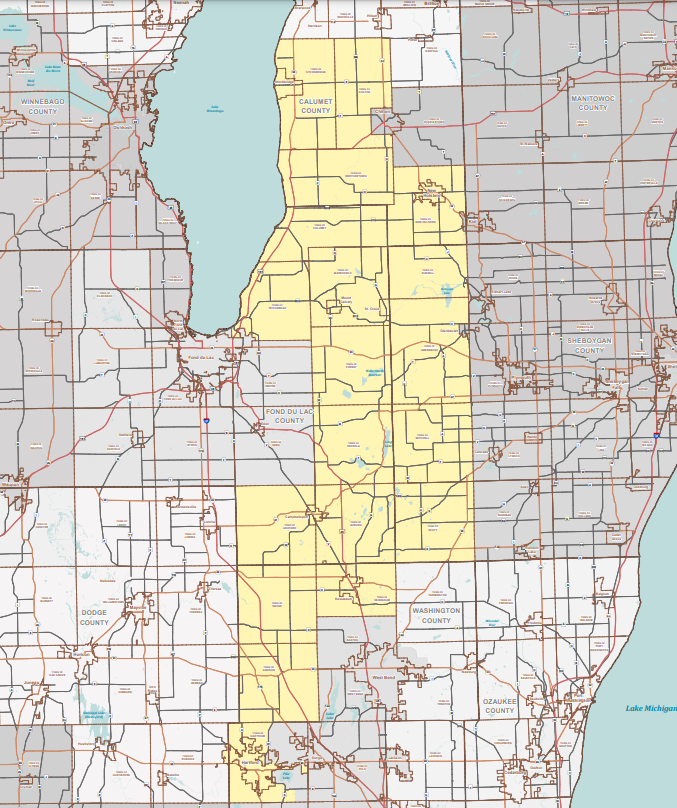 Vinny Egle is a small business owner running in the GOP primary for the Wisconsin Assembly's 59th district. He faces Ty Bodden, chairman of the Republican Party of Calumet County and former Village of Stockbridge Trustee, in a race that will all but officially decide who wins the seat.
The 59th Assembly District, which contains parts of Washington, Fond du Lac, Sheboygan and Calumet Counties, is currently represented by Rep. Tim Ramthun, who is running in the GOP primary for governor. The winner of this race will appear on the ballot unopposed in November, as there is no Democrat running for the seat. Egle, 44, spoke to WisPolitics.com in an interview about his platform. Bodden did not respond to WisPolitics.com's requests for an interview.
"We need a common-sense middle-class voice in Madison," Egle said. "We need normal people to have their voice heard instead of a political agenda."
Egle said he would like to see exceptions for rape and incest added to Wisconsin's abortion ban that came into effect when the Supreme Court struck down Roe v. Wade, but only in the beginning of the pregnancy. As it stands now, the ban only includes an exception for the life of the mother. 
"Yes, I believe we need to modify it … if it was rape and incest only, and only up to six weeks. It's a very small window, but at six weeks the baby has a heartbeat," Egle said, later adding "we still need to protect that child."
Egle expressed concern about the state's projected $5.4 billion surplus, saying he would "look and see where the surplus came from and decide from there on where to take it back." 
"There's a bunch of surplus that came from the federal government that came from COVID relief and is being used to help Governor Evers look like he did a decent job on his budget and created a surplus, but I believe it was just taken away from the public that needed it, small businesses, and the people of Wisconsin," Egle said.
Concerning controversy around the 2020 election, Egle said he would vote to decertify Wisconsin's electoral votes if presented with the choice, but he's unsure whether it's a legally viable option. 
"If it came to a vote I would rescind, but I am not a lawyer so I can't say that it's possible to do it or not possible to do it," Egle said. He added that "in the future with a Republican governor and Republican House and Senate we can fix things properly," but for now "we need to not spend a whole lot more taxpayer money on it."
Egle expressed concern about a temporary suspension of the gas tax to reduce gas prices and what it would mean for the projects that would lose funding. 
"We need to keep the gas tax that we have for our roads," he said.
Political TV
(Check local listings for times in your area)
"UpFront" is a statewide commercial TV news magazine show airing Sundays around the state. This week's show, hosted by MATT SMITH, features RNC Chairwoman RONNA MCDANIEL, former RNC Chairman REINCE PRIEBUS and Republican Party of Wisconsin Chair PAUL FARROW on the GOP guv primary and Milwaukee landing the 2024 Republican National Convention. Also on the show, U.S. TAMMY BALDWIN discusses the Dem U.S. Senate primary and her efforts to codify same-sex marriage.
*See more about the program here.
*Also see a recap of the show online each Monday at WisPolitics.com 
"Rewind," a weekly show from WisconsinEye and WisPolitics.com, airs at 8 p.m. on Fridays and 10 a.m. on Sundays in addition to being available online. On this week's episode, WisPolitics.com's JR ROSS and CBS 58's EMILEE FANNON discuss dueling endorsements from DONALD TRUMP and MIKE PENCE in Wisconsin's GOP guv primary, the Elections Commission's latest actions, top primaries in the state and Milwaukee landing the 2024 Republican National Convention.
*Watch the show here.
This week's Midday podcast covers what Republican gubernatorial candidates are up to ahead of Tuesday's primary.
*Listen to the podcasts here. 
"The Insiders" is on break through Tuesday's primary. See past episodes here.
"In Focus: Wisconsin" airs Sundays at 9:30 a.m. on Spectrum News 1 on channel 1. This week's program with host PETE ZERVAKIS features Rep. GORDON HINTZ, Waukesha County Executive PAUL FARROW and Marquette Law School Poll Director CHARLES FRANKLIN on how state Democrats and Republicans are preparing for Tuesday's primary and what issues are motivating voters to head to the polls. 
PBS Wisconsin's "Here and Now" airs at 7:30 p.m. Fridays. This week's program with anchor FREDERICA FREYBERG speaks with city of Milwaukee Election Commission Executive Director CLAIRE WOODALL-VOGG and new UW-Madison Chancellor JENNIFER MNOOKIN.
"Capital City Sunday" airs at 9 a.m. Sunday on WKOW-TV in Madison, WAOW-TV in Wausau, WXOW-TV in La Crosse and WQOW-TV in Eau Claire. This week's program with host A.J. BAYATPOUR features REBECCA KLEEFISCH on her bid for the GOP guv nomination, Dem. Rep. JODI EMERSON on Trump endorsing Speaker ROBIN VOS's primary opponent ADAM STEEN, and PARDEEP KALEKA, whose father was killed in the Sikh Temple shooting 10 years ago.
Week Ahead
Tuesday: Partisan primary election.
– 7 a.m. – 8 p.m.: See voting information here.
Tuesday: Legislative Council Study Committee on Wisconsin National Guard Sexual Misconduct Procedures study meeting.
– 10 a.m.: 300 Northeast, state Capitol.
Wednesday: The Natural Resources Board holds its monthly meeting.
– 8:30 a.m.: Room G09, State Natural Resources Building, 101 S. Webster St., Madison.
Names in the News
Upcoming WisPolitics.com events include:
Top journalists will convene at a virtual WisPolitics.com luncheon Aug. 11 at noon for an analysis on nationally important races for governor and the U.S. Senate. Tuesday primaries will decide fall opponents for GOP U.S. Sen. RON JOHNSON and Dem Gov. TONY EVERS. Analysis from: JESSIE OPOIEN, Capitol bureau chief of The Capital Times; EMILEE FANNON, Capitol reporter for CBS 58 Milwaukee & cohost of "Rewind" on WisconsinEye; and LOU JACOBSON, who covers politics for US News, PolitiFact and Sabato's Crystal Ball. WisPolitics.com Editor JR ROSS will moderate. The event will start with a moderated discussion among the panelists. They will then answer questions submitted by members of the audience. Register for the free event here.
A WisPolitics.com DC luncheon on Sept. 21 will focus on the November elections in Wisconsin and the country. WisPolitics.com has invited top pollsters — Democrat JILL NORMINGTON and Republican GENE ULM. Normington's clients include five different lawmakers across the country and she was part of the Hillary for America polling team in 2016. The luncheon starts at 11:30 a.m. with the program going from noon to 1 p.m. at the Monocle Restaurant, 107 D St NE, Washington, DC 20002 between Union Station and the Senate office buildings near the Capitol. The cost of the luncheon is $35 per person, including a plated meal. Register here and enter "Sept21DC" in the purpose of payment line.
The Institute for Reforming Government announced ED EBERLE has joined its team as the non-profit group's director of environmental policy and project manager. Eberle was the Department of Natural Resources Deputy Secretary under former GOP Gov. SCOTT WALKER and worked as a policy adviser for the state Legislature.
IBEW Local 494 Business Manager DEAN WARSH was elected president of the IBEW Wisconsin State Conference. Warsh will take over for outgoing State Conference President DON ALLEN of Local 158 in Green Bay. Warsh, elected unanimously, previously served as the conference's vice president.
Wisconsin Manufacturers and Commerce honored Rep. JAMES EDMING, R-Glen Flora, with its "Working for Wisconsin" award. The award recognizes lawmakers who support policies that boost growth and earn high ratings on the WMC biennial scorecard. Edming earned a 100 percent rating.
The Wisconsin Public Education Network has named JENNIFER BLACK as its 2022 "Changemaker of the Year" for her work with the Champions of Tomahawk School District group. Black chaired a community advisory committee to support a referendum to increase public school funding in the district.
Gov. TONY EVERS appointed ELLEN ANDERSON as Rusk County district attorney. The western Wisconsin prosecutor will replace ANNETTE BARNA, who has been elected to the Rusk County Circuit Court. 
Evers also appointed REBECCA MAKI-WALLANDER as Adams County district attorney, replacing TANIA BONNETT. Bonnett was elected to the Adams County Circuit Court. Maki-Wallander over the past five years served as an assistant district attorney in Adams County.
The conservative Wisconsin Institute for Law and Liberty has hired AMEILLIA WEDWARD and MIRANDA SPINDT. Wedward, who previously worked as a policy intern for WILL, is the agency's new development and communications associate. Spindt, the group's new policy associate, also previously worked as a policy intern. 
Rep. DONNA ROZAR, R-Marshfield, received the Wisconsin Association of Home Health Care's "Champion of Health Care" legislative award. The reward is presented at the end of every legislative session to state lawmakers who advocate for policies to provide and protect quality home health care for Wisconsinites.
Rockford University President ERIC FULCOMER is set to step down and take over as president of the Wisconsin Association of Independent Colleges and Universities in Madison. Fulcomer will stay on at Rockford University until mid-December to give the university more time to find a successor. Fulcomer will replace President ROLF WEGENKE, who previously served under five Wisconsin governors.
Conservatives for a Clean Energy Future has recognized Rep. RACHAEL CABRAL-GUEVARA, R-Appleton, as a "Clean Energy Champion." CCEF is a nonprofit that aims to honor the work of local lawmakers and support conservative efforts related to clean energy and energy efficiency as well as environmental stewardship.
Endorsements: The following is a list of recent endorsements in statewide and federal races, based on emails received by WisPolitics.com:
Governor
TONY EVERS: High School Democrats of Wisconsin, Wisconsin Building Trades Council
TIM RAMTHUN: Pennsylvania state Sen. DOUG MASTRIANO
Lt. Gov.
WILL MARTIN: 11 current and former officials in Racine County. See a full list here. 
Attorney General
ERIC TONEY: Milwaukee Police Supervisors Organization
Secretary of State
AMY LOUDENBECK: Wisconsin Fraternal Order of Police
U.S. Senate
MANDELA BARNES: Human Rights Campaign, Family Friendly Action PAC, Democratic Party of Wisconsin, UAW Wisconsin State CAP, League of Conservation Voters Action Fund, Wisconsin Laborers' District Council, U.S. Rep. MARK POCAN, Gov. TONY EVERS, U.S. Sen. TAMMY BALDWIN, Milwaukee County Exec DAVID CROWLEY
Lobbyist Watch
Forty changes were made to the lobbying registry in the past 10 days.
Follow this link for the complete list.