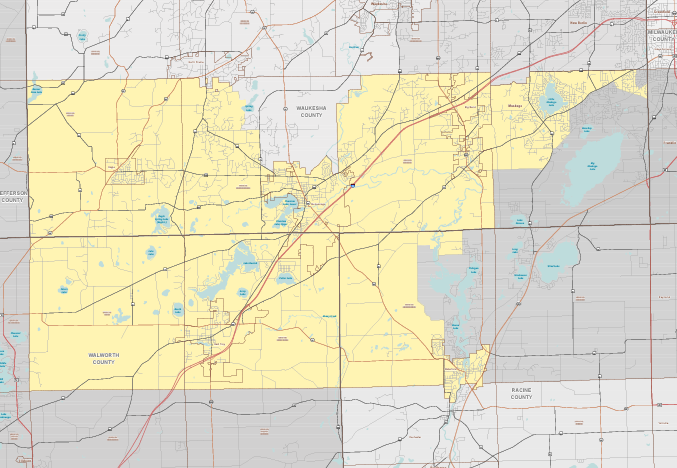 The two candidates for the 83rd Assembly District's GOP primary agree on most issues, but one thing that separates them is their amount of experience holding elected office.
Pat Goldammer, Village of Waterford trustee and farm owner, will go up against Nik Rettinger, first vice chairman of the Republican Party of Waukesha County and owner of online political campaign consulting business Campaign Tutors, in the Aug. 9 primary There is currently no Democrat running for the seat, so the winner of this primary will most likely only face independent Chaz Self in the general election.
The 83rd contains parts of Milwaukee, Waukesha, Racine and Walworth counties, including the City of Muskego and the Villages of Waterford and Hales Corners. The seat is currently held by GOP Rep. Chuck Wichgers, who as a result of redistricting earlier this year, shifted his political focus to the 82nd AD and is now running for that seat.
Both Goldammer, 55, and Rettinger, 31, spoke to WisPolitics.com this week about some of the central issues surrounding the race.
Goldammer is no stranger to politics, having run and been elected twice to the board of trustees in the Village of Waterford. He's looking to increase his influence by making his way into the State Assembly.
On managing the projected $3.8 billion in state surplus funds at the end of the state's designated two-year budget period, Goldammer would like to see that money go towards bringing down taxes in the long term, among other things.
"Certainly, if we could bring the tax rate down, that's our priority," Goldammer said. "A rainy day fund is not a bad idea, and investments aren't a bad idea either. But my priority would be to bring the taxes down long term."
While he hasn't held an elected office yet, Rettinger is hardly a political newcomer. He's put in time with the Wisconsin State Senate as Sen. André Jacque's chief of staff and currently serves as the Republican Party of Waukesha County's first vice chairman.
Rettinger also believes the best use of the state's projected surplus funds is for long-term tax relief.
"I'd definitely like to see something similar to the last state budget, where we used a large chunk of it for long-term tax cuts,"  Rettinger said.
When it comes to controversy surrounding the 2020 election, Goldammer would consider pursuing the decertification of Wisconsin's election results that awarded the state's 10 electoral votes to Joe Biden. "I'd certainly look into it more. Obviously, if there is a reason to do that, then I'd be open to it," he said.
While Rettinger said he believes fraud did occur in the 2020 presidential election, he noted that the window in which legal action can be properly taken has passed.
"During the immediate time [after] the election you can file lawsuits, but past that certification stage by Congress there is no mechanism within Wisconsin state law for that," Rettinger said, citing studies by the conservative Wisconsin Institute for Law and Liberty.
"But there certainly was fraud identified, even from the audit that the state did," Rettinger added.
The Legislative Audit Bureau's nonpartisan audit of Wisconsin's 2020 presidential election results revealed only four individuals who had possibly voted multiple times out of 24 people who potentially had duplicate active voter registrations, which goes against former President Trump and his allies' claims that thousands of voters cast multiple ballots. The audit also found no important errors made by voting machines across the state.
In his time as Jacque's chief of staff, Rettinger contributed to bipartisan work on mental health support for first responders, including law enforcement, EMS personnel, and firefighters. He looks forward to being able to reach across the aisle and collaborate with Democrats in the Assembly on similar issues.
"That's something that… the Democratic Party has always been a huge supporter of," Rettinger said. "It's something that I've enjoyed working on, and I appreciate that more [people] in the Republican Party are moving in that direction and identifying that as an important thing."
Both candidates expressed support for the 1849 abortion ban that came into effect as a result of the U.S. Supreme Court ruling that struck down Roe v. Wade. But Rettinger took it a step further.
Rettinger said that while "at minimum I would like to maintain the current law we have right now in full force," if elected he would work towards getting rid of the exception for the life of the mother provided in the 173-year old law.
"My position now is to keep the current law on the books intact and work towards eliminating the life of the mother exception with future legislation," Rettinger said, "which does not mean life-saving medical attention cannot be provided to both mom and baby."
"The 1849 law is what we have to work with, and I am in support," Goldammer said.
Concerning high gas prices, both candidates agreed that eliminating the gas tax would not solve any issues beyond the short term.
"The unfortunate fact is that, when you look at suspending the gas tax… it doesn't actually impact things that much, while the revenue source that it's supposed to flow into is dramatically affected," Rettinger said.
Higher gas prices are caused by "federal policy," according to Rettinger, "and in order to get at the crux of the problem we have to work with our federal legislators and the president."
Goldammer agrees, calling a hypothetical suspension of the gas tax a "short-term fix" that would end up requiring the government to "raise taxes now to cover roads down the line."