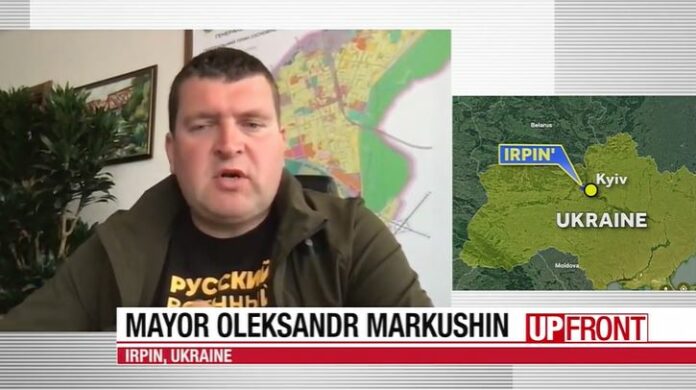 Oleksandr Markushin, mayor of Milwaukee's sister city in Irpin, Ukraine, is pleading for assistance after Russian forces destroyed his city just outside the capital of Kyiv.
"We need temporary housing," Markushin said through an interpreter in an interview on WISN's "UpFront," produced in partnership with WisPolitics.com. "We have thousands and thousands of city residents that have no place to live. They're living in tents."
Markushin said he survived multiple assassination attempts by Russian forces as Ukrainians fought to regain control of their city. He noted several hundred residents have died and just 20,000 of the city's 100,000 residents have returned.
"The mayor stayed from day one through the end through liberation day on the city grounds," the interpreter said, describing what Markushin said. "He actively participated in the military unit that was fighting at the time. At least three times Russian forces, special operation forces, made an attempt to kill, specifically they targeted the mayor."
Markushin has met virtually with Milwaukee Mayor Cavalier Johnson and discussed ways the city can assist.
"We really appreciate the support and are honored to be a sister city with Milwaukee," Markushin said. "We're really honored to see the support Milwaukeeans and the whole United States are doing for Ukraine and Irpin. Right now, there is a hospital in Ukraine that almost opened before the war started, and now it's leveled. We are eagerly restoring the hospital. We're looking for direct help. We are suggesting between Milwaukee and Irpin to help with equipment with that hospital, equipment that will save lives of Irpinians, the citizens of Irpin. That would be symbolic if the citizens of Milwaukee and Wisconsin can provide that equipment or costs to provide that equipment for the hospital."
Democratic U.S. Sen. Tammy Baldwin is pushing to eliminate the filibuster to codify Roe v. Wade, acknowledging Wednesday's vote in the U.S. Senate to do just that likely lacks the votes to pass.
"Certainly if there was an agreement to eliminate the filibuster there could be now," Baldwin said. "Now that this Supreme Court looks poised to overturn Roe v. Wade, we have a whole different reality facing us when we bring this bill back to the floor."
Baldwin is a co-author of the Women's Health Protection Act.
She didn't say whether she would urge local law enforcement in Wisconsin to not enforce the law if Roe is overturned and Wisconsin's 1849 law banning most abortions returns.
"First of all, I would hope that the state Legislature for once would do the right thing," Baldwin said. "I certainly would encourage everyone to be active, to speak out, to write to their members of Congress, their members of the state Legislature and organize and vote."
Meantime, state Rep. Barbara Dittrich, R-Oconomowoc, says it's "anyone's guess" what the Republican-controlled Legislature will do if Roe is overturned.
"We have to decide what we're going to do with this next," Dittrich said. "Are we going to allow the law that was established in Wisconsin in 1849 to stand, or are we going to modify that? So those are the discussions I think will be had."
In recent days some Republicans have said they would be open to adding exceptions to Wisconsin's 1849 law to include rape and incest. Others, including some GOP candidates for governor, have said they want abortion banned with no exceptions.
"The bills I have authored in the past made exceptions for rape, incest and the life of the mother," Dittrich said. "And that is because that's where we can seem to build consensus and get things over the finish line."
ABC News political director Rick Klein said an endorsement from former President Trump in Wisconsin's GOP primary race for governor would thrust the candidate into the spotlight "in a way that nothing else in politics on the Republican side does right now."
He noted J.D. Vance's Ohio Senate primary win this past week.
"J.D. Vance would not be the nominee if not for President Trump," Klein said. "There's no doubt about that. I don't think anyone seriously questions that."
Republican candidates Rebecca Kleefisch, Tim Michels and Tim Ramthun have all reportedly visited Mar-a-Lago and met with Trump ahead of the August primary.
"Whether President Trump decides to dole it out or not — he has chosen to sit some races out where there isn't a clear, obvious favorite for him — and it isn't necessarily who adheres to his philosophy," Klein said. "In Ohio, just about all the Senate candidates wanted to be Trump's best friend. The question became who does Trump make the calculation is the person most likely to win, the person that might fit the mold just the same. And for whoever that person is, if there is someone that's blessed with that endorsement you can imagine there's going to be a major bump in fundraising, a major bump in polling."
See more from the show here.