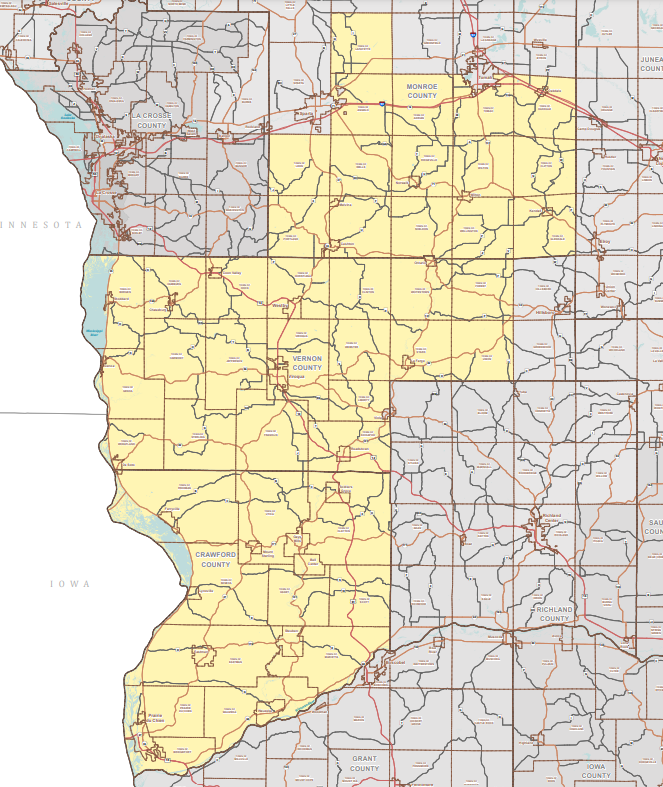 Rep. Loren Oldenburg and primary challenger Holly Ottesen Liska have different takes on suspending the state's gas tax and whether to add exceptions to Wisconsin's abortion ban.
Oldenburg, R-Viroqua, said he wouldn't be open to suspending the state's 32.9 cent gas tax because it would take funds away from road maintenance projects. Liska, a farmer who lives in Hillsboro, said she would suspend the tax because doing so would reduce gas prices, lessening the financial burden on farmers.
The 96th Assembly District is located in western Wisconsin and comprises Crawford County, Vernon County and most of the southern half of Monroe County. Oldenburg was elected in 2018. The winner in the GOP primary will face the winner of the Dem primary between Jayne Swiggum, of Gays Mills, and Mark Fritsche, of Tomah, in the Republican district.
Oldenburg, who is also a farmer, said suspending the tax would hamstring future road projects. He also said he wants to look at better ways for the Department of Transportation to fund those projects.
"We drive on some roads that are very nice, but we continue to have to fix roads and improve roads," he said. "So I think if we suspend gas tax, that'll just delay some of these road projects."
Liska, 30, said she is open to suspending the gas tax because of recent high prices.
"As a farmer, it is really hurting us," she said. "Gas prices are crippling people in the agricultural community and all walks of life."
The state's current 173-year-old abortion law makes providing an abortion a felony, with an exception to save the life of the mother. Abortion providers across Wisconsin have stopped performing procedures since the U.S. Supreme Court overturned Roe v Wade.
Oldenburg, 56, said he would consider exceptions to the ban for rape and incest, but he wants to look at that specific legislation before saying if he would support it.
"I think that language would have to come forward. I think we need to take consideration as far as rape and incest, and I would have to see the language for that part of it," he said. "It is concerning. I think this law has to be looked at as far as that goes."
When asked about abortion, Liska strongly asserted her stance against abortion, but didn't specifically say whether she would be open to adding exceptions to the state's abortion ban. She also said adults are not making informed decisions on abortion, and some are using abortion as a form of birth control.
"I am very much pro-life," Liska said. "I believe that life does start at conception."
Liska also said victims of rape and incest should still carry to term because she said having an abortion only increases the stress and trauma survivors feel.
She added one of the things that is not discussed enough is how people feel after getting an abortion.
Both candidates differed on rescinding Wisconsin's 10 electoral college votes from the 2020 election. Oldenburg was clear when asked if he'd be willing to decertify the results of that election.
"I would not vote for that," he said. "We cannot decertify the election."
Liska was less direct in her response and said she needs to see all the evidence and speak to experts to determine the avenue going forward.
"When something is stolen, we need to be ensured that the people are going to maintain that position of power," Liska said. "That is what happens when an election is stolen — the people do not have the power. "
Both shared similar concerns over conservation and other environmental issues in the district.
Liska added she understands the environmental impacts of current farming practices, but stressed the importance of allowing farmers to provide for their families in a practical manner.
Oldenburg said he wants the Republican Party to focus more on issues such as flooding, conservation efforts to help farmers and cover crop issues.