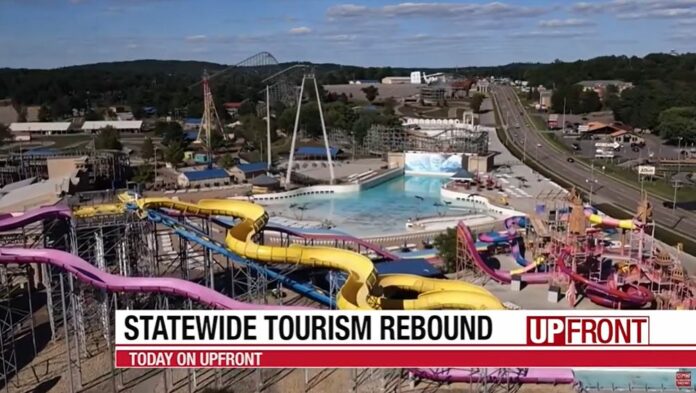 The J-1 visa program is rebounding after essentially shutting down because of the pandemic, boosting a major employment lifeline for summer tourism hot spots like Wisconsin Dells and Door County.
"We're going to be better than 100 percent of where we were in 2019," Tom Diehl, president and co-owner of Tommy Bartlett Inc., said on WISN's "UpFront." "So we shouldn't have the problem that we've had as a community."
The latest data from the U.S. State Department shows the Wisconsin Dells area is expecting 2,972 international students for summer work, while Door County expects 421.
Diehl said without the J-1 labor force, Wisconsin Dells' employment levels can't top 70 percent of what is needed.
Typically, Wisconsin Dells sees a major influx of Ukrainian students, but it won't this year given the ongoing Russian invasion of Ukraine.
"This year I don't think we'll have 10," Diehl said. "They're wonderful people and work hard. They felt comfortable here because there were enough people that spoke their language, and so it's a real travesty."
Romy Snyder, president and CEO of the Wisconsin Dells Visitors and Convention Bureau, says reservations are on pace to be higher than pre-pandemic levels in 2019.
"Early last year we already started seeing pent-up demand just for wanting to get out, get back with family and friends," Snyder said. "Wisconsin Dells is geographically located between Chicago, and Minneapolis, easy access off the interstate, so we're a very natural family reunion destination, and we are seeing that same level of demand this year as well."
In a recent survey, AAA found that 65 percent of travelers said they still plan to take at least one vacation of three days or more despite record-high gas prices.
"People are still really interested in getting out and traveling, especially after the last two years we've all experienced," said Nick Jarmusz, director of public affairs for AAA covering Illinois, Indiana and Wisconsin. "The demand to get out on the road, get away from home is really, really strong."
Jarmusz said it's difficult to say when gas prices will peak given "so many unprecedented factors" including the Russian invasion of Ukraine and the European Union taking steps toward restricting Russian oil.
"With the demand throughout the summer, that will put upward pressure on prices," Jarmusz said. "But how high they'll go before they level off and begin to come back down again is really anyone's guess."
Peggy Williams-Smith, president and CEO of VISIT Milwaukee, says it'll likely take several years to see tourism revenue fully rebound to pre-pandemic levels in Milwaukee.
"I feel very optimistic, but I have to be cautiously optimistic because I think that my optimism sometimes takes a huge hit when we fall backwards," Williams-Smith said. "Right now, all the travel data is saying this is going to be an incredible summer for leisure travel."
VISIT Milwaukee is testing several new marketing strategies, including sending 75,000 copies of its visitors' guide to residents in Minneapolis in an attempt to bring them to Milwaukee this summer.
"We're doing some marketing in Ebony Magazine," Williams-Smith said. "We're trying to also attract a diverse traveler. We have a lot to offer, and that's the first time we've done something with this."
See more from the show at WISN.