Better BadgerCare Wisconsin Up with New Digital Ads After Badgercare expansion stripped by Joint Finance Committee Republicans
MADISON, WI – Today, Better BadgerCare Wisconsin went up with new digital ads targeting Wisconsin Republicans on the Joint Finance Committee who voted to remove the funding for a Badgercare expansion from Gov. Tony Evers' proposed budget. Evers' Badgercare expansion plan would bring $1.6 billion into Wisconsin's health care system.
Increased federal funding would directly impact counties by:
Expanding access to behavioral health

Preventing childhood lead poisoning

Improving access to dental services

Increasing funding for physicians

Increasing hospital funding

Increasing funding for providers in long-term care programs and services
The ads target Republican members of the State Assembly and Senate that also sit on the Joint Finance Committee—all of whom voted to remove funding for Evers' Badgercare plan last week:
Rep. John Nygren

Rep. Amy Loudenback

Sen. Devin LeMahieu

Sen. Howard Marklein

Sen. Luther Olsen

Sen. Duey Stroebel

Sen. Tom Tiffany

(the following is an example of the ads that will run in the zip codes represented by each member of the legislature listed above, with dollar amounts corresponding to the direct investment in counties they represent, according to the Wisconsin Department of Health Services)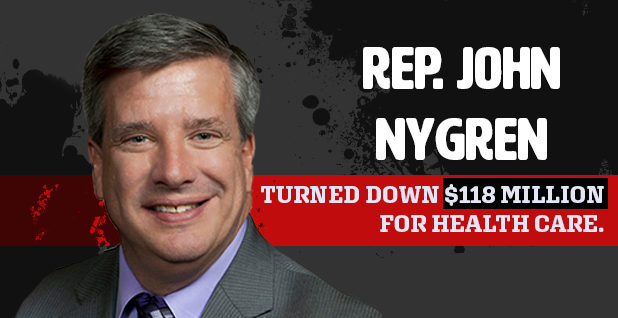 Republicans on the Joint Finance Committee members had an opportunity to put politics aside and act in the best interest of their constituents. Instead, they chose to side with party bosses in Madison.
Better Badgercare Wisconsin's latest buy is the next step in a campaign to hold these members accountable, make sure their constituents know exactly what they've done, and spell out the damage that blocking Badgercare expansion does to their communities.