The Wisconsin Justice Initiative and several voters and taxpayers filed a lawsuit Wednesday asking a judge to block submission of the proposed "Marsy's Law" constitutional amendment to voters or to require the ballot question to be rewritten so it reflects the sweeping changes the amendment would make in state law.
The April 7 ballot question is deceptive, a threat to peoples' right to a fair trial, and should be withdrawn, according to WJI. The American Civil Liberties Union of Wisconsin and the Wisconsin Democracy Campaign applauded the legal challenge.
Check out our Marsy's Flaws page.
"Voters are being asked to vote on a single sentence that doesn't remotely begin to describe what Marsy's Law is and what it does,'' said Craig Johnson, board president of the Wisconsin Justice Initiative as well as an individual plaintiff.
"It may sound reasonable," he said. "But the question masks a proposed amendment twice the length of the U.S. Bill of Rights. It expands who is considered a 'victim' under the Constitution, adds or expands 16 categories of victims' rights, and will make it difficult for the falsely accused to receive a fair trial in this state.''
"The amendment would create a whole new category of constitutional victims,'' Johnson said. "Supporters say this amendment levels the playing field for victims. It does the opposite. It stacks the deck against the accused, making it difficult to receive a fair trial in this state at incalculable new costs to taxpayers.''
The lawsuit was filed in Dane County Circuit Court. Plaintiffs, besides WJI and Johnson, include attorney and WJI Board member Jacqueline Boynton, attorney Jerome Buting, and State Sen. Fred Risser (D-Madison).
---
Read the lawsuit, the request for a temporary injunction, and the brief.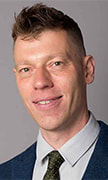 Ott
"Wisconsin led the nation by adopting a 'crime victim bill of rights,' and our state constitution and statutes already spell out those rights," said Chris Ott, executive director of the American Civil Liberties Union of Wisconsin.
"In Wisconsin, we already consult and protect the rights of victims during criminal proceedings," he said. This deceptive amendment threatens to force people into our already clogged criminal justice system by undermining the fundamental concept of 'innocent until proven guilty.' Wisconsin's rate of incarceration already makes us a nationwide outlier, and this proposed amendment will add to the staggering human and financial costs of mass incarceration. We either need to stop this amendment, or make clear to voters what it would really do.''
Taxpayer costs escalated in states that adopted Marsy's Law, while law enforcement is finding it more difficult to investigate crimes, according to the Wisconsin Justice Initiative and its allies. That's why, after only two years, South Dakota was forced to re-do its Marsy's Law. Other states have struck Marsy's Law ballot questions until they can be rewritten to accurately reflect what the proposed amendments do.
The state's Legislative Fiscal Bureau has no cost analysis of Marsy's Law because it is not legislation. If approved in April by voters, it will become a permanent part of the Wisconsin State Constitution.