Quotes of the Week
Biden would absolutely eradicate your state's economy. If Biden wins, China wins, the mob wins, the rioters, arsonists and flag burners win.
– President Trump during a rally yesterday in Mosinee. Trump told the crowd former Vice President Joe Biden would "surrender our country to the violent, left-wing mob."
His betrayal of the fundamental duties of the office has left Wisconsin small businesses shuttered, parents worrying about their children's safety at school, far too many workers out of a job, and thousands of families mourning the loss of loved ones. It didn't have to be this bad.
– Biden slamming Trump ahead of the rally over his response to COVID-19.
*See WisPolitics.com coverage of Trump's visit here.
[I]t is too late to grant petitioners any form of relief that would be feasible and that would not cause confusion and undue damage to both the Wisconsin electors who want to vote and the other candidates in all of the various races on the general election ballot.
– The state Supreme Court in a 4-3 decision rejecting the Green Party's lawsuit seeking to place presidential candidate Howie Hawkins on Wisconsin's November ballot, ruling it was too late in the process to add him. Monday's decision came as clerks faced a Thursday deadline to mail ballots. Justice Brian Hagedorn broke with his fellow conservatives in joining the court's three liberal justices in rejecting the suit. 
America has witnessed such tactics in the past. History repeats itself, as Wisconsin's highest court rewards rather than rebuffs such unlawful maneuvers.
– Justice Rebecca Bradley in a dissent comparing the majority's decision to efforts to block ballot access for Black candidates in Alabama in the 1960s.
I don't think it's likely, only because of the environment that we are in. We're going to probably be outspent, but we're not going to be outworked.
– Assembly Speaker Robin Vos, R-Rochester, giving his party a 1-in-3 shot at winning a veto-proof supermajority this fall. Vos was joined by Assembly Minority Leader Gordon Hintz, D-Oshkosh, in a virtual WisPolitics.com luncheon focusing on races to watch in the leadup to Nov. 3. 
It's a little rich to hear the speaker complain about money. The reality is that we're motivated.
– Hintz, who suggested Dem motivation is behind the fundraising advantage. Republicans over the years have also loosened fundraising restrictions in Wisconsin, allowing unlimited donations to political parties and PACs. 
*See video of the luncheon at the WisPolitics.com YouTube page.
Political Stock Report
-A collection of insider opinion-
(Sept. 12 – 18, 2020)
Rising: Joe Biden, Trump visits, COVID-19 cases
Mixed: Brian Hagedorn, Derrick Van Orden, Elections Commission
Falling: Third-party candidates, special voting deputies, unemployed
*|IFNOT:ARCHIVE_PAGE|*Read More*|END:IF|* *|IF:ARCHIVE_PAGE|*
Rising
Joe Biden: Insiders doubt Kanye West or Howie Hawkins would've had a significant impact on who wins Wisconsin's 10 electoral votes. But having them off the ballot gives the Dem nominee one less worry in calculating a path to victory, insiders note. In a pair of court rulings three days apart, Hawkins and West are blocked in their attempts to get on Wisconsin's presidential ballot. That leaves five presidential candidates who will be listed: Biden, Donald Trump, Libertarian Jo Jorgensen, the Constitution Party's Don Blankenship and the American Solidarity Party's Brian Carroll. The latter two are likely to be just footnotes when the postmortem is written on Wisconsin's presidential race, while Jorgensen has been pulling low single digits in recent polling. Four years ago, more than 6 percent of the vote went to third-party and independent candidates as Trump won with 47.2 percent of the vote. That includes the 31,072 votes pulled by the Green Party's Jill Stein; more than the 22,748 votes that separated Trump and Hillary Clinton. In calculating the math on this year's presidential race, insiders caution not to assume those who would've voted for Hawkins will naturally gravitate toward Biden. After all, for true Greens, mainstream Dems are corporate-owned politicians who aren't that much different from Republicans. Meanwhile, the whole notion that West would draw Black voters from Biden, in part, because they share the same skin color is too cute by half for some insiders. But if it ends up being nip-and-tuck come November, any little thing could end up making a difference, and not having Hawkins or West on the ballot means one less distraction for Biden. Meanwhile, polls continue to show him with a lead on the president seven weeks out from the election. The latest are polls from CNN, which has Biden up 10 points on Trump with Jorgensen at 3 percent, and ABC News and the Washington Post, which have it Biden 52-46. That mark is Trump's best of the seven publicly released polls since the violent protests in Kenosha, though the survey doesn't explicitly ask about Jorgensen, who could be a drain on Trump with conservatives who aren't sold on the president. Insiders also note Biden has been at 50 percent or better in five of those seven polls, putting him in a much stronger position than Clinton was at this time four years ago even as she led Trump by similar margins. Some Dems say they can begin to see the signs of a romp coming together, while some Republicans insist the race is closer than public polls indicate.
Trump visits: The president's numbers aren't budging much in publicly available polling. But it's not for a lack of face time with Wisconsin voters. Trump makes Wisconsin stop No. 5 of 2020 in Mosinee, while Vice President Mike Pence will notch his ninth visit to the state next week in Eau Claire. Biden, by contrast, has been to Wisconsin once, stopping in Kenosha two days after Trump's visit, and running mate Kamala Harris has only made one stop since being added to the ticket. The president's rally in central Wisconsin was the usual mix of bravado, insults and promises of greatness. It's also about pumping up his base, insiders say. One of the striking things about the recently released polls is Trump's consistent position in the low- to mid-40s. Getting back to the 47.2 percent he recorded four years ago likely isn't going to be good enough for Trump this time, insiders say. That means he has to grow his vote. But so far, he hasn't been able to broaden his appeal much with suburbanites, who appear to be drifting from the GOP. Trump's support in rural areas appears rock-solid and has even grown a little since 2016. But if turnout in urban areas picks up after Hillary Clinton underperformed there four years ago, Trump would need to supercharge the rural vote. That's where the Trump ground game comes in, Republicans argue. Insiders note that a ground game can't change a negative political environment. But it can take advantage of favorable winds — and it can find voters who otherwise wouldn't have turned out. Dems question where Trump will find the voters to overcome what they say is a renewed enthusiasm in places where Clinton didn't excite voters four years ago. An incumbent president banking on reelection shouldn't be in the low 40s six weeks out from the election, they add. Republicans, meanwhile, say their modeling has the race in better shape for Trump than the Marquette University Law School Poll, which had a 4-point spread that was inside the margin of error. Things have been moving in the right direction the last few weeks, Republicans add, but it's going to be harder to move voters in the suburbs than they'd hoped, which makes rural voters that much more important. Meanwhile, Republicans note Trump coming to Wisconsin so frequently is a sign his campaign doesn't see a 10-point deficit in the Badger State. Insiders also note the playing field is much larger for this late in the race than once expected. Some had believed going into 2020 that it would all come down to about a half-dozen states. Instead, there are a dozen that some believe could legitimately go either direction. Part of it is Trump's stubborn numbers in the low- to mid-40s in other states besides Wisconsin. It keeps him close enough to Biden that he can't abandon a state just in case he loses a couple that were in his column in 2016. The flip side of that is he also hasn't shaken Biden in states such as Georgia, where the president is currently up on TV. Medium Buying, which tracks TV buys, has Biden up in nine states (Arizona, Florida, Michigan, Minnesota, North Carolina, Nevada, Ohio, Pennsylvania and Wisconsin) along with Omaha for the electoral vote out of Nebraska's 2nd Congressional District. Trump was up in the same states — plus Omaha — except for Nevada and Ohio. Along with Georgia, he was also on the air in Maine, two states where he wasn't being matched by Biden. If Trump and his surrogates keep coming to Wisconsin on a weekly basis, Republicans argue, that's a better gauge than national polls on how competitive the state is.
COVID-19 cases: As the pandemic rages, a COVID-19 tracking project from news outlet The Atlantic shows state health departments are having mixed results driving down cases. Some Midwestern states like Iowa, Minnesota and Illinois see double-digit drops in the percentage of cases they've reported this week compared to last week. But Wisconsin is the flip side of that coin. The Badger State reports a 52.5 percent increase in its seven-day average of new cases, the third-highest rate in the country. Health officials — and metrics — attribute the spike to those aged 18 to 24. Department of Health Services data show that age bracket is the only one to have an almost straight-line increase over the past three weeks. Dr. Ryan Westergaard, head of the state's Bureau of Communicable Diseases, says it's very likely that colleges and universities opening up for in-person instruction is the cause. Close living quarters among students and nightlife social activities off campus are prime drivers for spreading coronavirus. And that bears out in a different data set as well. Eight Wisconsin cities rank among the top 20 in the nation in terms of areas seeing the fastest growth in COVID-19 cases, according to an analysis from the New York Times. Seven of those cities — La Crosse, Whitewater, Oshkosh, Stevens Point, Platteville, Madison and Green Bay — are home to UW System campuses. Some campuses, including UW-Madison, go virtual as coronavirus spreads rapidly through college towns across the state. But as cases spike, the Big Ten announces it intends to move forward with its football season and President Trump seeks to claim some of the credit. "Have a FANTASTIC SEASON! It is my great honor to have helped!!!" Trump tweets. Capitol insiders of all stripes question the move, but for different reasons. Dems say the football season is putting kids in harm's way. They note on the same day the Big Ten announces plans to resume a fall football season, UW-Madison reports its first student hospitalized due to complications with COVID-19. Republicans, meanwhile, both privately and publicly raise a different line of questioning. Conservative Sen. Duey Stroebel says he backs the move, but tweets: "What has changed since 8/11?" The answer, insiders say, is more likely in the checkbook than the science.
Mixed
Brian Hagedorn: He has become perhaps the most important justice on the Wisconsin Supreme Court. And his conservative colleagues — and the grassroots — are not happy with him. The former Scott Walker aide sides with his three liberal colleagues in rejecting a bid by the Green Party to place its presidential nominee on the Wisconsin ballot, ruling the action was filed too late with many local governments having already printed ballots. All three of Hagedorn's conservative colleagues rip into the majority opinion and the Elections Commission. Chief Justice Pat Roggensack likens the commission's actions to voter suppression. Annette Ziegler calls it a "kangaroo commission." And Rebecca Bradley compares it to Alabama booting Black candidates off the ballot in the 1960s. To some court watchers, the hyperbole is over the top. They also suspect it was particularly pointed because it's the third time Hagedorn has broken with his conservative colleagues on a high-profile case with political implications. And with the conservative majority now down to 4-3, he's the deciding vote. Earlier this year, with conservatives still at a 5-2 majority and then-Justice Daniel Kelly sitting out the case, Hagedorn sided with two of his liberal colleagues in passing on the court taking original jurisdiction in a lawsuit seeking to force from the rolls voters who may have moved, but haven't responded to a mailer from the Elections Commission. The deadlock sent the case to an appeals court first and though it is back before the justices later this month for oral arguments, it's highly unlikely a decision will come down before the November election. Prior to Kelly being replaced on the court by liberal Jill Karofsky, Hagedorn was in the minority of a 4-3 ruling that overturned the extended stay-at-home order the guv's administration issued. The writings in that decision drew particular attention from court watchers because Rebecca Bradley and Kelly slammed Hagedorn by name in their opinions. In looking at the body of his work on the court so far, some have described Hagedorn as an "executive branch conservative" who simply has a different philosophy than some of his colleagues on the court's right. Hagedorn isn't deciding cases based on a liberal line of thinking, some conservatives point out; it's more of a practical point of view. Adding Green Party candidate Howie Hawkins to the ballot, for example, would've cost local governments hundreds of thousands of dollars and potentially thrown the fall election into chaos. Some conservatives, however, have already labeled Hagedorn "our new Justice Crooks," a reference to the now-deceased Pat Crooks, who was elected as a conservative but began to gravitate toward his liberal colleagues during his final years on the bench. Other conservatives aren't ready to go that far, but they express frustration that Hagedorn isn't the reliable vote they had hoped for. That's particularly true, some note, after the way the conservative grassroots went to bat for Hagedorn in 2019 as he fended off attacks over his association with a Christian school that barred employees and students from being in gay relationships. The grassroots stepped it up for Walker in the recalls, and he delivered by implementing a series of conservative reforms. They did the same for Hagedorn, and now they expect him to have their backs, the thinking goes for some in the grassroots. But others point out Hagedorn ran insisting he would follow the law, not politics, in his decisions, and he's just sticking to his word. His reelection is still more than eight years away, but some conservatives are already warning he's hurt his cause and they won't forget if he wants another 10-year term on the bench. Meanwhile, Dems can't help but speculate how bad things can get. Roggensack's latest two-year term as chief justice is up next year. If conservatives alienate Hagedorn enough, might he look at challenging her with a pitch to his three liberal colleagues that he'd be a more agreeable option to them? Some conservatives downplay the idea, pointing out the chief's job is largely about how the courts run and Hagedorn is in line with his conservative colleagues on those issues. Plus, if Hagedorn hadn't already alienated the conservative base enough, going after the chief's job with the backing of his liberal colleagues would all but seal the deal.
Derrick Van Orden: The retired Navy SEAL takes another step up in the NRCC's ranking of GOP candidates. And the president gives Van Orden his backing "100 percent" during a stop in Mosinee. Still, six weeks out from the election, outside groups have yet to play in western Wisconsin's 3rd CD post-primary, suggesting his race with U.S. Rep. Ron Kind, D-La Crosse, either isn't on the radar or won't pop until the very end. Republicans put Kind on their target list after Trump won the 3rd CD by 4.5 points in 2016 as the longtime incumbent was unopposed. After striking out badly against Kind in 2018, Republicans were drawn to Van Orden's military background and saw his early fundraising prowess — even topping Kind twice — as a bonus. But to date, the NRCC and the Congressional Leadership Fund, a super PAC dedicated to helping Republicans win back the House majority, haven't gone up on the air. Meanwhile, a check of TV filings shows Van Orden is going back up next week for the first time since the primary. But that means Kind has had the airwaves to himself for the past month, flush with $3.1 million in the bank to close the last reporting period. For some insiders, if the CLF and NRCC aren't on the air six weeks out, it's hard to see the race popping. The real fight nationally has been in the suburbs, and Republicans are playing a mix of defense and offense in those areas, trying to hold on amid poor numbers for the president while also trying to win back some of those seats they lost in 2018. Some Republicans caution there's still plenty of time to get on the air in the 3rd. Western Wisconsin isn't expected to be a hotbed of early voting, and the race is starting to get some national attention. Republicans' best hope, some say, is for Dems to fall asleep on the race, particularly considering the DCCC has superior resources to the NRCC, allowing GOP groups to come in late for a final push. Van Orden would get a boost if Trump can jazz turnout in rural areas, a big chunk of the 3rd. Some Dems, meanwhile, aren't too concerned. They point out if Trump is losing Wisconsin by, say, 5 points, he isn't winning the 3rd CD. And if Trump isn't leading the way at the top of the ticket in western Wisconsin, it's hard to see Van Orden beating Kind. The big question for some Dems is how much of Kind's bankroll he wants to spend this cycle to try locking up reelection. If he were to spend the whole warchest, he could overwhelm Van Orden, they argue. But don't forget district lines will be redrawn after this cycle, and Kind could either have a more competitive seat, a whole lot of new territory or both to look at in 2022. There could be some benefit to preserving what he can just in case the environment and the seat are tougher for him in two years.
Elections Commission: Don't expect Republicans to suddenly pine for the old days of the Government Accountability Board. But the commission's deadlock over the Green Party's presidential nomination papers is the latest example of how a 3-3 split on the commission doesn't work when it comes to politically sensitive cases. Just about any model used to regulate elections is going to have problems, and Republicans seethed over the old GAB after it was involved in the John Doe probe into former Gov. Scott Walker and conservative groups. In unveiling the commission approach, some Republicans tried to argue the 3-3 split of political appointees would force compromise on major issues. If they truly believed that, they were delusional, critics now say after watching the commission in action. When major issues emerge, the commission is more likely to bog down in partisan fighting than it is to reach a grand consensus. And the new approach hasn't put an end to shenanigans. Emails show Republican appointee Bob Spindell reached out to the Green Party after the commission deadlocked on the party's nomination papers and even offered to help in finding an attorney, prompting howls from Dems. Meanwhile, some Republicans grumble while the old GAB probably would've been more agreeable to putting Hawkins on the ballot, they wouldn't go back to that model. 
Falling
Third-party candidates: Howie Hawkins says he got screwed. Insiders counter he should look in the mirror before blaming others. Same goes for Kanye West. If either campaign had been better organized, insiders say, they'd be on the ballot. Instead, their only hope for Election Day is to have voters write them in after different courts knocked their tardy behavior. For West, the trouble was a matter of minutes. On the day his nomination papers were due, West's campaign didn't show up at the building housing the Elections Commission until shortly before 5 p.m. By the time his representatives entered the building, it was past the deadline and by the time they turned over his nomination papers, it was several minutes past 5:01 p.m. Still, his attorneys raised a series of arguments in trying to overturn the Elections Commission's 5-1 ruling, including that the cutoff was actually 5:01 p.m., that the doors of the building being locked delayed them, and that the campaign was delayed by an overly aggressive media and campaign operative — even though video shows the latter wasn't a problem. In short, insiders say, West looked for a way to blame everyone but his campaign for its own disorganization. During a hearing, Brown County Judge John Zakowski was bothered that the doors were locked. And in his ruling, he calls the whole situation "unfortunate." But he sides with the Elections Commission, finding West's campaign "dropped the ball" and could've avoided the whole thing simply by showing up earlier. For Hawkins, the issue was a matter of days, though legal observers note it's not clear from the Supreme Court's ruling exactly when he could've filed his lawsuit and persuaded a majority of the justices to hear it. The campaign says it had trouble finding an attorney to file the suit, delaying the effort, and eventually turned to Google to find a lawyer. By the time something was filed, it was two weeks after the commission's ruling and ballots were already in the printing process. While three of the court's conservatives decry the ruling as tantamount to voter suppression, veteran campaign operatives aren't so sympathetic. Getting on the ballot is part of campaigning 101, and if you can't get organized enough to do that correctly, what's it say about your campaign? What's more, the Green Party could've avoided all of this by simply answering in writing the challenge filed to Hawkins' nomination papers over running mate Alice Walker listing two different addresses because she moved while signatures were gathered. Some Republicans believe the Dem members of the commission played politics with the decision, arguing the Greens met the spirit of the law, if not the letter of it. Still, both Hawkins and West could've done more on the front end to save them all this trouble. Insiders also point out the various signs that Republicans were helping both candidates get on the ballot hoping they'd play a spoiler role for Joe Biden in a potentially tight race. West is an anomaly, insiders note, an entertainer flush with cash to spend on a quixotic bid. The Greens, meanwhile, have had a presence in Wisconsin off and on for years. But if they tried to organize in the state year in and year out, they'd have much less trouble making the ballot for the presidential race, insiders say. And they probably would've had a local lawyer on speed dial.  
Special voting deputies: Election officials won't be setting up special polling locations at nursing homes this fall. The Elections Commission in the lead-up to the April 7 election suspended so-called "special voting deputies" to mitigate the risk of spreading COVID-19 to at-risk residents of care facilities. Instead, the panel moves to send absentee ballots to residents of such facilities. But commissioners consider changing gears after Republican Marge Bostelmann, the former Green Lake County clerk, says she was informed by one of her local clerks no absentee ballots came back from nursing homes in that community during the August primary. Perhaps the absentee ballot alternative wasn't as practical as they had hoped, the commission reasons in unanimously directing the agency's staff to investigate re-authorizing the voting deputies. Perhaps care facility residents need the additional assistance provided by an on-site election official. Commissioners say concerns over COVID-19's deadly effect on older populations have not changed, but maybe health officials have learned enough about the virus to conduct the special polling safely. According to Administrator Meagan Wolfe, the eight public health officials the commission's staff consults with are quick to reject the idea. "The consensus among these eight individuals was that their public health guidance from prior elections has not changed: they would not advise that SVDs be used for this election," Wolfe wrote in a memo to the panel. The memo also details concerns raised by aging and disability advocates and local clerks, who join with their public health counterparts in recommending against reinstating the practice. And the commission follows suit after some grumbling from Republican Bob Spindell, leaving the current guidance barring SVDs in place.
Unemployed: It has been a struggle for thousands of out-of-work Wisconsinites to get their weekly unemployment checks. And now DWD Secretary Caleb Frostman has paid the price. The former Dem lawmaker resigns at the guv's request amid bipartisan legislative concern about a persistent backlog despite the Evers administration nearly tripling the number of bodies working on claims. In late May — as Frostman said the backlog could last until October — 11.2 percent of weeks claimed were waiting to be resolved. The latest update from the Department of Workforce Development shows that rate had only dropped to 10.9 percent despite more than 1,500 people working on claims, compared to 600 before. All told, nearly 100,000 people are still waiting to have their claims resolved.  At a WisPolitics.com virtual event this week, Assembly Speaker Robin Vos, R-Rochester, and Minority Leader Gordon Hintz, D-Oshkosh, both agree more should've been done to address the department's shortcomings. But while Hintz concedes "the response has been too slow for people who ultimately need it the most," he places much of the blame on Republicans for not updating DWD's archaic infrastructure, a problem he says they knew about since at least 2014 during Scott Walker's administration. Meanwhile, Vos slams Gov. Tony Evers for dragging his feet and not immediately throwing the full weight of his administration behind solving the crisis. "One of the things that's really disappointing is they could literally transfer 1,000 emploiyees over there to figure out some of these issues and it just hasn't happened," he says. Vos adds that nobody saw the backlog coming before the pandemic hit, pointing out Evers' 2019-21 biennial budget request didn't ask for the infrastructure updates he's now saying are needed. There are some bright spots on the job front for Wisconsin's workforce. The Legislature's rules committee extends by 60 days a suspension of the work search requirements for unemployment benefits, relieving recipients of the need to perform four a week. That move provides fodder to Dems who say Republicans intentionally made it harder to get unemployment under Walker and are now trying to throw all the blame on Evers. The unemployment rate also continues to drop following the massive work interruption due to the pandemic, dipping to 6.2 percent in August, below the national average. But the prospect of more aid from the federal government is up in the air as talks remain at a standstill about extending the $600-per-week additional payments that ran out in July. The president through executive action created an additional $300 per week. But those applying for the additional money got a momentary scare when DWD initially warned they may have to pay that money back if Congress approves a new package. The agency pulls back that warning after a follow-up from FEMA, which is funding the additional payments. Still, it'll likely be October before claimants see the money. Some have blamed DWD's archaic computer system for problems with processing requests, and the weeks-long delay in receiving the additional money is due to the time it will take to reprogram the system. But that doesn't explain the lack of progress in adjudicating claims, critics say. For insiders on both sides, the administration's inability to make progress on the backlog has been puzzling, including the messaging from the guv's office. Taking the step to essentially fire Frostman makes sense, they say. But critics say Evers hasn't done enough to show he is sympathetic to the challenges facing those who have been waiting weeks — or months — for a check. That personal touch with a problem like this can go a long way toward showing voters that their concerns are being heard. 
*See more on Frostman's departure in an item below.
*See Vos and Hintz discussing the troubled unemployment system during a recent WisPolitics.com event here.
*|END:IF|*
Agencies seek budget boosts despite guv's austerity request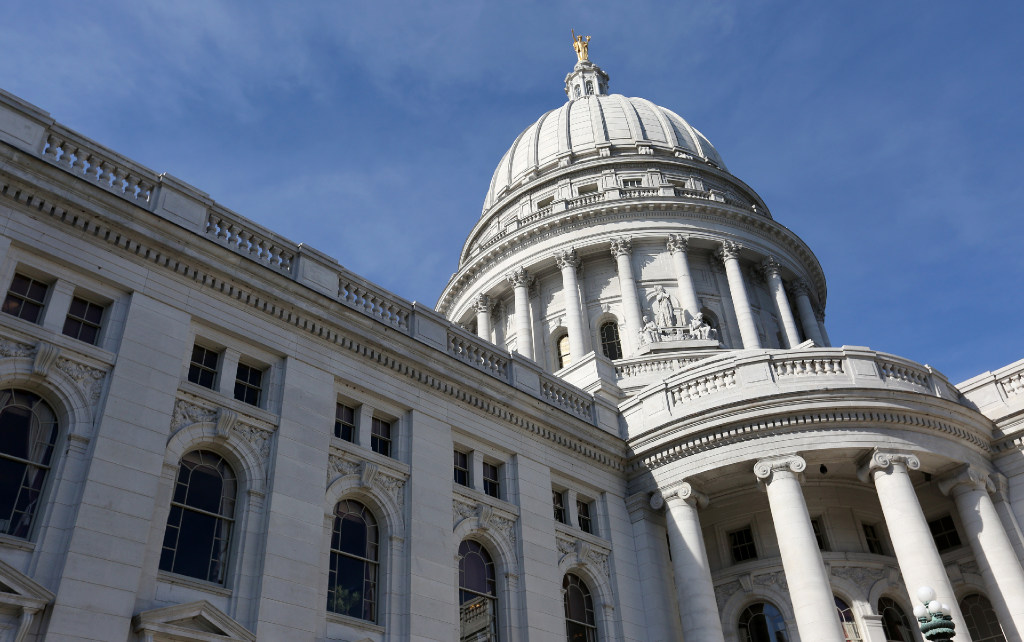 State agencies want to update the unemployment insurance computer system, create a new position to train law enforcement on the use of force, and double how much utilities pay into an energy efficiency program, according to budget requests filed this week.
All told, agencies have already requested a net increase of $755 million in general purpose revenue for the 2021-23 budget even before adding key pieces such as state aid for K-12 education, the court system and the Legislature, according to a WisPolitics.com review of the requests.
The agency requests are part of the building blocks Gov. Tony Evers and his staff will use in building the two-year budget he'll propose to the Legislature early next year. In June, the guv sent a letter to agency heads asking most of them not to seek "any additional GPR-funded expenditures in either year of the upcoming biennium," citing the economic uncertainty brought on by the COVID-19 pandemic. 
*|IFNOT:ARCHIVE_PAGE|*Read More*|END:IF|* *|IF:ARCHIVE_PAGE|*
In many cases, the agencies said the GPR increases they want only covered costs to continue and weren't for new expenses. That includes the $122.8 million in Corrections' ask.
But several agencies are seeking new funds despite Evers' letter:
*District attorneys are seeking an increase of $28.4 million, nearly 28 percent above their base, to help fund an additional 57 positions, boost salary, cover merit-based pay progression, and take care of fringe benefits.
*The Department of Military Affairs wants an additional $33.8 million, including money to design and implement a new statewide interoperable radio network.
*The Public Defender Board is asking for $14.8 million, including money for 40 new positions.
Joint Finance Co-chair Albert Darling, R-River Hills, said Evers "needs to get serious with his agencies."
"Asking for increases after many Wisconsinites lost their jobs or wages due to the pandemic shows they are out of touch," Darling added. "Every family in the state had to make tough choices. They can't afford a tax hike and shouldn't be asked for one."
Some of the agencies seeking the biggest increases on a percentage basis aren't under Evers' direct control. DOJ's request amounts to a 25.2 percent boost in GPR over base, while district attorneys want a 27.8 percent hike.
Of those agencies directly under Evers, Tourism is seeking a 26.8 percent increase to plow into tourism development and promotion, while Military Affairs is seeking the largest increase of any agency at 54 percent. 
The guv's office declined comment on the requests.
The net request for additional GPR was held down by two significant moves. 
The Department of Administration listed a proposed $253.3 million in savings by adjusting bond authority required for pension obligation bonds debt service. It is essentially an accounting move that more accurately reflects costs.
Meanwhile, the Office of Commissioner for Insurance is projecting a savings of $28.5 million with the feds picking up more of the costs for the Wisconsin Healthcare Stability Plan. The program, created under then-Gov. Scott Walker, helps keep down cost increases in the individual health insurance market under the Affordable Care Act. It is jointly funded by the state and federal governments.
The requests lay out agency demands as the guv begins to build the 2021-23 budget. Still, the financial foundation for the 2021-23 budget won't be known until mid-November, when DOA releases a summary of the budget requests and its projections for state revenues through mid-2023.
Some of the agency proposals:
*The Department of Health Services is again proposing to accept federal money to expand the Medicaid program. In its proposal, the agency warns the cost to continue the current Medicaid program would require an additional $1.1 billion in GPR over the next biennium largely due to an expected increase in enrollment. But accepting the federal money to expand the program would save $558.3 million, and the proposal reflects that cost estimate. Secretary Angela Palm wrote in her cover letter the savings would be higher than past estimates because it's expected more people would enroll. She also warned the state could need additional support from the Legislature to address COVID-19 without more help from the federal government. That includes a testing budget of more than $1 billion with an additional $225 million for ongoing contact tracing.
*The Public Service Commission is proposing a change that would require utilities to pay an additional $100 million annually to Focus on Energy. The program funds energy efficiency and renewable energy projects through a requirement that investor-owned utilities put 1.2 percent of operating revenues toward the effort. The proposal would double that to 2.4 percent of operating revenues. The PSC says a study found such an increase would increase energy savings by approximately 50 percent.
*The Department of Workforce Development wants to boost vocational rehabilitation services by $929,300 in GPR, a move Secretary Caleb Frostman wrote in his letter was exempt from the guv's budget directive. The agency, which has been plagued by problems processing unemployment claims during the pandemic, also wants money to modernize the computer system and to repeal drug testing that is part of the program. It's also seeking to increase the maximum weekly unemployment benefit to $409 from the current $370 on Jan. 1, 2022, before going to a formula that would be 50 percent of average weekly wages a year later before climbing to 75 percent on Jan. 1, 2024. 
*The Department of Justice's requested position to train law enforcement on use of force would research, develop and implement implicit bias, procedural justice, racial intelligence and other training to enhance current law enforcement academy curriculum. The material also would be used in continuing education for law enforcement. Dem AG Josh Kaul also wants to fund a new position focused on supporting the mental health of first responders.
See agency budget requests here.
*|END:IF|*
Story 2 headline – Add in text edit mode between 'strong' tags
Insert first three paragraphs here.
Select "read more" below, click the "insert link" function in the toolbar, and enter the url of the Report post followed by #story-2
The link preceding the # must be from the post after it is published. The link generated for the draft will not work.
*|IFNOT:ARCHIVE_PAGE|*Read More*|END:IF|* *|IF:ARCHIVE_PAGE|*
Insert rest of story here
*|END:IF|*
Story 3 headline – Add in text edit mode between 'strong' tags
Insert first three paragraphs here.
Select "read more" below, click the "insert link" function in the toolbar, and enter the url of the Report post followed by #story-3
The link preceding the # must be from the post after it is published. The link generated for the draft will not work.
*|IFNOT:ARCHIVE_PAGE|*Read More*|END:IF|* *|IF:ARCHIVE_PAGE|*
Insert rest of story here
*|END:IF|*
Political TV
(Check local listings for times in your area)
"UpFront" is a statewide commercial TV news magazine show airing Sundays around the state. This week's show, hosted by ADRIENNE PEDERSEN, features Assembly Speaker ROBIN VOS, R-Rochester, and state Rep. SHELIA STUBBS, D-Madison.
*See more about the program here.
*Also see a recap of the show online each Monday at WisPolitics.com 
"Rewind," a weekly show from WisconsinEye and WisPolitics.com, airs at 8 p.m. on Fridays and 10 a.m. on Sundays in addition to being available online. On this week's episode, WisPolitics.com's JR ROSS and WisconsinEye's STEVE WALTERS discuss COVID-19 in Wisconsin, court decisions keeping the Green Party and KANYE WEST off Wisconsin's presidential ballot and President TRUMP's campaign stop in Mosinee.
*Watch the show here.
Check out WisPolitics.com's Midday, a daily podcast offering insights into the top news of the day.
*Listen to the podcasts here. 
"Meeting in Middle America," with STEVEN OLIKARA, founder and president of the Millennial Action Project, features a conversation with reporter Stephanie Hoff revisiting a recent interview with Martin Luther King III.
*Watch the show here.
"The Insiders" is a weekly WisOpinion.com web show featuring former Democratic Senate Majority Leader CHUCK CHVALA and former Republican Assembly Speaker SCOTT JENSEN. This week, as the presidential candidates jockey for Wisconsin votes in November, Chvala and Jensen discuss the status of the horse race following multiple candidate visits, ads and polls.
*Watch the video or listen to the show here.
Wisconsin Public TV's "Here and Now" airs at 7:30 p.m. Fridays. On this week's program, anchor FREDERICA FREYBERG speaks with Wisconsin Elections Commission Administrator MEAGAN WOLFE and Superintendent of Public Instruction CAROLYN STANFORD TAYLOR.
"Capital City Sunday" airs at 9 a.m. Sunday on WKOW-TV in Madison, WAOW-TV in Wausau, WXOW-TV in La Crosse and WQOW-TV in Eau Claire. Host AJ BAYATPOUR interviews UW System Interim President TOMMY THOMPSON and Rock County Clerk LISA TOLLEFSON.
Week Ahead
Wednesday: Natural Resources Board meets.
– 8:30 a.m.: Online meeting.
Thursday: Vice President Mike Pence visits Eau Claire.
– Time TBD.
Names in the News
*A Sept. 22 WisPolitics.com virtual luncheon features author DENNIS DRESANG on his book covering the life of PATRICK LUCEY, a former Wisconsin Dem governor, U.S. ambassador to Mexico and vice presidential candidate. Dresang joins a panel of those who knew Lucey, including LAURIE LUCEY, his daughter and a voting rights attorney, JOE SENSENBRENNER and JIM WOOD, both Lucey advisers. See more here.
*a Sept. 23 WisPolitics.com virtual event features former GOP Lt. Gov. REBECCA KLEEFISCH and Senate Minority Leader JANET BEWLEY, D-Madison. The pair will discuss how age differences, issues and experiences shape opinions among women voters in Wisconsin. See more here. 
*An Oct. 2 WisPolitics.com virtual discussion features UW-Madison La Follette School of Public Affairs experts MENZIE CHINN, GEOFFREY WALLACE, GREG NEMET and CHRISTINE DURRANCE on top issues this election year. The panel will go over the state of the economy, health care, the environment and criminal justice inequalities. See more here.
*WisPolitics.com stages the second annual Midwest Polling Summit on Oct. 8 and 9. The first day features a look at top election issues with CARROLL DOHERTY, director of political research at Pew Research Center. AARP pollster AMY LEVIN will also go over the organization's swing state polling. The second day features a five-person panel to review the state of the presidential race, both locally and across the country. Panelists include: CHARLES FRANKLIN, Marquette University Law School poll director; RAY BLOCK, Penn State political science professor; EMILY SWANSON, AP director of public opinion research; SARAH SIMMONS, Purple Strategies polling expert; and BARRY BURDEN, director of the UW-Madison Elections Research Center. See more and register here.
The Legislative Human Resources Office has added three members to its team from other state agencies. They are: DANA DYKEMA, a former Legislative Technology Services Bureau staffer who will serve as deputy human resources director; BETH KOERBER, who joins from the Legislative Audit Bureau as a human resources specialist; and JUDY DUGGAN, who will serve as a human resources specialist after moving from the Department of Justice. The HR office also hired LISA RUNGE, who has no prior experience in state government, to serve as training coordinator.
JOCELYN WEBSTER, former deputy chief of staff for Gov. SCOTT WALKER, has taken a sabbatical from her position as vice president of WE Communications. See her blog.
STEPH HILTON has left her role as Gov. TONY EVERS' legislative affairs director to serve as an assistant attorney general at the state Department of Justice. ZACH MADDEN, who previously served as Evers' legislative liaison, has replaced her in the governor's office.
MARK GRAPENTINE has left the Wisconsin Hospital Association to return to the Wisconsin Medical Society as chief policy and advocacy officer. Grapentine previously worked for WMS from 2003 to 2019.
PAUL BOCK, a former chief of staff to U.S. Sen. HERB KOHL, is leaving the law and lobbying firm Holland & Knight to join Thorn Run Partners.
BILL MALKASIAN, the former president of the Wisconsin Realtors Association, announced his retirement from the role of chief advocacy officer and senior vice president of the National Association of Realtors.
Endorsements: The following is a list of recent endorsements, based on emails received by WisPolitics.com: 
3rd CD
DERRICK VAN ORDEN: President DONALD TRUMP
6th CD
GLENN GROTHMAN: National Association of Home Builders
Lobbyist Watch
Eight changes were made to the lobbying registry in the past 10 days.
Follow this link for the complete list.