Peak Fall Color Is Almost Here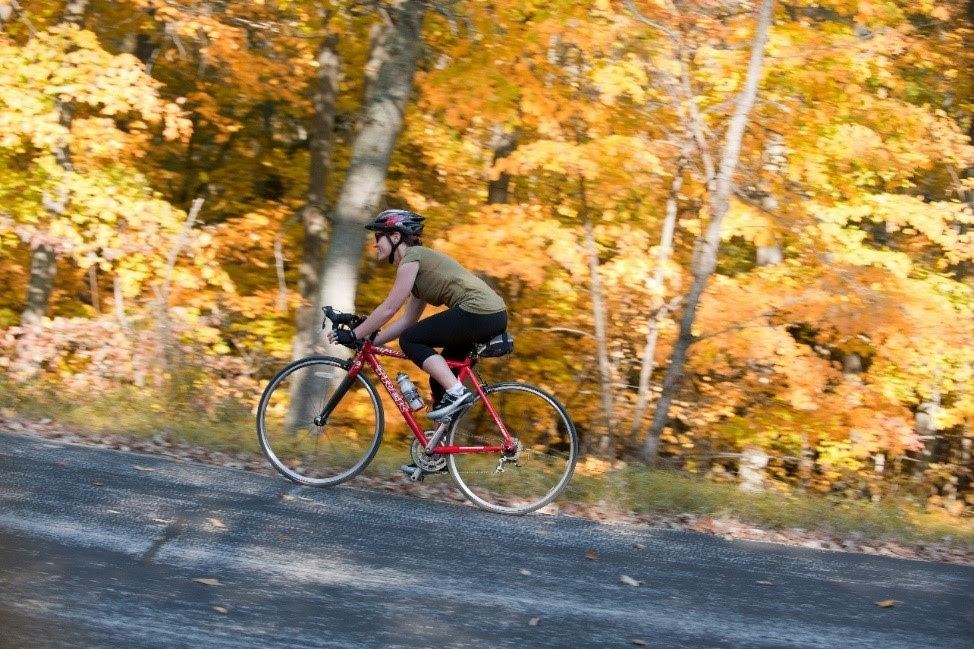 Experience fall color by bicycling or hiking. / Photo Credit: TravelWisconsin.com
MADISON, Wis. – The annual display of fall colors in Wisconsin is beginning now. Enjoying Wisconsin's rich trail system is the perfect way to explore peak leaf season throughout the state while practicing social distancing.
Peak fall color usually occurs in far northern Wisconsin during the last week of September and the first week of October, with peak color generally happening during mid-October in central Wisconsin and during the latter half of October in southern Wisconsin. Now is the perfect time to start planning your fall leaf tour on Wisconsin state properties.
Wisconsin state properties offer biking, hiking and walking opportunities for beginners, families and more advanced explorers.
Three Types Of Bike Trails
Wisconsin's many miles of trails and varied terrain make it an ideal place for bicycling and Wisconsin consistently ranks as one of America's best places to bike. The state offers three types of bicycle trails:
Bicycle touring trails – Easier trails such as paved or limestone-surfaced former railroad corridors. Generally appropriate for all ability levels and bikes with skinny tires.
Off-road bicycle trails  – Intermediate-level trails, often in the woods with various surfacing, from native soil to wood chips. Appropriate for families with more adventurous riders and hybrid or mountain bikes.
Constructed mountain bike trails – Specially created, challenging narrow-width trails built to specific the trail standards.
A state trail pass is required for all people age 16 or older biking on certain trails. A state trail pass is not required for walking or hiking. Wisconsin state trail pass fees are the same for residents and non-residents. The annual pass is good for the calendar year and the daily pass is good for the day of purchase. To learn which trails require passes and to purchase a trail pass, visit the DNR's website.
Plan A Fall Color Hike
Wisconsin's state properties also offer more than 2,700 miles of hiking trails. Hiking is allowed at all properties, and trail information and maps can be found on the DNR's website.
Plan a fall color hike by exploring Travel Wisconsin's 15 fall color hikes list, including easy and advanced hikes.
Share The Trail
Before trail goers make plans for fall adventures, the DNR wants to remind everyone to keep trail etiquette in mind and share the trail.
Know what types of trail use are permitted at your destination and obey traffic (and other) laws and signs.
Ride or walk single file. You can ride two or more side-by-side if you will not block other traffic, including those who may wish to pass you.
All users should stay right except to pass. Always pass on the left.
When passing, move to single file and announce yourself (verbally or with a bell) before passing. Slow down when maneuvering around other trail users.
Downhill traffic yields to uphill traffic; slower traffic has the right of way.
Always use safe speeds and be respectful of all users.
Pets must be on a leash 8 feet or shorter and kept under control. Keep your pet out of the path of oncoming or passing traffic. When possible, walk with your pet on the outer edge of the trail. Not all trails are dog-friendly, so make sure to check signage before hiking with your four-legged friend.
Pack it in, pack it out. Pick up your litter.
For information on the science of fall color, visit the DNR's website. The Department of Tourism also offers a fall color report, here.