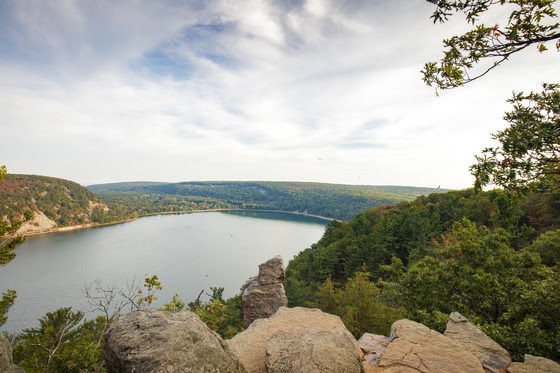 Join us for service projects and family-friendly activities this Earth Day, Friday, April 22, at Devil's Lake State Park. / Photo Credit: Travel Wisconsin
BARABOO, Wis. – The Wisconsin Department of Natural Resources (DNR) invites the public to celebrate Earth Day, Friday, April 22, at Devil's Lake State Park. This year's Earth Day theme is "Invest in our Planet."
Wisconsin is home to 84,000 miles of rivers and streams, 15,000 lakes, 800 miles of great lakes shoreline, 190 miles of Mississippi River shoreline and over 5 million acres of wetlands and 2 quadrillion gallons of groundwater. Wisconsin is a special place with so much to explore and protect.
Earth Day was founded in 1970 by Wisconsin native Gov. Gaylord Nelson to raise awareness about air and water pollution. Today Earth Day is observed around the globe. At the DNR, everyday is Earth Day. Join us for a day of service at Devil's Lake State Park to help protect Wisconsin's natural resources.
"We're excited to celebrate Earth Day with our park visitors and welcome back our spring season campers," said Jim Carter, DNR Park Superintendent for Devil's Lake State Park. "Devil's Lake is a special place where many people come back to create lasting memories with their families year after year. Start a new tradition of investing in our planet."
Visitors can participate in clean-up projects at the beach, campground or picnic area. People of all ages are welcome and can drop in anytime and stay as long as they'd like. Please wear sturdy shoes and bring work gloves.
The DNR will also host family-friendly activities following the clean-up project, including crafts and naturalist-led projects. Visitors can also participate in an evening torch-lit hike. The one-mile trail loop will include Earth Day-themed trivia with prizes. Food trucks will be selling food on-site from 5-8 p.m.
A state park system admission pass is required for entry. Passes can be purchased online or at the property on the day of the event. The DNR reminds visitors to continue practicing social distancing, wear a face-covering if necessary, and practice frequent handwashing. The DNR asks those who are experiencing symptoms of Covid-19 to stay home.
___________________________________________________________________
EVENT DETAILS
What: Earth Day – Invest In Our Planet Event
Where: Devil's Lake State Park, S5975 Park Rd., Baraboo, WI 53913
Clean-up Projects
1-5 p.m. Rock Elm Shelter (North shore)
Please wear sturdy shoes and bring work gloves.
Family-Friendly Activities
5-9 p.m. Rock Elm Shelter (North shore)
Torch-lit Hike
7-9 p.m. (North shore)