In case you missed it, on Monday, Sarah Godlewski joined doctors, abortion care providers, and Wisconsin women at the State Capitol to make their voices heard after the Supreme Court ripped up Roe last week. 
Channel 3000: Dems Run on Abortion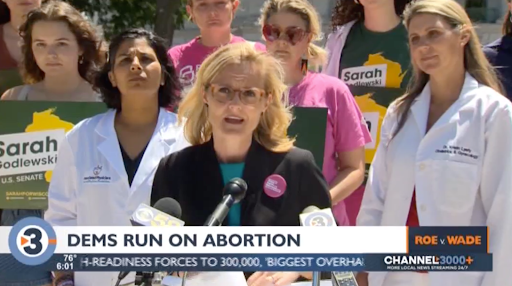 TRANSCRIPT
ANCHOR:
The ruling is adding fuel to the fire of some already hotly contested political races this year. That includes Wisconsin where Democrats hope to rally many more people behind their cause. Political reporter Will Kenneally has more.
WILL KENNEALLY
The Democrats just wrapped up their state party convention over the weekend and after the decision to overturn Roe v. Wade on Friday, abortion became the focus. As candidates head towards the August primary, they're turning to it more as a campaign issue.
SARAH GODLEWSKI:
"It's one of the reasons why I'm running for the US Senate."
WILL KENNEALLY
 Less than 24 hours after she was in lacrosse – 
SARAH GODLEWSKI
"I will be honest, I wish we were here under different circumstances."
WILL KENNEALLY
– US Senate candidate Sarah Godlewski was in Madison holding a rally today on the issue of abortion.
SARAH GODLEWSKI
"You know, what I think is so disconcerting about all of this is now half the population in Wisconsin has fewer rights. And Ron Johnson, this is exactly what he wanted."
WILL KENNEALLY
For his part, Ron Johnson is pro life but he says he does not want to make it a center focus of the campaign. In May he voted against the bill backed by Democrats like Tammy Baldwin, that would have codified abortion rights into federal law. And candidates over the weekend made abortion part of their campaign push. "We need to end the filibuster to codify Roe v. Wade." And Godlewski says there's also a need to appeal to disillusioned Democrats.
SARAH GODLEWSKI
"What I'm even frustrated about, quite frankly, is I'm frustrated with my own party. You know, we have had 50 years to codify this into law. But for some unknown reason, we just haven't found a way to prioritize this."
… 
WILL KENNEALLY
Democrats do not endorse candidates at their annual convention but Godlewski and Mandela Barnes emerged with the most support out of a straw poll conducted by WisPolitics.com. The candidates will square off in the August 9 primary.
Watch the full coverage here.