MADISON – Residents, organizations, businesses, and landmarks across Wisconsin are going purple this next week as part of a statewide recognition of National Crime Victims' Rights Week (NCVRW), which is established annually by the Office for Victims of Crime within the U.S. Department of Justice. This year's NCVRW is Sunday-Friday, April 24-30.
The purple light effort in the Badger State is organized by Marsy's Law for Wisconsin.
Participants around the state are sporting purple lights on businesses, landmarks, and other structures to showcase support for victims' rights as the state recently recognized the two-year anniversary of the ratification vote of Wisconsin's crime victims' right constitutional amendment commonly known as Marsy's Law. The following landmarks around Wisconsin have joined in recognizing NCVRW by participating in the Marsy's Law for Wisconsin Go Purple campaign: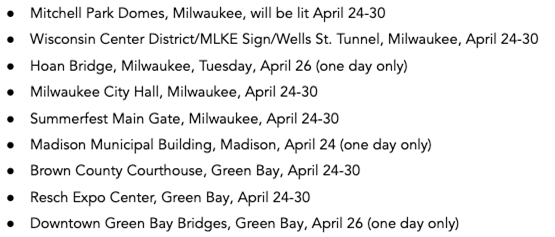 The theme of this year's National Crime Victims' Rights Week is, "Rights, access, equity, for all victims." The theme emphasizes the importance of helping crime survivors find their justice by enforcing victims' rights, expanding access to services, and ensuring equity and inclusion for all.
"Two years after Marsy's Law became a reality in the Badger State, we are so proud to see the continued momentum," said Nela Kalpic, Marsy's Law for Wisconsin Outreach Director.  "The positive impact this amendment has had on Wisconsin crime victims is immeasurable. I'm grateful to everyone who has joined us in this important observation of National Crime Victims' Rights Week and the continued support for Marsy's Law for Wisconsin."
Marsy's Law for Wisconsin this month celebrated the 2nd anniversary of the signing of the crime victims' constitutional amendment, Marsy's Law. In April 2020, more than  1.1 million Wisconsin residents cast votes in favor of the amendment, the law was approved with a vast margin of more than 700,000 votes.