MILWAUKEE — As the polls opened on the first day of in-person early voting, hundreds of Wisconsin workers across industries were in motion alongside Governor Tony Evers and Lt. Governor Mandela Barnes, top candidates for Governor and U.S. Senate. Local service and care workers hosted a roundtable discussion, marched and rallied to voice their demands for elected officials at all levels to advance good, union, living-wage jobs across the economy, fix the deepening care crisis, check corporate power and uproot structural racism.
SEIU International President Mary Kay Henry and dozens of community leaders also attended throughout the day in support of workers, including Souls to the Polls founder Reverend Greg Lewis, Working Families Party Wisconsin, and MATC students.
Throughout the day, working people with SEIU and the Fight for $15 and a Union raised a unified message for current and prospective elected leaders: "I'm Voting for Unions For All!" From impassioned speeches to boisterous chants as workers took to the streets, their call for good, union jobs that pay a living wage echoed across Milwaukee.
"I've been a union member for 7 years and I've seen the difference a union makes. Without a union, we'd have nothing. Since I joined SEIU, my wages have gone up to $15, but we're still fighting for healthcare," said Demetrica Shipp, a Milwaukee home care worker and member of SEIU Healthcare Wisconsin. "That's why I'm a political canvasser so I can fight for the things we need. We need to raise the minimum wage, we need healthcare, and we need Unions for All. That's what today is all about : coming together to fight for what we believe in."
Barnes kicked off the day by joining Wisconsin service and care workers for a substantive roundtable discussion, moderated by SEIU's Henry. Workers addressed the candidate directly when raising unions as a solution to building collective, worker-driven power to address the overlapping economic, racial, gender, immigrant and climate justice crises facing their state and our nation.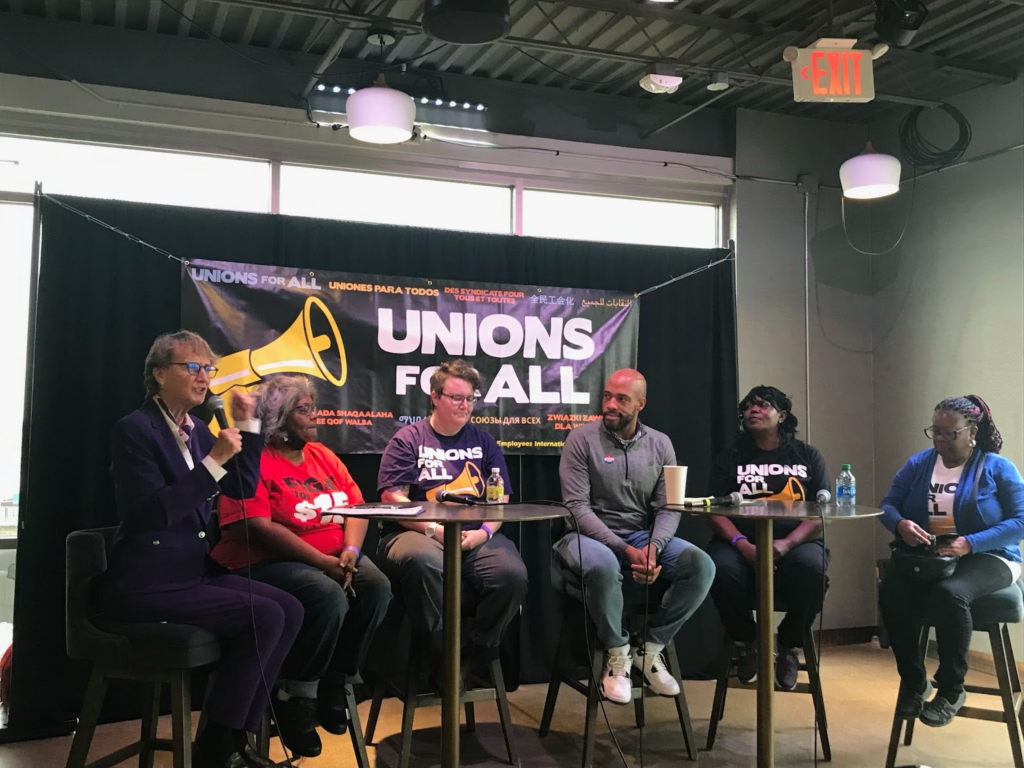 "I tell you a better day is ahead of us," said U.S. Senate candidate and current Lt. Gov. Mandela Barnes during the roundtable discussion on Unions for All. "Because I know the power of organizing, and I know the power of unions, and I know what happens when we come together. And when we come together, when we organize, we fight, we win everybody. So I just want you to know that this is a fight for freedom, it's a fight for fairness, it's a fight for our future, and together it's a fight that we're going to win."
Following an unprecedented year for the labor movement, Wisconsin workers shared how they are organizing in their industries and demand racial and economic justice in their workplaces, communities, and all levels of government.
"For years, Wisconsin workers have been fighting back against laws like Act 10 put in place by politicians who have always sided with corporations over working families – and we've made huge progress: We've built power collectively to demand Unions for All, notch wins from our employers and defend our democracy," said janitor Lyn Jeanes, a union steward with SEIU Local 1. "Now, we're out here organizing our coworkers and communities to send Mandela Barnes to the U.S. Senate and keep Governor Evers as our state's leader, so we can build on the momentum to keep winning for every worker across Wisconsin."
With energy high following the productive discussion, workers kept up momentum by rallying alongside state and national political and union leaders, including Governor Evers, who stated, "We're gonna win this race, and we're gonna win with all your help!"
Flanked by giant UNION letters, workers took to the stage to chant their motives in this election. Dozens decried, "I'm voting for champions of working people," "I'm voting for my children's future!" and "I'm voting for racial & economic justice!"
UW Health nurse K8 Walton spoke to the proven commitment Gov. Evers and Lt. Gov. Barnes have shown towards working people, noting, "When Act 10 passed in 2011, it set in motion a downward spiral of morale that left many of us exhausted, frustrated and questioning if we should remain at our hospital. […] A lot of things motivated us to start organizing again but a big factor was the election of Gov. Evers and Lt. Gov. Barnes. We knew we had champions in Wisconsin who would help us. We just wanted to do our jobs, have basic protections, and be able to form our union."
Following the rally, participants linked arms and marched the mile to Fiserv Forum, stopping at MATC to hear students and local allies speak in support of workers and the importance of voting in this year's midterm election. As countless Wisconsin workers stood in line to vote, the power working families hold in deciding this election was undeniably clear.
"We are struggling to pay rent and some of our elected leaders are more focused on attacking our freedoms – from our reproductive freedom, to our ability to retire with dignity and security, to our freedom to vote and be safe from gun violence," said Audrey Taylor, a leader in the Fight for $15 and a Union. "We have to support candidates who will fight for our communities instead of destroying them and vote out the ones that won't. If you don't vote it's like you don't exist. I am here casting my ballot today because I do exist."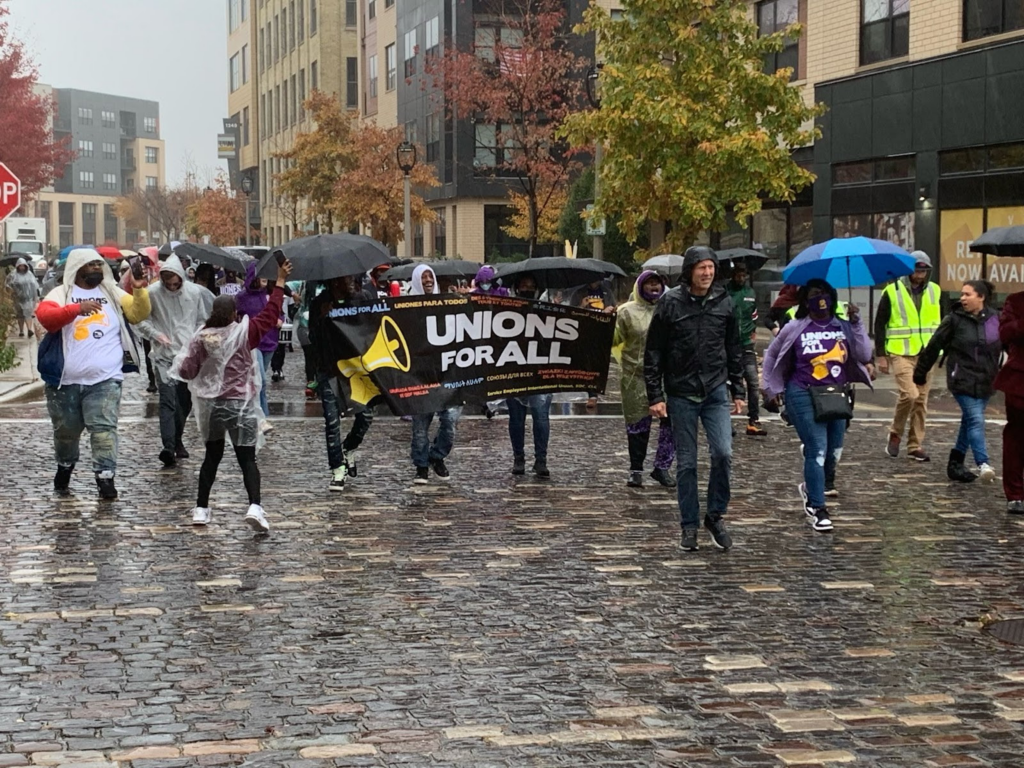 Tuesday's day of action comes on the heels of a significant, organized midterm campaign by SEIU across the state of Wisconsin, including a $5 million political investment, a canvassing operation that reached over 173,000 doors, and a concerted effort to both strengthen and protect the right to vote.
Following the Wisconsin Supreme Court's ruling to ban the use of ballot drop boxes, SEIU lawyers took the lead in filing complaints aimed at halting suppressive tactics – including clerks in Green Bay and Racine who have stopped returning absentee ballots to voters when there's an error on the ballot that requires curing.
Workers Coast to Coast in Motion Demanding Unions for All
The Milwaukee roundtable, rally and march are the latest in a series of actions where thousands of workers across states and industries are taking to the streets and raising their voices to demand unions for all. Backed by SEIU, working people are exercising power like never before: striking, bargaining strong contracts, meeting with their elected representatives, rallying, winning unions and demanding a seat at the table with employers in states and cities across the nation.
"With midterm elections just weeks away, we're doubling down on our demands for unions for all and taking them all the way to the ballot box, where we'll vote for elected champions, who have workers' backs and will fight to build a brighter future where every person can thrive," said SEIU President Mary Kay Henry. "That's why I'm proud to stand in solidarity with all of you here in Wisconsin. The power you've built is incredible and is paving the way for meaningful change in our workplaces and across our nation."
Over just the last two months, workers in Atlanta, Richmond, Philadelphia, Pittsburgh, Washington DC, Denver, Minneapolis and Milwaukee sat down with candidates in key races across the country to demand elected officials at every level of government use their power to fight for working people – including establishing a pathway for every worker in every industry to join a union.
Workers kicked off the wave of activity in the battleground state of Georgia, where essential workers – the same voters who showed up in record numbers in the 2020 election to flip the U.S. Senate and help vote in the Biden Administration – held a live, in-person roundtable with Georgia Secretary of State candidate Bee Nguyen on the importance of having a voice on the job and in our democracy.
In Richmond, home care, municipal, higher education, and Starbucks workers joined Virginia House of Delegates Minority Leader Don Scott, SEIU International President Mary Kay Henry and allies for a roundtable discussion on the importance of unions for all as part of a national weekend of action that saw hundreds of workers in motion across a dozen cities. Workers then continued the wave of activity in Philadelphia and then Pittsburgh, where they hosted Attorney General and gubernatorial candidate Josh Shapiro for two back-to-back roundtable discussions on their demands for unions for all, and rallied in Philadelphia's LOVE Park with workers across different industries – including parking attendants demanding their union.
In September, workers raised their demands with Labor Secretary Marty Walsh during Congressional Black Caucus week in Washington D.C. Home care, municipal, higher education, and Starbucks workers kept up the fight a week later with State Representative Serena Gonzales-Gutierrez in Denver, stressing the importance of elected officials at every level using their power to continue access to large contracts that empower workers. And in yet another swing state, workers sat down with Governor Tim Walz in Minneapolis earlier this month, where workers across industries – including two workers on strike – shared their experiences directly and demanded unions for all.