WASHINGTON, DC – Today, Congressman Scott Fitzgerald (WI-05) introduced a Motion to Recommit to H.R. 1836, the Guard and Reserve GI Bill Parity Act, to ensure President Biden's vaccine mandate does not prevent veterans who have served our country from utilizing their hard-earned G.I. bill benefits.
Click the image below to watch Congressman Fitzgerald's floor remarks: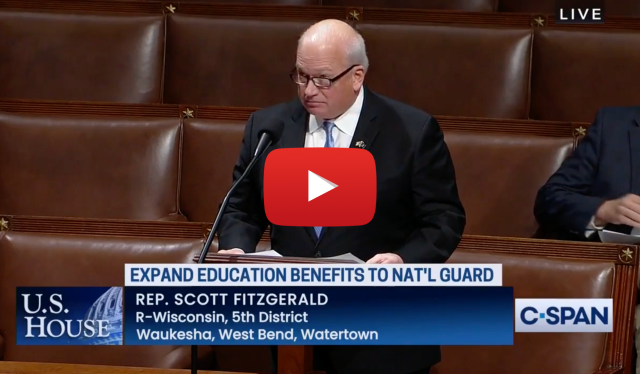 Congressman Fitzgerald's floor statement as prepared for delivery:
"Madam/Mr. Speaker, on August 24, 2021, the Secretary of Defense issued a directive requiring mandatory COVID-19 vaccination for all servicemembers, including those in the "Ready Reserve, and the National Guard. Despite the challenges this vaccine mandate currently faces in court, the Defense Department has proceeded to discharge those who refuse the vaccine.  
"Hundreds of Soldiers, Sailors, Airmen, Marines, and Guardians have already been discharged, and as many as 20,000 servicemembers remain at risk of being involuntarily removed from service.
"To prevent those who have refused the vaccine from being dishonorably discharged, Congress included a provision in the Fiscal Year 2022 National Defense Authorization Act limiting discharges for failure to receive the COVID-19 vaccine to either an honorable discharge, or a general discharge under honorable conditions.
"While this change succeeded in stopping further disciplinary action or court-martial for those who refused the vaccine, it potentially leaves many veterans in limbo between leaving the service with full benefits or having their education benefits stripped as they walk out the door.
"As many of my veteran colleagues in this chamber know, those servicemembers who receive a general discharge under honorable conditions are ineligible for both Montgomery and Post-9/11 GI Bill benefits due to restrictions Congress implemented in 2011.
"While this good-natured change was intended to open eligibility status to members of the National Guard, there will now be a group of veterans who have served honorably up until the point of refusing the COVID-19 vaccine who will have their education benefits denied, and their service record diminished.
"For those who may not know the full breadth of education benefits entitled to a veteran, let me give you a brief synopsis.
"A veteran who has served at least 36 months on active duty is entitled to 100% of Post-9/11 GI bill benefits. That includes full tuition coverage for public schools, or roughly $26,000 annually for private education or apprenticeships. That veteran also receives a monthly housing allowance which varies by location, plus $1000 annually to cover books or other school supplies.
"Add that up, and we're talking well over $100,000 worth of education benefits a veteran loses simply by having their discharge characterized as general under honorable. 
"And let's be clear on who this is truly affecting, Madam/Mr. Speaker. We're not talking about the recruit who's fresh out of basic training or those being discharged at MEPS while they're still in processing. We're also not talking about the soldier who's consistently failing PFT's, or who's racked up a binder full of Article 15's and is using the vaccine mandate as an excuse to separate. 
"These are men and women who have done their time, who have paid their dues, and who have served with distinction up until the point of refusing this vaccine. Some have over twenty years of service. Others sought a religious exemption that was denied. Some may have even been planning to pass the benefits along to their children.
"And now we're going to tell them that we don't care how spotless their record may have been beforehand? That because they made a moral, ethical, or even religious objection to a vaccine, we're going to deprive that veteran, or their children, of benefits and stigmatize their service record?
"Those who have fought to defend our country should not be deprived of the benefits they so rightly deserve simply for refusing to comply with a divisive, and potentially unlawful, vaccine mandate.
"My motion to recommit corrects this disparity by ensuring any member of our Armed Forces who receives a general discharge under honorable conditions solely for refusing the COVID-19 vaccine is entitled to education benefits.
"We are a country that rewards our heroes, not punishes them, and this motion to recommit makes sure of that.
"I urge the adoption of this motion to recommit, and I yield back."
Unfortunately, Congressman Fitzgerald's motion was rejected by House Democrats by a party line vote of 204-219.