Schlies, who is the 2022-23 president of the Student Government Association and recently was one of eight students who received a Chancellor's Award for Students, was a Wisconsin Association of FFA state officer for two years. He was the FFA state parliamentarian from 2019-20 and the president from 2020-21.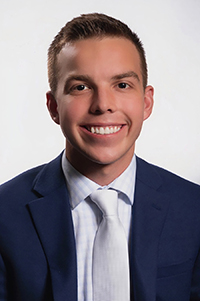 "It is a once-in-a-lifetime experience," Schlies said of being state FFA president. "The members you meet and the stories you hear from members and their experiences in agriculture changes your life."
Schlies also has an American FFA Degree, which less than 1% of FFA members achieve. It shows dedication and the highest standards for career-ready skills.
He also is a nationally accredited parliamentarian obtaining a high level on a written exam for his proficiency in "Roberts Rules of Order."
Schlies, of Denmark, Wis., is a UW-River Falls agricultural business major with a minor in finance.
Growing up on a crop farm with show animals, he knew he wanted a career in agriculture and after joining FFA it solidified, even more, he wanted to work in the agricultural industry.
Schlies first visited UWRF because he knew it was a strong agricultural college.
"When I came to UWRF, I never did another college visit. It was my first and only one," Schlies said. "It felt like home. You walk into classrooms and the professors know everyone's names and they care about you. They want to have a conversation with you."
This summer Schlies is taking part in an internship at Rabo Agri Financial in Madison as a financial analyst.
He is a natural leader, according to Amy Lloyd, associate director of Student Involvement at UWRF.
"Joe is drawn to being a leader, reading about leadership and developing his own leadership competencies," wrote Lloyd in a letter supporting Schlies for the Chancellor's Award for Students.
Schlies is a member of the College of Agriculture, Food and Environmental Safety Student Advisory Council, where he serves on the executive team as a liaison between students and the CAFES leadership, advocating for students within CAFES.
In his role as a first-year resident assistant, Schlies takes the time to learn about each resident and their specific needs for a successful first-year experience living away from home for the first time, noted Jordan Cantele, Crabtree Hall director.
"Joe's perseverance, initiative and dedication to not only himself but his campus community speaks volumes," Cantele stated in a letter of recommendation for the Chancellor's Award.
Schlies is a graduate of the UWRF Agricultural Business Leadership Program and serves as vice president of the UWRF Agricultural Business and Marketing Society.