Wisconsin Public Education Network announced Jennifer Black as its 2022 Changemaker of the Year during the 8th Annual Summer Summit on July 21.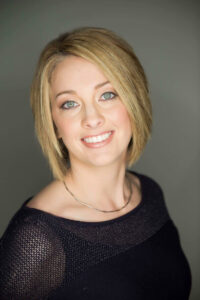 Jennifer Black is a parent and advocate for public schools in Tomahawk, Wisconsin, a small city in Lincoln County situated between Wausau and Rhinelander. As her home school district's budget tightened and two referendum efforts narrowly failed, Jen founded and chaired a community advisory committee, the Champions of Tomahawk School District, to support a remarkable referendum effort in the spring of 2022. By engaging with her local community, local businesses, educators' union members, school administrators, professionals and board members, Jen was able to educate her community, rally them to support their public schools, and pass the latest referendum with Tomahawk's largest-ever voter turnout in a non-presidential election. The effort, under Jen's leadership, was an incredible show of support for public schools in rural Wisconsin.
"There is no dollar amount that can be placed on the efforts and value of Jen Black's advocacy for our public schools, our kids and our community," said Deb Velleux, a Tomahawk School Board member. "Jen has the uncanny ability to reach all types of mindsets and viewpoints and arrive at a mutual understanding of the needs of our school district and students. Not only is the School District of Tomahawk blessed to have the advocacy efforts of Jen Black, but the community as well."
Jen Black said: "Despite many obstacles, our focus remained on the children of our community and the fact that we can all agree that all children should have access to a safe, quality education with exceptional teachers and staff in a well maintained school. And when schools are successful, communities thrive."
Wisconsin Public Education Network's Northeast Regional Organizer, Denise Gaumer Hutchison, who has closely followed Champions of Tomahawk Public Schools' work, praised the 2022 Changemaker of the Year selection: "Jennifer Black fully represents what community organizing and support for public education looks like. She did not shy away from hard conversations and was willing to discuss the importance of supporting strong public schools with every faction of the community."
Black added: "[One] thing I'm most proud of, and that I believe that other champions across Wisconsin can do in achieving similar goals, is to continue to focus on the nonpartisan nature of education.  Our children should not be pawns or transactions in political warfare."
Jennifer Black is the fourth recipient of this annual award recognizing local advocates who make a transformative impact for students and their public schools. Past recipients are Chris Hambuch-Boyle (2019, Eau Claire), Tara LeRoy (2020, Palmyra-Eagle), and Martha Siravo (2021, Madison).
Jennifer Black was selected from a group of nine finalists working courageously to support students across the state. Read about our other finalists in these paraphrased excerpts from their nominators below:
Diana Delbecchi, Green Bay
Community Schools Coordinator, Green Bay Area Public School District
Diana works tirelessly for the children and families in her school including writing grants, coordinating student community projects, and building community partnerships. She spends hours working to provide kids with experiences that would otherwise be impossible for their families.
Andrea Gumbel, Sun Prairie
Educator, Sun Prairie Area School District
Andrea strives to make her classroom a welcome space for ALL students. She is intentional in all she does to support diversity, inclusion, equity, and social-emotional learning. Andrea participates on her school's equity team, personalizes her curriculum to meet the needs of her students, stays abreast of best practices, and makes meaningful connections with her students and families.
Mike Jones, Madison
President, Madison Teachers Incorporated
Mike has played an active role in supporting students, teachers, and the community, going above and beyond to unify and uplift folks. He has worked to bring together various community groups to work collectively to support equity in education. All that he does uplifts and works to create real change.
Christopher Jorgenson, Eau Claire
Director, UW-Eau Claire Gender and Sexuality Resource Center
Chris has provided powerful insights and instruction for Eau Claire Area School District staff on issues of equity and diversity that have both challenged and strengthened teachers' practices. He has courageously supported teachers through a challenging year, as they work to support their students.
Ray Mendez, Madison
Disability Advocate and Madison Metropolitan School District Parent
Ray has a passion for bringing issues concerning special education into a public space and networking with leaders and community members. He is working to shift the language in Madison to Equity, Access, and Inclusion, and is an innovative advocate for the community.
Megan Miller, Beloit
Vice President, Beloit School Board
Megan is in her second term on the School District of Beloit School Board. She is a lifelong advocate for public education as a teacher, parent, and board member. Megan continues to be a positive, pro-public school, pro-student, and pro-educator voice in the face of powerful challenges and opposition.
Tim Nordin, Eau Claire
President, Eau Claire Area School Board
Tim has served as president of the Eau Claire School District School Board through challenging times and continues to provide leadership to best serve all students. Tim leads equity work with board members, including the development and adoption of district-wide equity policy. Tim is committed to serving each and every child in the ECASD.
Cendi Tena, Milwaukee
Co-Executive Director, Leaders Igniting Transformation (LIT)
Cendi has been a strong advocate for public education for years. As the Director of Organizing at Leaders Igniting Transformation, Cendi led LIT organizers and chapters of Milwaukee Public High School students to shift MPS culture and redefine safety. Her efforts were significant steps towards ending the school-to-prison / deportation pipeline, divesting from failed practices, and investing in making public schools a place for all students to thrive and feel supported.