In an Instagram post, radical New York Congresswoman Alexander Ocasio-Cortez endorsed Lieutenant Governor Mandela Barnes' U.S. Senate campaign.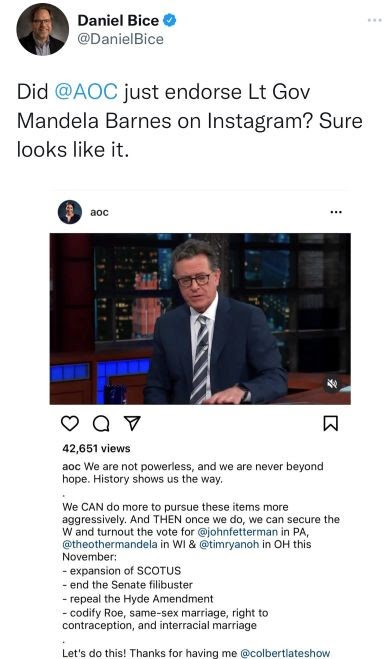 It is no surprise that AOC wants the far-left Barnes on her "Squad" since he supports "most of the policy items listed by Ocasio-Cortez." The AOC agenda includes:
Democratic Socialism as the new form of government, which would result in abolishing capitalism and ending private ownership of a wide range of industries.
The Green New Deal, which would cost trillions of dollars, further spike energy costs, mandate organic farming, and cost dairy farms $2,000 per cow.
Abolishing ICE, which would eliminate funding to our out-of-control border crisis. Barnes even proved his support by posing with an 'Abolish ICE' t-shirt.
Medicare For All and the creation of a single-payer health plan, which would increase the federal budget by $32.6 trillion over ten years.
Packing the Supreme Court as a means to rubber stamp their radical agenda through the judicial branch.
Defunding the police while crime rates are rising in Wisconsin and nationwide.
Tuition-free college, which would cost taxpayers a total of $800 billion over an 11-year period.
"AOC would happily invite Mandela Barnes to join her 'Squad,' as he is a staunch supporter of her radical policies that are out of touch with Wisconsin. In November, Ron Johnson will be the only safeguard between common-sense policy and the far-left movement that will destroy America." – Republican Party of Wisconsin Rapid Response Director Mike Marinella